News
Connect with #TeamCFC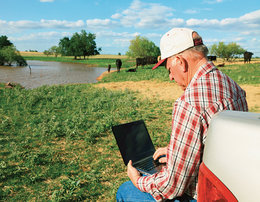 We find ourselves conducting business online more and more.
#TeamCFC continues to serve agriculture and rural Texas. We will always be the handshake and hug type but are happy to offer a wide range of resources at CapitalFarmCredit.com to help you conduct business as usual.
---
We're just a phone call (or email) away.
Complete an online contact form for assistance 24/7, or give us a call during business hours.
Want to contact a Capital Farm Credit office but not sure which one, or just need their phone number or email? Visit our office locations page to search for locations by proximity, or simply by selecting on our map.
Bank in the comfort of your home.
Whether you're at your desk, in the barn or on a tractor, you can simply and quickly manage your Capital Farm Credit accounts from your desktop, tablet or smartphone: view your account information, make loan payments, transfer funds internally and externally from your Capital Farm Credit account(s).
Doing Your Homework?
Interested in an agricultural, rural real estate or home loan and doing your homework on #teamCFC before contacting us?
Check out the wide range of products and services we offer.
Capital Farm Credit is not just a farm and ranch lender. We also have a full Home Loan Department with home loan specialists located throughout our territory that fully understand the differences between financing a home in the country and a home in the city. Find out what we offer.
As a cooperative, we are owned and operated by the same farmers, ranchers, agribusinesses and rural homeowners we serve. They also share in our profits. Profits are returned through our patronage dividend program. In fact, Capital Farm Credit has returned more than a billion dollars to borrowers since 2004.
Want to find out exactly what a cooperative is? Check this out.
What is patronage? And how much could I receive? Check this out.
Grants and Scholarships Available
Capital Farm Credit is honored to support agriculture and the rural communities we serve, with more than just financing. Interested in a grant or scholarship? Learn more about what we offer here.
Interested in joining #teamCFC?
Capital Farm Credit is a great place to work. Our employees are passionate and committed to serving both rural Texas and each other. Visit our career page and online employment center for more information, and to apply.
---
Capital Farm Credit remains honored, and ready, to serve agriculture and rural Texas. We look forward to serving you with the same high standards you expect from Capital Farm Credit.
Thank you for the opportunity to serve you. Together we're better.