Your tool to determine land mortgage rates, interest, and More
What is a loan rate calculator?
Capital Farm Credit provides a land payment calculator that maps out your payments and loan amount, indicating your total payment and showing what amount of interest you pay in relation to your principal and your overall equity toward the remaining balance.
For those looking to secure a Texas land mortgage, our land loan calculator can be used as the first step toward understanding your financial requirements before you talk with one of our expert loan officers and determine a detailed payment plan, based on your requirements.
How to calculate your loan cost
As a borrower, your loan cost primarily comes down to the loan amount you are seeking with determined interest. There are several other factors that should also be solidified to discover your overall loan cost. Payments toward the balance can be estimated using the Capital Farm Credit farm land loan calculator.
Follow these instructions to determine an estimated payment schedule and to understand the breakdown of how your payments are credited towards your loan:
Insert your desired loan amount.
Select the estimated interest rate percentage.
Input your loan term (total years on the loan).
Determine your payment frequency (if not monthly, quarterly, semi-annually, and annually).
Select the amortization type for your loan (Regular Amortized (P&I) or Fixed Principal (P+I)
Interest may be the largest variable in your estimation, as rates fluctuate up and down, depending on market conditions, inflation, and a variety of other factors. You can select an estimation based on current rates to get a rough idea of how much total interest will be accrued over your payment cycles. This can help you determine the best plan for making actual payments.
*Note: The loan rate calculator is to be used for estimation purposes only and will never provide complete accuracy. Loans are subject to approval, terms of credit may vary, and the calculator is not to be used for any unintended purpose such as providing legal or investment advice.
Secure your property loan from Capital Farm Credit

When you select a land loan form Capital Farm Credit, you aren't just introducing a payment schedule into your operation. If you need assistance, we are the team to trust. A loan with our professional lending team creates a lasting relationship, and our loan officers know your needs because they have knowledge of rural Texas, and backgrounds working on farms and ranches in communities across the state.
Ready to purchase or improve that precious piece of real estate? Our team will work with you to secure a land loan with a competitive interest rate and terms that fit your specifications. Get started by using our land loan calculator to receive an estimation. You can also visit us at any of our numerous locations across the state of Texas to speak with a qualified lender. For more information or to get started today, contact us or call 877-944-5500.
Loan Calculator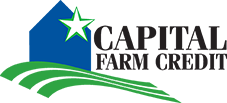 Capital Farm Credit Amortization Schedules
Interest Rate
Loan Term (years)
Payment Frequency
Selection
*
This is not a credit decision or a commitment to lend.
**
Payment amount assumes a full payment cycle from date of calculation.