Capital Roots Podcast: Stories from Agriculture's Footprint

A podcast brought to you by Capital Farm Credit, featuring stories about agriculture production, sustainability, lifestyle and Texas tall tales. We'll share unique stories about Texas Agriculture and how the ag industry impacts lives every day.
For more than 100 years, Capital Farm Credit has supported rural communities and agriculture with reliable, consistent credit and financial services. Capital Farm Credit is a proud member of the Farm Credit System adn serves more than 23, 000 members iwth loans outstanding totaling more than $11 billion. Headquartered in Bryan, Texas, Capital Farm Credit has offices serving 192 of Texas' 254 counties.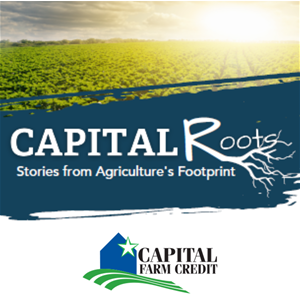 Find our podcast wherever you listen to your podcasts, including:
Rss.com: https://media.rss.com/capitalroots/feed.xml
Apple Podcast: https://podcasts.apple.com/us/podcast/capital-roots-stories-from-agricultures-footprint/id1674268993
Spotify: Capital Roots: Stories from Agriculture's Footprint | Podcast on Spotify
IHeart: Capital Roots: Stories from Agriculture's Footprint | iHeart
Pandora: Music and Podcasts, Free and On-Demand | Pandora
Google: Capital Roots: Stories from Agriculture's Footprint (google.com)