News
CFC Announces Support as Newest Founding Sponsor for Lubbock Expo Center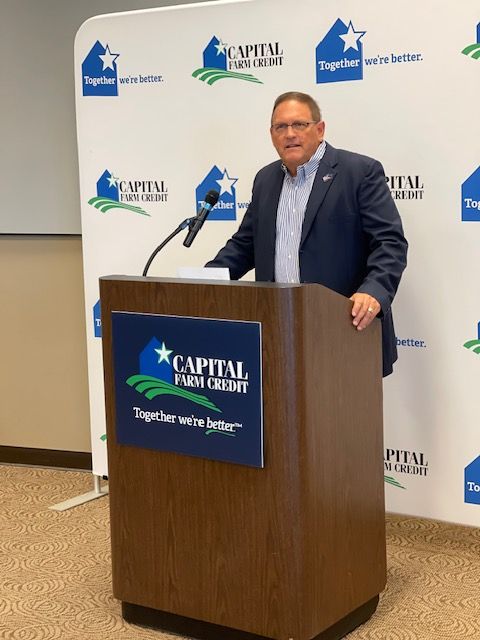 Capital Farm Credit recently announced its commitment to the Lubbock County Expo Center (LCEC) as a Founding Sponsor.
Capital Farm Credit proudly supports the LCEC with a multi-year monetary commitment that will positively impact the Lubbock community and the South Plains. Capital Farm Credit's mission aligns with the LCEC to support agriculture, youth and community. This facility will provide a multitude of opportunities for the next generation of farmers, ranchers and agribusiness owners.
"As the largest agricultural lender in Texas, we are honored to contribute to this first-class expo center benefiting this entire region and patrons from all over the state," said Jeff Norte, chief executive officer. "The South Plains is an agricultural hub and doing our part to enhance this community is an opportunity we welcome."
Randy Jordan, President of the LCEC Board, was equally humble in his acknowledgement of Capital Farm Credit as a Founding Sponsor.
"Our greatest thanks go to Capital Farm Credit and their team for making this announcement," Jordan said. "We have quickly learned that while it took a community to overwhelmingly vote for the HOT tax to begin this venture, it is that very same community stepping up to the plate to support this grand endeavor monetarily. While our board has long-been working hard, two very big things we've learned: Timing always is in God's hands, and support is right here in our own backyard. We are truly blessed."
As initial underground work continues at the site on north University, the LCEC is positioned to be a flagship venue serving patrons and families of today and future generations. The 430,000 square-foot venue will be a state-of-the art home for first-class entertainment in Lubbock County and a hub for rodeos, agriculture, sports, culture and recreation. With the anticipated official groundbreaking this year, patrons can expect to visit the venue in 2025.
"We understand the importance for this venue in the South Plains," said Norte. "The opportunities and collaboration it will create for the ag industry and surrounding rural communities is unmatched. Capital Farm Credit looks forward to what the future has in store for this facility and the impact it will make on the next generation of agriculture. "