News
Scam Alert: Important Information Regarding my Loan?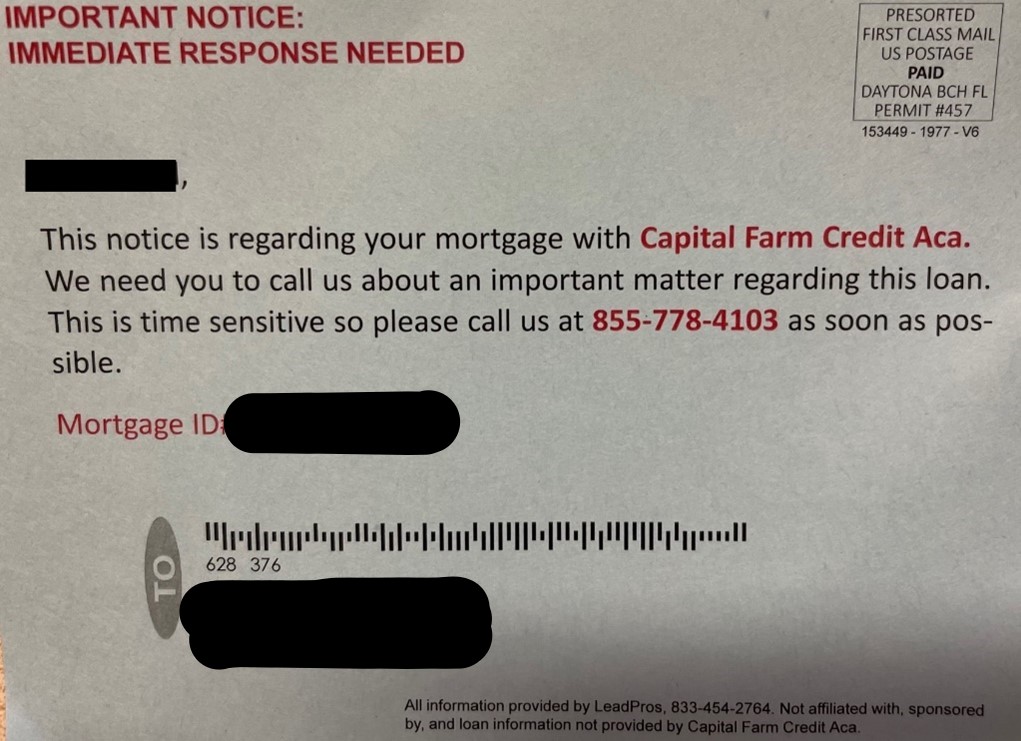 Mysterious postcards are showing up in mailboxes all over the country and they've recently started hitting homes in Texas. Be aware that this "time-sensitive" matter is nothing more than a mortgage scam attempt.
So, what the heck are they?
First, know that these mailers did
NOT
come from Capital Farm Credit — in fact, they did not originate from any financial institution. Recipients are urged to contact a toll-free number regarding a recently closed loan.
Where are they coming from?
Companies from all over the world have access to purchase your information if it has been publicly listed such as with the register of deeds. Capital Farm Credit does not sell or share your information to anyone.

How does the scam work?
Often, these scammers will pull what's called the "phantom help" maneuver, where they'll encourage you to reduce or even stop your loan payments while they work to lessen your costs. Unfortunately, by the time you realize you're being taken advantage of, the phantom helper is long gone and generally with your credit card or other account information used to process the transaction.
How do I protect myself against these postcards?
It never feels good to be the target of a scam, but unfortunately it happens to all of us. Should one of these end up in your mailbox, recycle it. Do not call the number. Do not interact with them. Throw the mailer away and forget it. Remember, Capital Farm Credit does not send notifications like this, and we will NEVER ask for your social security number, passwords, or other sensitive information via postcard or over the phone.
If you are ever uncertain in a situation, contact us right away by calling your local Capital Credit office or relationship manager directly.