News
Investing in the Future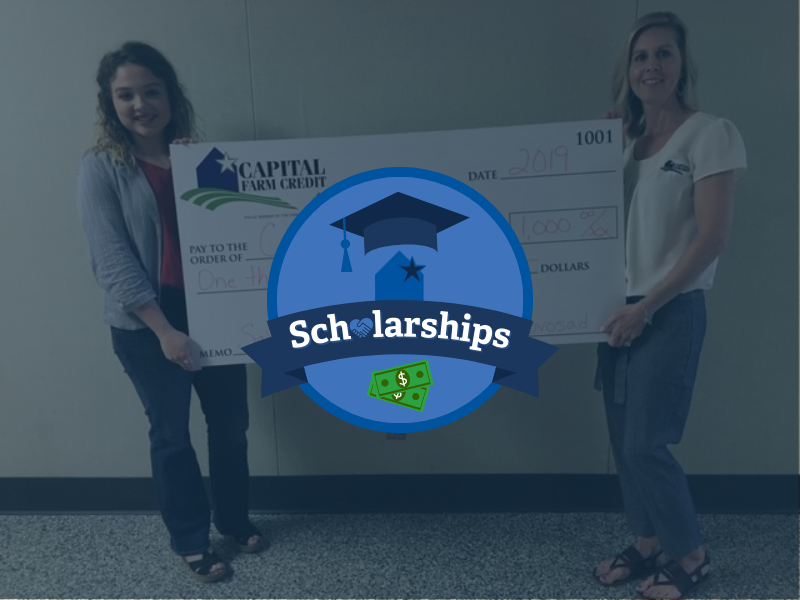 Nancy Marshall, Loan Administrator III in the Matador office, presented Carley Turner with a $1,000 Capital Farm Credit Youth Scholarship in 2019.


Giving Back
Capital Farm Credit has been dedicated to serving Texas farmers and ranchers for more than 100 years. Our mission is to provide reliable credit and financial services that enable our members to achieve success in agriculture and rural communities. In order to sustain Texas agriculture, it is imperative that we extend our support to not only the current generation of agriculturalists, but the future as well.
Since 2016, the Capital Farm Credit Youth Scholarship Program has provided more than half a million dollars to students seeking a higher education. These funds have helped more than 500 Texas students during their collegiate journeys, including Capital Farm Credit employee Carley Turner.
A Lifetime Partnership
Turner grew up in the small town of Matador, Texas. Her father is a farmer and rancher, and Turner quickly found her passion for agriculture as a child through shadowing him on the family operation.
Her first experience with Capital Farm Credit dates back to the third grade, where she participated in the AgStart program. This program allows youth in agriculture to apply for a loan under their parents, and receive funding in order to raise a livestock project of their own. Turner used this funding to raise her first market goat project, and went on to exhibit market lamb, steer, and hog projects in later years.
"It taught me the importance of managing money, which goes into every aspect of life," said Turner.
Turner graduated from Motley County School in 2019, the same year she was awarded a $1,000 scholarship from the Matador Capital Farm Credit office.
"It was one of the scholarships that allowed me to graduate college without being in debt, and having to pay for it out of pocket. I'm thankful for that," said Turner.
She attended Angelo State University, where she earned her Bachelor of Science in Agribusiness, with minors in business administration and accounting. Turner also participated in an integrated program that allowed her to simultaneously earn her Master of Business Administration degree, which she graduated with in 2022.
A few weeks after finishing college, Turner began a summer internship position with the CommAg department at the Lubbock Capital Farm Credit office.
"I love numbers, and I've always been a part of agriculture, so I wanted to continue that," said Turner.
Her journey with Capital Farm Credit came full circle a few months later, when she accepted a full-time role as a Credit Analyst Associate.
"I've never met an area of work where everyone is so supportive, they're just so nice and willing to help each other every step of the way," said Turner.
Applications for the 2023 Capital Farm Credit Youth Scholarship are now open until April 11, 2023 for graduating high school seniors. To apply, visit our scholarship page. To learn more about the AgStart program, click here.