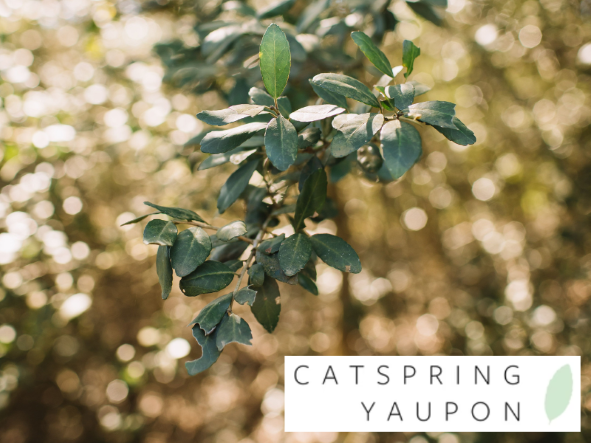 When Abianne Falla founded CatSpring Yaupon alongside her sister in 2013, she sought to bring life back into an ecosystem that was rapidly dying due to extreme drought. Nearly a decade later, CatSpring Yaupon remains dedicated to giving back to the community and the plants that allow the business to grow.
Home Grown
As the only caffeinated plant native to North America, yaupon is derived from the plant Ilex vomitoria. Known as the "beloved tree," by the Cherokee tribes, the leaves of this evergreen are rich in history and health benefits.
For more than one thousand years, indigenous tribes have indulged in yaupon brews. Commonly referred to as "black drink" by native cultures, this yaupon tea was often consumed as a ceremonial drink.
A citizen of the Chickasaw nation herself, Falla takes pride in keeping yaupon's rich culture alive within her business.
"We were finding these incredible historical accounts, with virtually every indigenous tribe along the gulf coast having a tradition with it," says Falla.
Sunshine & Rainwater
With 1,100 acres of yaupon growing year-round, Falla remains dedicated to practicing sustainable agriculture. The only ingredients used in the growing process are sunshine and rainwater, and the yaupon is picked by hand year-round.
"We wanted to be really intentional in how we harvest and how we manage the land," says Falla.
Falla plans to further expand the company's sustainability practices in the near future by installing solar panels and replenishing long-lost native grasses.
"Where we are, the yaupon really grows unchecked. Ninety percent of the native grasses in our region have been eradicated," says Falla.
"What we're hoping to do is reintroduce some of these native grasses in swaths and patches, so that we can implement more biodiversity".
Falla hopes that these efforts will help to increase the water table replenishment, and reduce the risk of flooding in the area.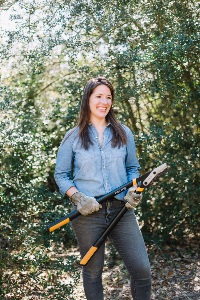 Wild-harvesting the yaupon is just one of many efforts Falla makes to practice sustainability.
People First
CatSpring Yaupon was founded on finding value in a plant that had been previously overlooked. Now, Falla and her team work diligently to make sure that the people she employs do not experience the same disregard.
"There are so many people in our community that are marginalized and written off as invaluable," says Falla.
Regardless of their past, the CatSpring People First Employment program aims to give these individuals a chance at a better future.
"We're about finding value and dignity in people, plants, and our planet," says Falla. "I can't see building the company any other way".
Keeping it Simple
CatSpring Yaupon currently offers three different types of yaupon tea year-round and a seasonal holiday blend in the winter. These variations include a dried green yaupon tea, a medium roast, and a darker roast. Falla's preference on how to prepare the tea changes as frequently as the Texas weather.
"Lately I've been on a green yaupon kick," says Falla. "Sometimes I'll add either a ginger or lemongrass or something else in there for a different flavor."
In addition to its smooth, earthy flavor, yaupon boasts an impressive list of health benefits. A natural anti-inflammatory and cleanser, the brew is rich in antioxidants. Unlike typical tea products, which lose their antibiotic properties shortly after brewing, yaupon contains stable antibiotics that retain their benefits for a much longer period of time. These unique qualities make yaupon a sought-after ingredient in products such as kombucha, cosmetics, and even energy drinks.
"To be able to partner with people that can appreciate different aspects of yaupon, and then are able to share it with their customers, that's been huge," says Falla.
When asked if she plans to create her own brand of yaupon-based products, Falla prefers to keep it simple.
"We've decided that we will just be the best in the world at making yaupon, and then we'll partner with people for the rest of it."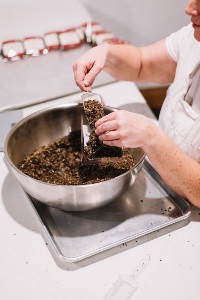 In addition to sunshine and rainwater, simplicity is a key ingredient in yaupon tea.

A Trusted Advisor
Mark Rutledge, a relationship manager at the Austin Capital Farm Credit office, has been working with Falla for the past six years. Their relationship began when Mark read an article in the Austin Business Journal about CatSpring Yaupon.
"I sent them a letter that said, if you ever need financing and want to grow and expand, give us a call. Several years later, she called," says Rutledge.
Although yaupon has been grown for consumption for millennia, financing CatSpring Yaupon's commercial production efforts has been a unique opportunity for Rutledge and the Capital Farm Credit team.
"He's really taken the time to understand our process, our needs, and figure out what works best for us," says Falla.
As for the future, Rutledge looks forward to seeing Falla continue to fulfill CatSpring Yaupon's sustainability mission.
"She's changing the narrative," says Rutledge. "Regenerative agriculture is the new buzzword, and she is fitting the definition of that very well. She represents unique agriculture, and I really am impressed with her operation and what it's about."
To learn more about CatSpring Yaupon, visit their website at catspringtea.com