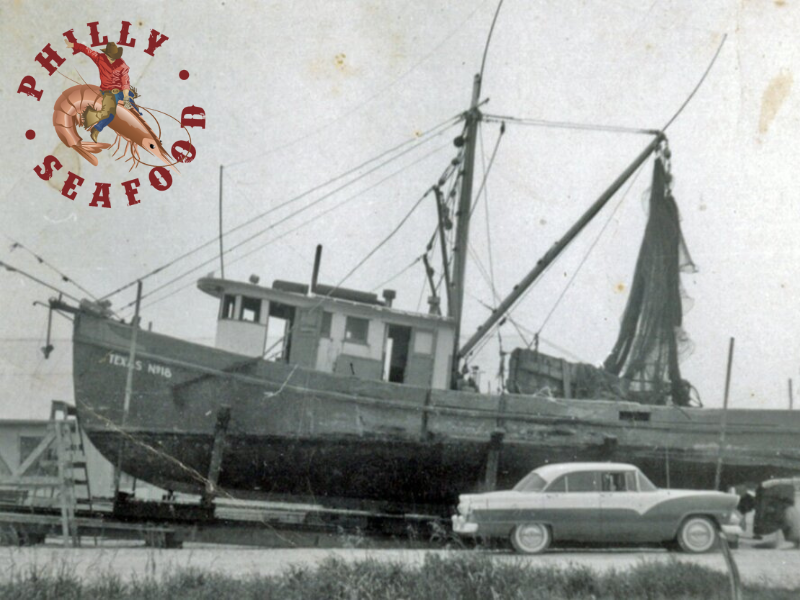 Capital Farm Credit Advisory Council member and longtime borrower Regina Garcia Peña shares her story of continuing her family's legacy as the owner and president of Philly Seafood.
Humble Beginnings
Nestled in the seafood section of H-E-B, you may spot bags of product marked with the distinctive image of a cowboy riding a shrimp. This unique logo belongs to Philly Seafood, a family-owned shrimping operation that has been in business for over seven decades.
In 1952, Antonia and Edward "Lalo" Garcia Sr. bought their first shrimp boat, also referred to as a trawler. They began shrimping in the small coastal town of Palacios, Texas, a humble beginning that would eventually become the largest privately-owned fleet in the United States.
Antonia and Edward had 13 children together, six sons and seven daughters. Today, each of their sons remain involved with the family business alongside just one of their sisters, Regina Garcia Peña. Peña was recruited by her brother Kenneth in 1988, and initially began by working to get any extra inventory sold, as well as making deliveries to customers.
Then one day, Peña received a phone call from the Texas grocery chain H-E-B, asking Philly Seafood to become an official vendor. The family jumped on the opportunity, which Peña says truly kickstarted the growth of her family's business.
"We started working with them, and of course, they're such a great company. It gives you a lot of credibility when you work with H-E-B, so that really kind of was where we scaled some, and it just got busier and busier," recalls Peña.
Not long after that phone call, Philly Seafood began to hire more employees and invest in additional equipment to meet the increasing demand, including their own delivery truck and cold storage facilities.
Although everything was falling into place, Peña knew she needed to expand her knowledge of running a business in order to keep up with the company's success. She turned to Capital Farm Credit, where former loan officer Pat Ross helped her to do just that.
"He was my mentor, he advocated for Philly Seafood. He was extraordinarily kind and generous with his time. He taught me everything about business, I cannot express the gratitude I have for him," said Peña.
Making Waves
Over twenty years later, Peña now serves as the owner and president of Philly Seafood, and works each day to ensure that her family's values of hard work, quality, and dedication shine through in the shrimp they produce.
The fleet specializes in harvesting brown shrimp from the Gulf of Mexico, as well as the white and Florida Pink species. They offer everything from shell-on products, to shrimp that are pre-peeled and deveined. Each of the 52 vessels responsible for harvesting the shrimp are named after someone near and dear to the family, including the "Captain Edward," which pays homage to founder Edward Garcia, Sr.'s dedication to spending his life as a farmer of the sea.
"My brothers named their boats after their children, and now, their grandchildren," said Peña. "It's just a memorial type of thing that we do."
A New Perspective
Less than ten percent of the commercial shrimping workforce is made up of women, making commercial shrimping an undoubtedly male-dominated industry. Although Peña has served as a trailblazer for Philly Seafood's success, her experiences as a woman just starting out in the industry were not always positive. However, she quickly learned the power of a family name, and how to use her own to her advantage.
"Our family had a wonderful reputation in production, so that really worked to my benefit," said Peña. "All I had to say was, 'I'm Edward's daughter,' and people would talk to me, whereas before they wouldn't answer the phone. That really helped give me legitimacy in the shrimp world. I'd like to say it was me and my charming personality, but really, my family's name opened a lot of doors for me."
Although Peña credits her family name for giving her the boost she needed to get started, her hard work and dedication to marketing Philly Seafood's product has not gone unnoticed by customers. The family takes pride in building relationships, and always putting the needs of the customer first.
"I have the first customer that I worked with 23 years ago when I started, they're still my customer today," said Peña. "Doing good, honest business. I think that sets us apart."
As for the future, Peña looks forward to seeing where the tide takes Philly Seafood.
"My hope and our plan is to continue to grow," said Peña. "I see a lot of great blue skies, there's a lot of opportunities."
Her daughters and nephews have recently begun to get on board within the company too, expanding the family legacy across three generations.
"We're looking to the future," said Peña, "and we're excited about it."
To learn more about Philly Seafood, visit their website here.