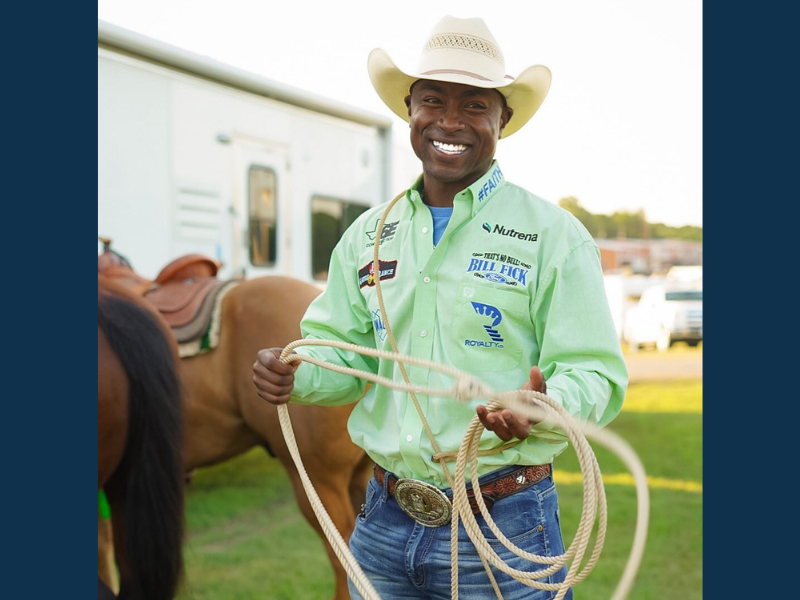 Pro rodeo athlete Cory Solomon hopes to make a lasting impact on his community through a summer camp program focused on educating local youth on the value of the rural lifestyle.
Many know Cory Solomon as a stellar rodeo athlete, famous for his talent in the sport of tie-down roping. The 9-time National Finals Rodeo qualifier is no stranger to the spotlight, and recently brought home the third place tie-down roping title at the 2022 Wrangler NFR.
Capital Farm Credit is a proud sponsor of Solomon and his rodeo endeavors, but our partnership doesn't end there. Thanks to Capital Farm Credit, Solomon was able to purchase ranch properties in Prairie View, Texas and Hempstead, Texas, where he currently runs cow-calf and feedlot operations.
"My whole life I roped, and knew I was going to rodeo," said the 32 year-old. "But I got into ranching because I didn't come from money. I needed cattle to pay my entry fees at first."
He also recalls the sacrifices his parents, Caralita and Larry Solomon, made in order to help him achieve his dreams.
"My dad sold all of his cows for me to purchase my first good horse, and that was the year I actually made it to NFR," said Solomon.
A Shared Mission
In addition to putting in countless hours of practice to prepare for rodeos across the United States, Solomon works alongside his brother, Lawrence McCullough, to host the Next Generation rodeo events. These events serve as a chance for young rodeo contestants to qualify for the Junior World Finals in Las Vegas. Contestants, aged anywhere from 7 to 19, also have the opportunity to learn from the mentorship of Solomon and McCullough during their time at the rodeo.
"We've sent kids out to Vegas at eight years old, and they win," said Solomon.
Giving Back
Despite his great success in the rodeo industry as an athlete and mentor, Solomon has never forgotten where he came from. When he isn't training for the next competition, the Prairie View native is working to give back to those in his community, through establishing a summer camp at his ranch. His plans for the camp are to give underprivileged students from urban areas an opportunity to experience the rural lifestyle.
"I want to make an impact here, on the kids, on the community," said Solomon.
He hopes that the summer program will give the campers an appreciation for hard work, while helping to keep them out of trouble.
"It's all about guidance, we all need it," said Solomon.
Although he has had offers to build his summer camp program at an out-of-state location, Solomon is grateful for the assistance of Capital Farm Credit in making his vision of staying local possible.
"I didn't have the land or the arena, the assets you need to do it," said Solomon. "That's why I'm glad to partner with Capital Farm Credit."
Solomon will be competing at the Houston Livestock Show and Rodeo on March 6-8, 2023. To keep up with Cory and his rodeo and ranching ventures, follow him on social media here.