News
Cutrer and McDonald Named to the CFC Board of Directors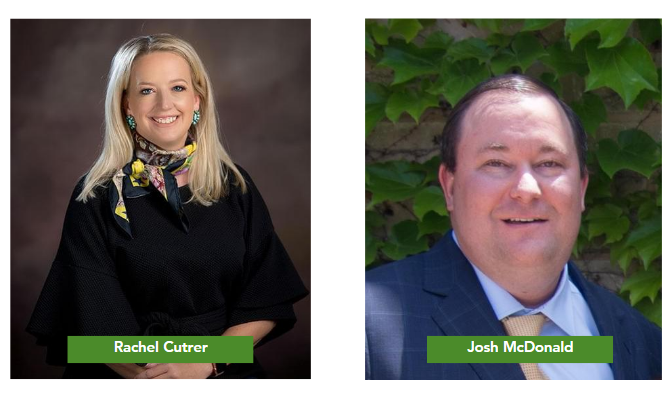 Capital Farm Credit extends a warm welcome to its newest directors of the board. The Board of Directors is responsible for the general oversight and direction of the Association.
Congratulations to Rachel Cutrer and Josh McDonald.


Rachel Cutrer
At-Large Director, Seat #3
Rachel Cutrer is a seventh-generation Texas rancher and businesswoman from Wharton County. In 1999, she created Ranch House Designs, the world leader in livestock marketing, and has served as CEO since its inception. Cutrer is also co-owner of B.R. Cutrer Ranch, one of the world's leading Brahman cattle operations, and a founder and partner of Brahman Country Beef, Brahman Country Genetics, FitBeef, and The Ranch Downtown. Cutrer is an avid spokesperson for agriculture, serving as a keynote speaker for numerous events and conferences throughout the state.
Josh McDonald
Regional Director 1, High Plains
Josh McDonald started his farming business at age 15, renting a farm to grow crops and stocker cattle. He is now a partner and CFO at Blue Sky Farms, a family-owned, multi-state dairy and farming operation based in Friona, Texas. Blue Sky Farms operations consist of dairy, alfalfa, cotton, and grain farming throughout the Panhandle, South Plains, and Central areas of Texas. McDonald is also the owner of Sea Scrolls, a real estate company focused on investment and development in rural towns. In addition, he is a partner in an accounting services company based in Canyon, Texas, which provides financial management for dairy farms, crop farms, and ag retailers.