News
Celebrating Hispanic Heritage Month | Sergio Benavides, 7B Cattle Co.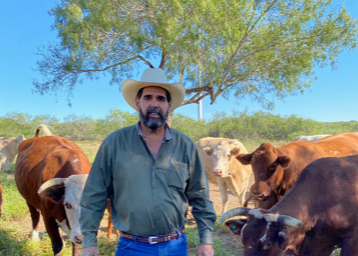 Texas without Hispanic culture would not be Texas.
Fifty-three years have passed since we began celebrating National Hispanic Heritage Month in the United States, creating a cultural vibrancy in the Lone Star State.

The Hispanic culture in Texas agriculture is essential to the bigger picture of rural America and Farm Credit. The 2017 Ag Census totaled over 41,000 Hispanic/Latino producers in Texas alone with a contribution of $21.8 billion in agricultural products.

Capital Farm Credit celebrates our Hispanic farmers and ranchers during the month of September but value their stories and contributions to Texas agriculture year-round.


7B Cattle Company
Capital Farm Credit member, Sergio Benavides, managing partner of 7B Cattle Company in Laredo, Texas, says agriculture is a part of his life and an important part of his family.

"We've been putting up with mother nature all this time. Keeping cattle has been in our blood for many years," says Benavides. "There are peaks and valleys. No matter, you keep-on going and Capital Farm Credit has helped us along the way."

The cow/calf operation formed in 1972, is named after Benavides' and his six siblings. As the fourth generation in agriculture, cattle ranching has been a Benavides family tradition for as long as he can remember.

"Coming from the Hispanic culture, family is very important. We are a tight family. We stick together," says Benavides.

Members of Capital Farm Credit for over 25 years, the family partnership runs cattle in four different counties in Texas, and part of Mexico. Long hours have developed into a steady rhythm— a novelty, Benavides notices, to younger generations in South Texas.

"Most agricultural people know how to raise cattle, but we depend so much on mother nature. You could plan your whole year but once it starts everything changes."

Ranchers like Benavides and 7B Cattle Company preserve cattle-raising in Texas and the Hispanic culture. "There's a romance in it. If it wasn't for that, I would have been out of it a long time ago," laughs Benavides. "Cattle ensure you keep your property in tip-top shape. It gives you a reason to get up in the morning. We are always doing something."

"It is gratifying to look at the land you have transformed into something better. If you like what you do, you do well."

Capital Farm Credit recognizes and appreciates our Hispanic farmers and ranchers for impacting and contributing to the definition of Texas agriculture.


---
Sergio Gerardo Benavides, born August 31, 1956, is the youngest of seven children to the late Armando and Arabella Laurel Benavides. Sergio and his wife Anna Lydia are the parents of two sons, Sergio Gerardo Jr. and Horacio Ramon.
After graduating from J.W. Nixon High School in 1975, he attended Southwest Texas Junior College in Uvalde, Texas, graduating with a degree in Farm & Ranch Management with an efficacy in Entomology.

A fourth-generation cattle rancher, Sergio carries the legacy of those before him with an eye to the future. He is very involved with conservation practices, working closely with his local NRCS office.