Eddie Robinson is best known for his pro baseball career. But at Capital Farm Credit, he's also known as a pecan farmer. Eddie Robinson talks about his careers in pro baseball — and pecan farming!
As our national pastime, baseball is a game rooted in history. And no one has experienced as much baseball as Eddie Robinson.
Eddie was on the field when Babe Ruth walked into Yankee Stadium to have his number retired. He played for the Cleveland Indians when they won the World Series in 1948. More than 25 years later, Eddie was general manager for the Atlanta Braves when he watched Hank Aaron break Babe Ruth's home run record.
Nowadays, the 100-year-old Capital Farm Credit customer can look back over his life with pride and appreciation. And he can fondly talk about how a first baseman ended up a pecan farmer in Bastrop County, Texas.
Humble beginnings
Eddie was born in 1920 and raised in the rural community of Paris, Texas. As the only child of a single mom during the Depression era, Eddie did all he could to help provide. When not in school, he picked cotton and loaded trucks to deliver produce for a freight business.
But Eddie had a passion for sports where he excelled in baseball.
"Back then we didn't have high school baseball teams. We played for community teams," says Eddie. "I played for Charlie Osborne's Cubs. I was a pretty good hitter."
Big break
Through high school, Eddie played for Osborne's team and later for the Coca-Cola Bottlers. Then after his senior year, he had a decision to make.
"A couple of minor league teams gave me baseball contracts, and I was offered a scholarship to play for the University of Texas," says Eddie. "My mom and I discussed it and we decided that if I was any good, I could be in the big leagues in three or four years.
"So I signed with the Knoxville Smokies because they offered me a $300 signing bonus. That was a lot of money to us. The first thing I did was buy mom a washing machine. It cost $35."
Life in the minor leagues
In 1939, Eddie began his career playing in Valdosta, Georgia, at the lowest level of professional baseball. It wasn't quite the start he had in mind.
"I nearly got released," says Eddie. "The coach told me I should move back home and open an ice cream parlor. That motivated me to get better."
And Eddie would get better. By his third season he was sent to Elmira, New York, to play at the highest minor league level.
"We had a good season and won the Governor's Cup," says Eddie. "Then I had another pretty good year in 1942, and the Cleveland Indians bought my contract."
Eddie became a Major League player in his fourth season of professional baseball, until a curveball came his way.
Major league success
As fate would have it, baseball was put on hold due to World War II. Eddie enlisted in the Navy's Athletic Specialists program and served for three years.
But by late 1946, Eddie was back playing for the Indians. And for the next 12 years, he played first base in the big leagues.
Eddie's playing career took him to Cleveland, Washington, Chicago, New York, Kansas City, Detroit and Baltimore. He was a four-time All-Star and played in two World Series, winning one as an Indian in 1948.
"I was blessed to play during the Golden Age of baseball," says Eddie. "Winning the World Series in Cleveland was special, but my best years were in Chicago. And I enjoyed playing for the Yankees with great players like Yogi Berra, Billy Martin and Mickey Mantle."
First base to front office to farming
When Eddie's playing days ended, his baseball career was just beginning. Over the next several decades, Eddie would be a scout, coach, director of player development and general manager for various teams.
He spent time with the Houston Colt .45s (Astros), Atlanta Braves, Kansas City Athletics, Boston Red Sox and Texas Rangers.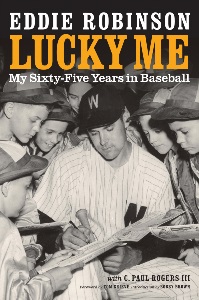 "We moved around a lot, which can be hard for a family," says Eddie. "It was important to Bette [Eddie's wife] that we put down roots somewhere. She wanted our boys to think of Texas as home."
So, in the late 1970s they bought land in Central Texas with the idea that they'd go into pecan farming.
Pecans, peaches and partners
One of Eddie's teammates, Roy Petty, had once pitched the idea of pecan farming.
"I didn't know much about it, but Bette was interested," says Eddie. "So I called a friend of mine who was doing pecan research for Texas A&M University."
That friend was George Madden, who was cultivating new pecan varieties, many of which are still grown in Texas. Eddie, George and Roy decided to partner up and try pecan farming, and they bought land along the Colorado River near Bastrop.
"That first year we planted 7,000 pecan trees and 4,000 peach trees," says Eddie. "We thought we'd make some money on the peaches, while we waited on the pecan trees to mature.
"But that didn't work out so well. All those peaches came off at the same time and we had a hell of a time getting rid of them."
Long-lasting lender relationship
The pecan trees, however, continue to produce. Business partners have changed over the years, but the Robinsons still own their 60-acre pecan grove. These days the acreage is leased to Gary Lehman, an experienced and successful pecan grower.
In 2005, Eddie and Bette became Capital Farm Credit customers when they made improvements to their property. Since the beginning, they've worked with Tim Knesek, regional president for Capital.
"My wife and I have had the opportunity to spend time with Eddie and Bette and enjoy their great hospitality," says Knesek. "They are wonderful people, and my life always seems a little richer after being with them."
The feelings are mutual.
"We've known Tim for a long time," says Eddie. "I appreciate how Tim and Capital do business. They've always been upright with us. Plus I really like that bonus check that shows up every year."
Extra innings
Among his many honors, Eddie is the oldest living former Major League baseball player. He's the only living person to win a World Series with the Cleveland Indians. And he is the last surviving member of the 1943 Navy World Series.
"I was blessed to spend 65 years in baseball," says Eddie. "A friend of mine once said, 'I never had a real job.' I guess that's what kept me so young."