News
Success From The Depths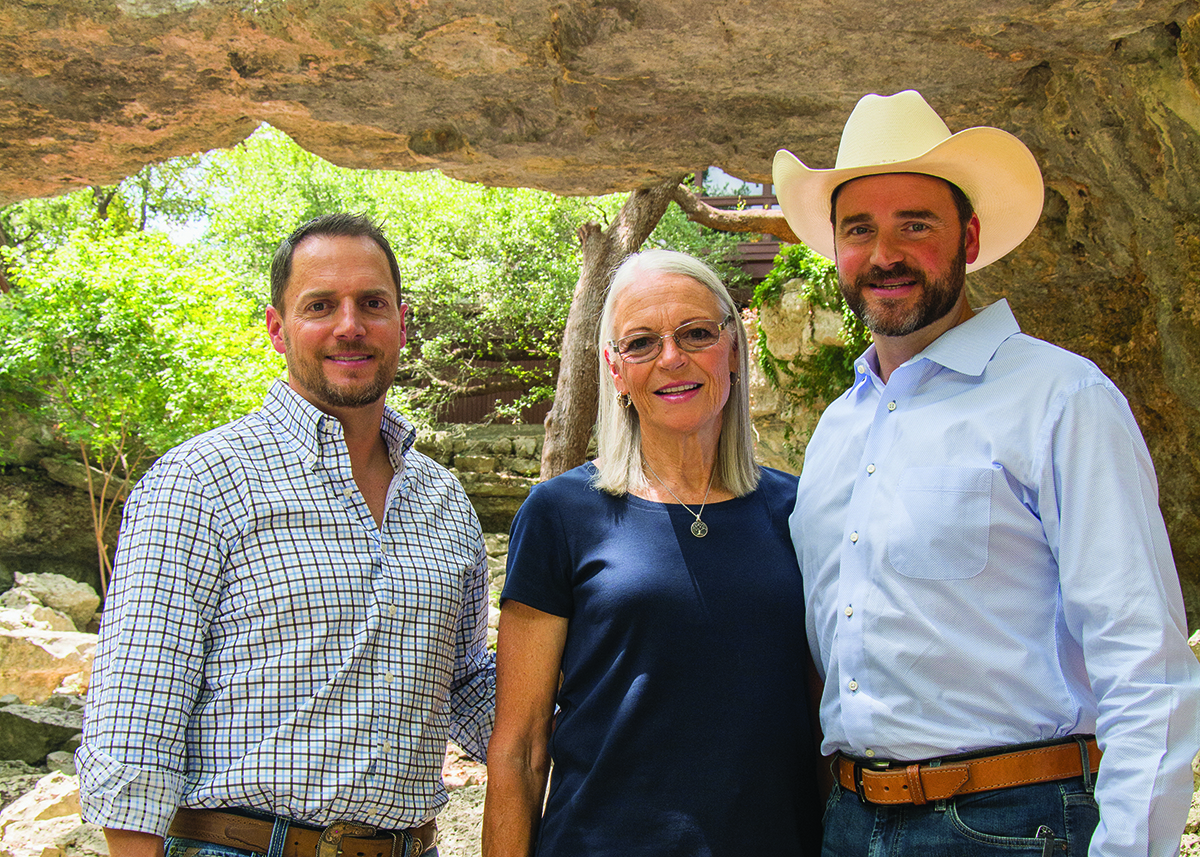 Wuest family turns Natural Bridge Caverns into successful venue
From a rocky bluff west of New Braunfels, Texas, Brad and Travis Wuest and their mother, Joye, scan the rolling hills where their ancestors eked out a living. More than a century later, the trio still ranch the same rugged land. But nowadays, most of their time goes to managing the spectacular cave system that lies beneath their land.
Natural Bridge Caverns — named for the limestone slab bridge that spans the cave's opening — is the state's largest show cave. One of Central Texas' best-known natural attractions, the underground phenomenon welcomes more than 300,000 visitors annually. It's a designated National Natural Landmark and listed on the National Register of Historic Places.
"We love our ranch and our caverns," Brad says. "We're passionate about both. Every day, Travis and I work to instill those values in our children."
Longtime Partnership With Farm Credit
Toward that goal, the Wuests first partnered with Capital Farm Credit in 2001 to purchase pieces of the original family ranch and adjoining land. With their first loan, they acquired undivided interest in 100 acres around the cavern's attractions complex.
Their second loan helped them purchase 1,132 acres called the Homestead Pasture. A small limestone and log home built in 1883 by the brothers' great-great-grandfather stand on this property.
In 2016, they purchased 346 acres of adjoining land that was part of the original Wuest Ranch.
Sharing a love for the Rocky Mountains, the close-knit family worked with Capital Farm Credit to purchase a ranch in Colorado. They lease the land for grazing, vacation there in the summer to escape the Texas heat, enjoy the remoteness and hunt elk on the ranch in late fall.
"Through the years, the people we've worked with at Capital Farm have been so accommodating," Joye says. "From land appraisers to staff who did the paperwork, Capital Farm has responded to our needs."
For his part, Brad appreciates how Capital Farm Credit operates as a cooperative.
"They offer patronage dividends and allocated equities, which we receive regularly because we've been a longtime customer," he says. "They also have more favorable terms compared to other traditional lenders."
When Travis applied for a home loan this year, he was pleasantly surprised at the ease of the process. "Capital Farm Credit was willing to work outside the box with us," he says. "They were open-minded and tried to find innovative ways to work with us."
Strong Family Legacy
Cattle still graze on the Wuest Ranch, although not as many as in decades past. These days, a foreman oversees 53 head of Brangus along with a few horses.
"We used to raise Boer goats and sell show goats, but not anymore," Brad says. "It's gotten to where the cavern supports the ranch now. It used to be the other way around."
Every family goes through trying times, and the Wuests have had their share. In 1956, Grandfather Hilmar Wuest died when his prickly pear burner exploded. He'd been burning thorns off cacti that he was feeding his cattle during the drought. The accident left his wife, Clara, on her own to raise their two children and run the ranch.
But just a few years later, the family's fortune would change.
Discovering the Caverns
In 1960, Clara reluctantly let four college students from Saint Mary's University in San Antonio explore a sinkhole on her land. When the young men reported they saw amazing cave formations, Clara scoffed. Then she sent her son, Reggie, on the next underground trip. His confirmations paved the way for more spelunking trips.
In the meantime, Clara married Harry Heidemann, a Texas highway patrolman. On their honeymoon, they toured show caves across the country. Together they decided to develop their cave for public tours.
Construction of lighting and cavern walkways began in March 1963. Clara also worked to have a state highway built to the rural site. Several times, the couple ran out of money before the cave opened on July 3, 1964.
"Clara believed so strongly in the caverns that she mortgaged everything — their home, the land and even the livestock," Brad says. "She was a real entrepreneur. When that money ran out, she convinced the cave developer, builder, lawyer and well-driller to take payment with stock. As the business grew, she bought back the stock and kept the business ownership in our family."
For more than three decades, Clara, Harry and Reggie managed and expanded Natural Bridge Caverns. Sadly, Harry passed in 1996, followed by Clara in 1997 and Reggie in 1998. Their deaths rocked the family. The losses also thrust Brad and Travis, who'd worked at the caverns since boyhood, into leadership roles in their early 20s. Today, Brad serves as president, while Travis is vice president and Joye is chief financial officer.
Five Different Tours Offered
"When we started, the business had one kind of cavern tour with a snack bar and gift shop," Brad says. "Now we have five kinds of tours."
In 2012, the Wuests opened Discovery Village, which features a ropes course and zip lines, an outdoor maze, a trading post with a gem-mining sluice and a sweet treats shop.
"We want our guests to reconnect with their families by experiencing nature and adventure together," Brad adds.
Exploration Turns Up New Passages
Their shared love for adventure motivated the brothers to further explore their beloved caverns earlier this year. During three arduous expeditions, lasting 13 to 19 hours, the pair and their team of experienced cavers discovered more than 1,600 feet of new passages that included incredible formations and pristine lakes.
"It's hard to convey the emotion I felt when we discovered virgin passages," Brad recalls. "I thought, wow, I'm going where no human has been before. It was very humbling."
So far, the family hasn't decided what to do with the new discoveries.
"For now, we'll continue to explore the passage because adventure and discovery are part of our brand," Brad says. "For many of our guests, this is their first cave experience. We want them to feel some of the emotion that we do and understand why caves are important and should be protected."
As fifth-generation landowners, the brothers — who are married to sisters — hope to pass on their passion for the land to their own children. Brad and his wife, Lexi, have four — Ashley (who works at the caverns), Clara, Emilie and Harrison. Travis and his wife, Jennifer, have three — Morgan, Ryan and Logan, who are also starting to work at the caverns.
"We've taken the family legacy and built on it," Brad says. "We're looking forward to seeing what the next generation will do here at Natural Bridge Caverns."