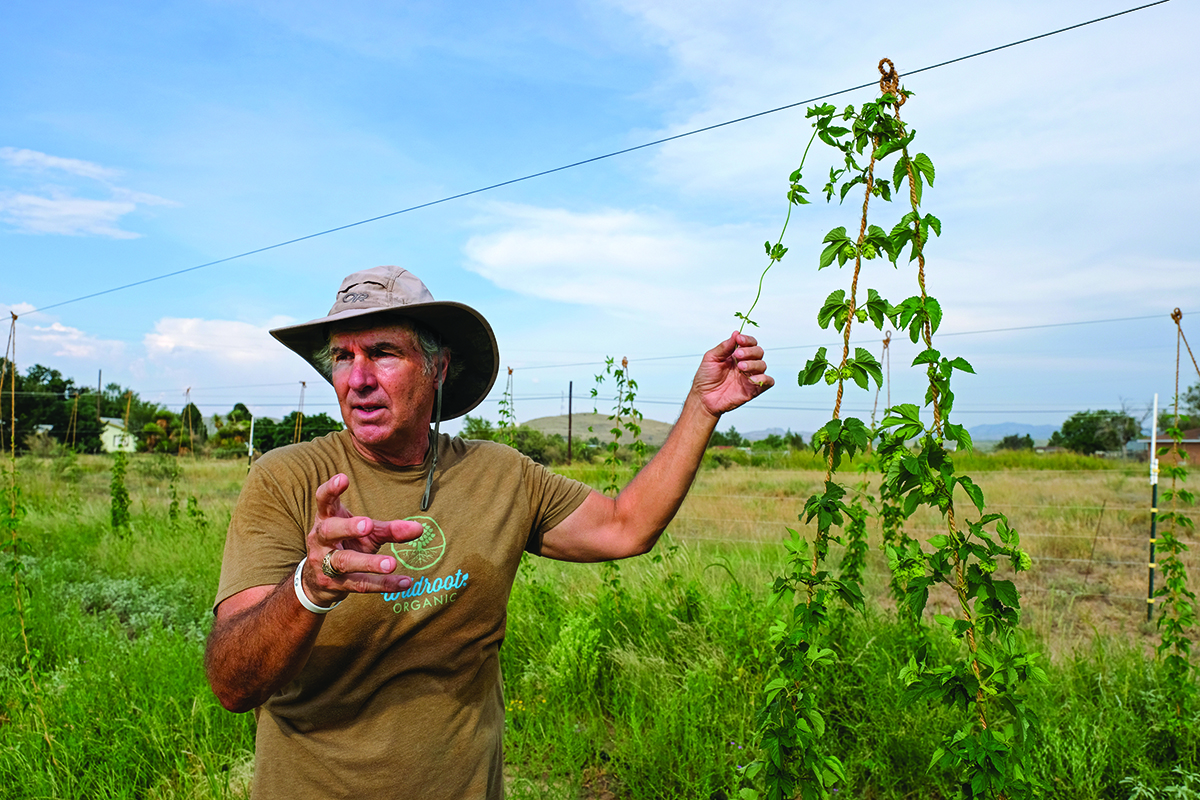 Conventional wisdom says hops will not grow in Texas. David Steinbrunner is proving otherwise.
With the support of Capital Farm Credit, David Steinbrunner recently started growing hops under far West Texas skies. And not just any hops — they're organic, hand-picked hops, delivered at the peak of freshness.
Growing in Tough Conditions
For local brewers, the trouble is that hops — a key ingredient in beer — are hard to grow in Texas. Instead, nearly all are produced in temperate areas like the Pacific Northwest.
Growing plants in challenging conditions is nothing new to Steinbrunner, however.
Armed with a horticulture degree from Texas A&M University, he has owned an organic landscaping business in the Texas Hill Country for years. He also developed his own proprietary blend of friendly fungi called mycorrhizae to help plants build strong root systems.
Steinbrunner, an avid home brewer, got the idea to grow hops commercially while exhibiting his Wildroot Organic mycorrhizae at the American Hop Convention a few years ago.
"There were people from Southern California, Florida and Arkansas who'd grown hops commercially for years," Steinbrunner says. "I thought, why not grow in Texas? If we find the right spot, maybe we can."
Needing Cooler Nights
He spent the next two summers growing hops near San Antonio as a test before looking for land. He ultimately chose Alpine — tucked between mountain ranges over 300 miles to the west — because it is similar in climate to eastern Washington state, America's hops capital.
"Yakima, Washington, frequently has the same conditions in July and August [as Alpine]," he says. "It's semiarid and hot, but cool at night. Hops need that to recover."
"At 4,500 feet elevation, Alpine cools down nicely. That's hard to find in other parts of Texas."
After studying USDA soil maps, in 2017 Steinbrunner and his wife, Teresa, purchased land with good water and mineral-rich volcanic soil. He also found a loan officer who understood the value of local hops.
Financing From an Enthusiastic Lender
Commercial banks had not been interested in financing a hop yard. But the Steinbrunners were able to refinance their land purchase with Capital Farm Credit, freeing up funds to install plants, trellises and an irrigation system.
"David had done his homework," says his lender, Tim Traister of Capital Farm Credit in Austin, near the Steinbrunners' home on Lake LBJ. "Even before I met him, I'd thought about how Texas hops would be a selling point for breweries. Having a true Texas product is a good way to distinguish yourself.
"This is one of those things that's exciting to be a part of."
Steinbrunner appreciates having such an enthusiastic lender."It's a totally different atmosphere working with Capital Farm Credit," he says. "They're great."
Thanks to Capital, Steinbrunner planted several varieties last year at the hop yard, which he named Ruach Organic Farm after the West Texas wind. He now has over 2,000 plants on 3 acres.
The climbing perennials are trellised on twine made of hemp, their botanical cousin.
"From a little rhizome, they'll grow 15 feet that first year," he says. "I mean, they really get after it. The second year, you can harvest a lot. And the third year should be amazing."
Hand-Harvesting Hops
By hand-harvesting the hop flowers instead of cutting down the entire plant, as most growers do, Steinbrunner gets more than one crop in Texas' long growing season.
The hop flowers that are essential to beer are usually dried and pelletized for easy storage and shipping. But he vacuum-seals and freezes his hops within 30 minutes of picking, thereby preserving their freshness for craft brewers across Texas.
Customers include Jester King Brewery in Austin, Martin House Brewing Co. and TexMalt in Fort Worth, and the Gage Hotel's Brick Vault Brewery and Barbecue in Marathon.
Brodie Pierce, Brick Vault's former head brewer, was surprised to learn hops were growing 30 miles away. "In the past, we've had hops picked in Washington state and flown to us within 12 hours — which is very costly and nerve-wracking," Pierce says. "In brewing, we mostly deal with hop pellets, which look like a tiny version of a range cube you'd feed cows. But a fresh hop is this beautiful, fragile flower. You get a lot of fresh aromas."
Supplying Texas Brewers
Pierce was as impressed with Steinbrunner's passion and beer knowledge as he was with the hops.
"We decided to brew with his hops because we're all about showing off this area of Texas," Pierce says. "Cascade hops from the Northwest have a strong citrus flavor, like orange pith. With David's hops, it was more like orange marmalade, and it wasn't so bitter. Everyone liked the flavor profile.
"Breweries take pride in an all-Texas-made product."
With just two West Texas crops under his belt, Steinbrunner is still refining his hop varieties and trellising methods. And he looks forward to robust crops as his plants mature.
"Hop production in the state would have to be much, much greater for someone to use just Texas hops in their brewing," he says. "But this at least gives brewers some beers that can be all-Texas now. And that's kind of cool."
-CF