News
Capital Farm Credit Young Leaders Wade and Reagan Lowry Visit Nation's Capitol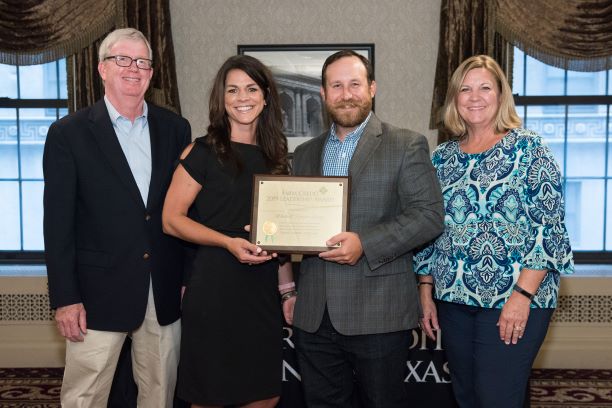 Capital Farm Credit members, Wade and Raegan Lowry of Bulverde, Texas, took their interests in agriculture to Capitol Hill on July 24.
The Lowry's run a cow-calf operation and sell grass-fed, ranch raised beef. Wade – who started W|R Lowry Farms 4 years ago—said ranching has always been in the family.
As participants in the 2019 Farm Credit Young Leaders Program, the couple met with legislative staff in Representative Chip Roy's Office as well as heard from Senators John Cornyn and Ted Cruz. They were joined by Capital Farm Credit staff and board members on their Hill visits.
"It was nice getting to explain our story — our experiences and hardships," said Wade. "Farm Credit is so important for young producers. It allows us to borrow money at a rate we can repay it."
"It is nice to have the support of someone who has been in agriculture and understands it," Lowry added.
The Lowry's were selected by Capital Farm Credit to participate in the annual young leaders' program. The four-day event teaches young farmers and ranchers about the Farm Credit System, the legislative process and the nation's financial markets.
This year's program took 20 young Farm Credit borrowers from five states — Alabama, Louisiana, Mississippi, New Mexico and Texas — to Washington, D.C., and New York City.
Besides visiting Capitol Hill, the group joined over 700 other Farm Credit borrowers and directors from across the country at a meeting with Agriculture Secretary Sonny Perdue. They also heard from House Agriculture Committee members, U.S. Reps. Austin Scott and David Scott.
Following their Washington, D.C, meetings, the young leaders visited the Federal Farm Credit Funding Corporation in New Jersey. The funding corporation buys and sells the notes and bonds that fund Farm Credit lending cooperatives.
"This event is designed to give participants a behind-the-scenes look at how Farm Credit supports agriculture and rural communities across the country," said Stan Ray, president of the Tenth District Farm Credit Council, which hosted the program.