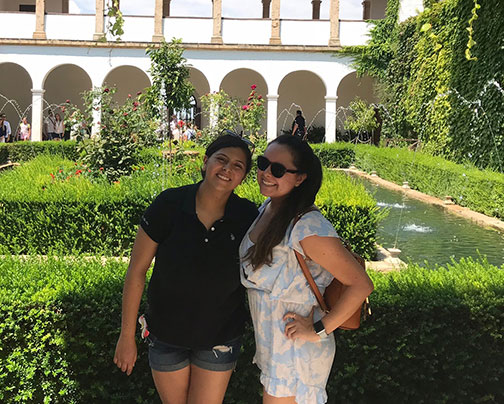 2019 Interns | Nicole Maldonado
Capital Farm Credit is a great place to work. Our employees are passionate and committed to serving both rural Texas and each other.
As part of a new series, we'd like to share what it is like to be a member of #teamCFC, starting first with our summer 2019 interns.
Nicole Maldonado, a senior at Boston University from Katy, Texas, recently joined #teamCFC as an intern in our Katy office. We asked her to share a little about herself as well as her journey to Capital Farm Credit.
Tell us a little about yourself!
I love my family of five (including the third "sister", our dog Campanita) but am still very thankful for the opportunity to study at Boston University. Still very different from Texas, I was thankfully somewhat familiar with Boston as I used to spend summers with my grandmother there. I have embraced the differences between Boston University and Texas, experiencing so many new things including going to school hockey games and joining the board games club, even serving as the club vice president.
Why Capital Farm Credit?
Before I applied for this internship I did some research on Capital Farm Credit and really liked what they stood for. Family is the most important thing to me, and I wanted to work for a company that shared those same values. I could tell, especially during the interviews, that Capital Farm Credit not only cares about their clients but they also care about their employees. It's a passionate community of people that I really wanted to be a part of.
How has your internship been so far?
I was nervous coming in because I did not have any agriculture background. I had nothing to worry about though as everyone has been so helpful and incredibly nice, ready to assist and answer any questions I have.
I have had the opportunity to sit in during calls and office visits, and actually experience the loan process. It is really interesting to be on the other side of the phone call and see how a loan is put together from start to finish.
Last week I also had the opportunity to go to a ranch auction. It was a really cool experience. I not only got to experience an auction for the first time, I was also able to network with and talk to other Capital Farm Credit employees and meet some new people involved in ranch real estate.
I am excited to keep learning as much as I can and explore rural Texas more. This experience has been incredible and I am very grateful and fortunate to be a part of #teamCFC. I think the only thing I'm missing is some cowgirl boots for the next field trip!