News
Local Capital Farm Credit Office Donates $5,000 to FFA Chapter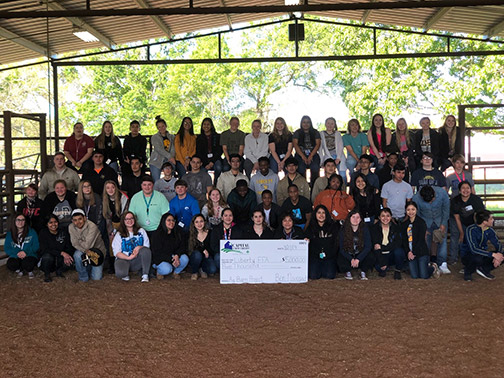 Capital Farm Credit's Winnie branch office donated $5,000 to the Liberty FFA chapter to help complete construction of a new agriculture barn.
"A big part of our mission is to help rural areas grow and thrive by providing farmers and ranchers with the capital they need to make their businesses successful," said Clyde Mordica, Senior Vice President and Winnie Branch Manager. "We're also proud to help build the next generation of agricultural producers by helping them in their agricultural education. By supporting Texas' youth, we're helping invest in the vibrancy of rural communities throughout Texas."
The Liberty FFA barn will give students the opportunity to participate in livestock showing contests, and by providing an environment to keep their animals.
"We have some students who live in the city limits and don't have the facilities for livestock show animals at their home," said Keith Ming, Liberty FFA chapter advisor. "Our new barn will give more students the opportunity to participate in livestock show competitions."
To see a list of community outreach programs at Capital Farm Credit, visit CapitalFarmCredit.com.