News
Will Reneau | Raising Rice On Fourth Generation Farm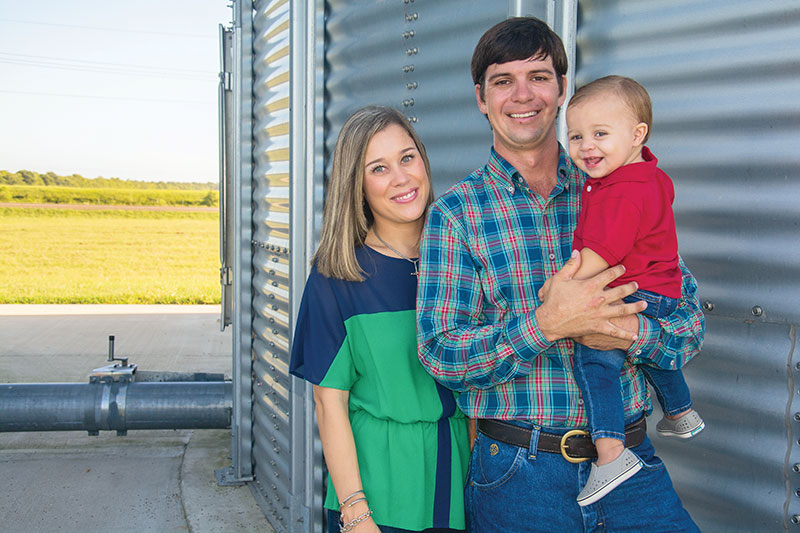 Rice farmer Will Reneau carries on a family tradition with the help of new technology.
Perspiration trickles down Will Reneau's temple as the combine he's steering lurches across a muddy field, strewn with rice stems. It's not yet noon, and rice harvesting has resumed for another day at Reneau Farms southwest of Beaumont, Texas. For the next 10 hours or so, Will, his father/partner, Charlie Reneau (pronounced "ree-no"), and their employees will cut and truck roughly 400 tons of grain to drying bins located on family land east of Fannett.
"I knew I wouldn't get rich rice farming," Will says. "But the lifestyle is rich and abundant with close-knit family, and that's what I wanted."
Fourth Generation on the Farm
At 33, Will has lived and worked nearly all his life on his family's rice operation in Jefferson County, where rice has been grown commercially since 1886. Before him, Will's maternal great-grandfather Walter Burrell and grandfather Eugene Burrell both farmed rice on the land. Dad Charlie started in 1981 after marrying Will's mother, Karen Burrell Reneau. Will's older brother, Landon, works in agribusiness financial services.
"My parents still live in the same house where I grew up," Will says. "It's just across the field from me and my wife, Amanda. She's a nurse practitioner in Beaumont. While we work, Mom keeps our little boy, Eli. My grandparents live further down our caliche road."
Will always wanted to farm but wasn't sure he could make a living.
"In 2007, I got my degree in animal science from Texas A&M University," he says. "One summer, I interned at a feedlot in Gonzalez so I could explore other ag opportunities. After graduation, I worked a year with Dad on the farm. In January 2008, I crunched numbers. After I decided I could make a go at rice farming, I asked Dad and Grandpa if they'd help me get started. They said yes."
That spring, Will planted his first 170 acres of rice.
"We had good crops and prices," he recalls. "I was hooked!"
Water Conservation and Management
Both independently and with his father, Will now farms 2,000 acres of rice within a 60-mile radius of their home base. The season starts in March and April when seed is sown. After emergence, rice must be flooded constantly with 1 to 2 inches of water. Half the water is pumped from nearby bayous. The other half is purchased from the Lower Neches Valley Authority and delivered through irrigation canals.
"We do everything we can to conserve and manage water," Will says. "So we precision-level our fields using our own machinery. On the side, we do custom leveling, which helps pay for our equipment. Sometimes I use a drone to check water levels in our fields. I can also check for weak spots, such as invasive weeds and fertilizer deficiencies."
Rice plants reach maturity after 120 days. Fields are drained, and harvest starts 10 days later, depending on weather and moisture content of grains. Generally, rice is cut throughout August and into early September. A second crop from new sprouts, or ratoon, is harvested in October and November.
Dryers and On-Farm Storage
In 2015, Will financed his first piece of farmland with Capital Farm Credit. A year later, Wally Hinkle, regional president with Farm Credit in Conroe, helped Will and his father acquire financing for five drying bins and a storage facility.
"Will's committed to agriculture and his family's tradition of rice farming," Hinkle says. "It was a big move for him and his dad to invest in dryers and on-farm storage. But they knew the long-term advantages and cost savings would be worth it. I admire them both for being innovative and willing to do whatever it takes to keep their farm going."
The joint investment was a natural fit for a father and son who work closely together.
"We built our own facility because our area lacks commercial drying space," Will explains. "Now we're no longer dependent on someone else during the crucial harvest season. Farm Credit was super easy to work with. They have farmers' interests at heart and have helped us 100 percent along the way."
To achieve maximum quality, rice grains must be dried quickly to a moisture level of about 12 percent. One of the Reneaus' drying bins holds up to 1.2 million pounds of grain. On the bottom, a massive auger stirs grains while fans blast out 100-degree air. The gigantic storage bin keeps up to 7 million pounds of dried rice until the Reneaus truck the crop to Beaumont Rice Mills and Riviana Foods Inc.
Diversifying With Crawfish
Like many rice farmers, the Reneaus also produce crawfish in some of their flooded fields. From February through June, Reneau Mudbugs — managed by Karen, a retired elementary school principal — sells live, purged (rinsed and cleaned) crustaceans at a roadside market. They also wholesale to three area restaurants."
Crawfish are another way for our farm to diversify," Will says.
But rice will always come first for Will, who's a member of the U.S. Rice Producers Association and USA Rice. In 2014, he was one of five young rice producers chosen to participate in the Rice Leadership Development Program, sponsored by the USA Rice Federation. During a two-year period, class members attend four one-week sessions designed to strengthen their leadership skills and give them a better understanding of the U.S. rice industry.
"As farmers, my family and I feed the world with our rice and crawfish," Will says. "I hope someday my son will want to do that, too. If he does, I want to help him get started the way my family helped me. I'll always be thankful for my family."