News
Fermin Cadena | Chickens Are His Calling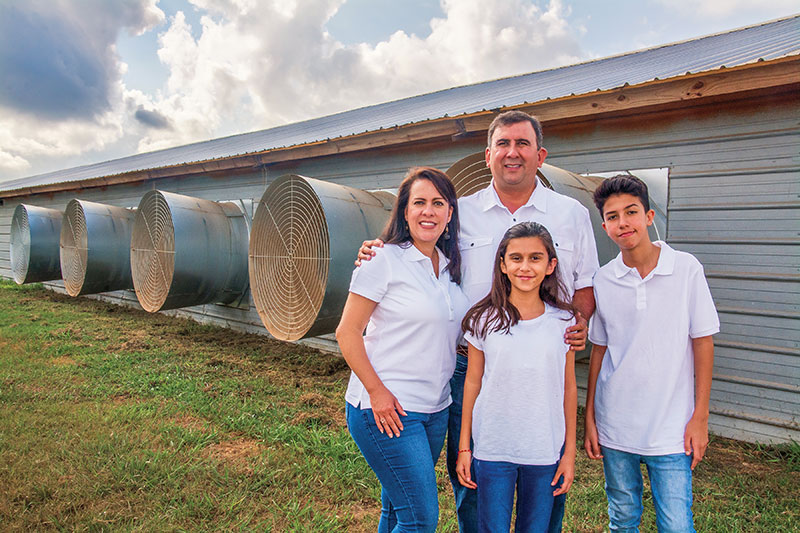 San Antonio native adds poultry farming to his busy career with Tyson Foods.
You might say that chickens were in the cards for Fermin Cadena.
Growing up in San Antonio, Texas, in the 1980s, Cadena was a typical city boy with next to no agricultural background.
"Back then, the only thing I knew about chicken was eating Church's fried chicken," he quips.
As fate would have it, however, his life took a turn toward poultry when he landed a job with the chicken-processing giant Tyson Foods Inc. just out of college.
But Cadena's future with fowl did not end there. With 20 years and counting at Tyson, he recently started his own 72,000-square-foot broiler-growing farm outside Gonzales, Texas.
The poultry expert attributes his farming decision to a conversation with some friends who knew he was looking for a challenging sideline.
"They said I should find something in the chicken business because I knew the industry inside and out," says Cadena, who has spent most of his career working one-on-one with broiler producers. "One friend had chicken houses that he financed through Capital Farm Credit. He told me I should buy or build my own farm because of my knowledge and experience."
Cadena is busier than he's ever been, juggling his job with Tyson and running his own farm with his wife, Rosy. The broader perspective also has taught him to see things differently.
"I'm getting a better grasp and building experience of 'hands on' technical aspects and the financial aspects of running an agricultural poultry business," he says. "In other words, I'm experiencing both sides of the business, which is a plus-plus situation for all."
Starting the Farm
Typically, an integrator such as Tyson Foods contracts with independent growers, who grow chicks into broiler chickens for meat. Farmers provide the housing, utilities and labor. Tyson supplies the birds, formulated feed and technical assistance, and pays the grower based on the total weight of the chickens.
In 2013, Tyson started requiring growers to convert open-air housing into computer-run facilities with closed walls and cooling systems to make the birds more comfortable.
"Some farmers decided not to make that investment," Cadena says. "That's why this farm near Gonzales came up for sale. Rosy and I decided that we wanted to buy it, but we needed a bank loan. My friend had strongly recommended Capital Farm Credit, so we went there."
Right away, staff at the Lockhart branch stepped up to help. In July 2015, the Cadenas closed on the purchase of the property, which included 18 acres and four outdated poultry houses with cross ventilation and plastic roll-up curtains.
In 2016, Capital Farm Credit partnered with the Farm Service Agency's Guaranteed Farm Loan Program on financing to retrofit the houses with solid walls and tunnel ventilation systems. The project included two new roofs with insulation, two water storage tanks, a generator, water pumps, computers, fans, cool cells and brooders.
Tim Knesek, senior vice president and branch manager in La Grange, was one of several Capital Farm Credit loan officers who worked with the Cadenas on the project.
"When Fermin first came to us, we had complete confidence in him because he knew how to grow birds," Knesek says. "His business knowledge about the poultry industry also impressed us. He's been professional from the start and has great managerial skills."
Loan Officer Chase Lore in Lockhart was equally impressed.
"Fermin is a hard worker and very passionate about chicken farming," she says.
Two years later, Cadena is quick to mention one of the benefits he appreciates about financing with the rural lending cooperative.
"I love how Capital Farm Credit pays a patronage check every year," he says. "I reinvest it back into our loan, which reduces our interest rate."
Fate and Feathered Friends
It was in 1995 that fate stepped in and determined Cadena's career. He was in his senior year at St. Mary's University, about to graduate with degrees in business administration and international business, when he attended a job fair — landing interviews with four large corporations, including Tyson Foods Inc.
Tyson called him back for a second interview, and the next thing he knew he was training for a career with the multinational food corporation.
"My six months of job training in live chicken production turned out to be six weeks," he says. "I learned everything about hatcheries, breeder farms and grow-out farms. Then Tyson sent me to work in Torreón, Mexico, because I was bilingual and had the training."
He started out as a farm manager with eight broiler houses, then became a service technician supervising several farms, and finally was promoted to broiler manager heading up all the broiler houses. His two-year contract with the company turned into 12 years.
While in Mexico, Cadena met Rosy. The couple married in 1999 and had two children — Christian, now 13, and Jackie, 11. Nine years later, the Cadenas moved to Texas.
"We wanted our children to attend school here," he explains. "Also, Mexico was starting to go through unsettling times. It wasn't as safe anymore."
For four years, Cadena worked the second shift at Tyson's processing plant in Seguin, northeast of San Antonio. In 2012, he transferred to nearby Gonzales to oversee live production.
"As a broiler service technician, I visit the farms and make sure farmers are growing chickens to Tyson's specifications," he says. "It's important that they follow our guidelines for providing quality air, feed, water and care."
One Day at a Time
For Cadena, time management is all about balance. Five or six days a week, he drives 110 miles round-trip from his home in New Braunfels to his farm and his job with Tyson. Rosy works as a substitute teacher and handles their personal and business accounting needs. Both children help every eight weeks when a new delivery of chicks arrives at the farm. Weekends are reserved for church and family time.
"It's a challenge, juggling my work for Tyson, our chicken farm and our family," Cadena says. "Rosy's always reminding me to take one day at a time and don't get stressed. I do the best I can. Together, we thank God, Tyson Foods and Capital Farm Credit for everything we have."
– Sheryl Smith-Rodgers