News
Kitalou Gin Finds New Life as an Event Venue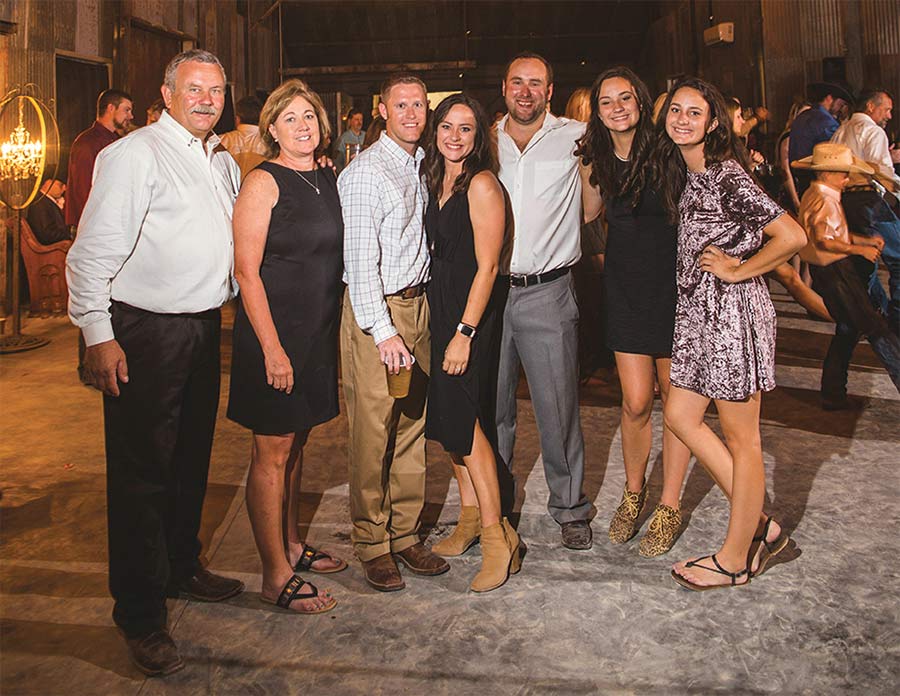 93-year-old Kitalou Gin finds new purpose as a rural event venue and education center on the South Plains of West Texas
Heinrich Family includes, left to right: Burt and Shelley Heinrich; Kody Bessent, fiance of Lauren Heinrich; and the four Heinrich siblings, Lauren, Heath, Aubrey and Reagan.
Abandoned cotton gins sadly recall a bygone era when close-knit communities supported their own ginning operations. Thanks to a West Texas farming family, however, one of those skeletal remains, the Kitalou Gin, has been transformed into a vibrant event venue that's also a working farm and educational center.
Built in 1925 and named for the daughter of a railroad vice president, the Kitalou Gin closed in 1975, after a half-century of service in one of the world's top cotton-producing regions. Left abandoned to the whims of nature, the building became a haven for nuisance birds and broken-down equipment — until two years ago. That's when Shelley Heinrich and her daughter Lauren Heinrich of Slaton purchased the property, located northeast of Lubbock.
The Heinrichs' gin project started when Shelley needed a warehouse for her growing pumpkin business.
"Whenever Lauren commuted to West Texas A&M University in Canyon, she'd notice old gins," Shelley says. "She suggested the idea of buying one as a place to store my pumpkins and host farmers' markets."
Shelley's husband, Burt, a cotton farmer from Slaton, knew of the abandoned Kitalou Gin, which adjoins cotton fields and a cattle pasture. Driving out to see the property, the family found a rundown structure surrounded by a junkyard. Despite the dismal conditions, they liked what they saw.
"The gin faced east and had plenty of storage for my pumpkins," Shelley recalls. "We knew the family who owned it, so we reached out to them, and they agreed to work with us."
Refurbishing and Repurposing
After purchasing the gin in December 2016, the Heinrichs worked tirelessly to clean up the site. Altogether, they hauled off 80 loads of outdated equipment and debris.
"As we began cleaning up the property, we saw more of its unique charm. The more we worked, the more we envisioned. We found treasures like an old receipt book that had names of families that used to gin there," Lauren says. "During the cleanup, we received inquiries from folks curious about what we were planning to do with Kitalou. One woman sent us a photograph of herself as a little girl on a swing and her father at the gin."
The public interest and links to the past inspired Shelley and Lauren to think beyond a pumpkin farm. In February 2017, they obtained an improvement loan from Capital Farm Credit to refurbish and ultimately repurpose the gin.
"The Heinrichs, who've been excellent customers with us, are some of the best farmers on the Southern Plains," says Jason Gandy, vice president and Lubbock branch manager. "If they have a vision, I trust them."
Throughout renovations, the Heinrichs sought to preserve the gin's original structure and features, such as interior metal beams, windows, pulleys, and even a ceiling-high ladder once used to check a seed auger.
Between the gin and seed barn, the Heinrichs built a catering kitchen, lobby and ample restrooms. An attached concrete patio provided more space for guests to mingle. The gin office, located on the gin yard, was converted into a shabby-chic bridal suite, offering three dressing rooms and a bathroom.
Last October, less than a year after the family bought the property, the Kitalou Gin hosted its first wedding and reception. The celebration was followed by Christmas parties, a prom and many more private events.
Teaching Visitors About Agriculture
But the property is not just a place for parties and events. The family also tends to a pumpkin and cotton farm on the site.
"As agriculturists, it's our responsibility to teach guests about agriculture and preserve our past, and we plan to do that here," Shelley says.
"We're a farming family, and throughout our own careers, we are each heavily involved within the agriculture industry — it is our passion." says Lauren. "With Kitalou, we saw an opportunity to preserve a piece of the West Texas heritage. This allows the gin to continue serving the community and West Texans as it has done since 1925." SSR