News
Good Things Come From a Small Farm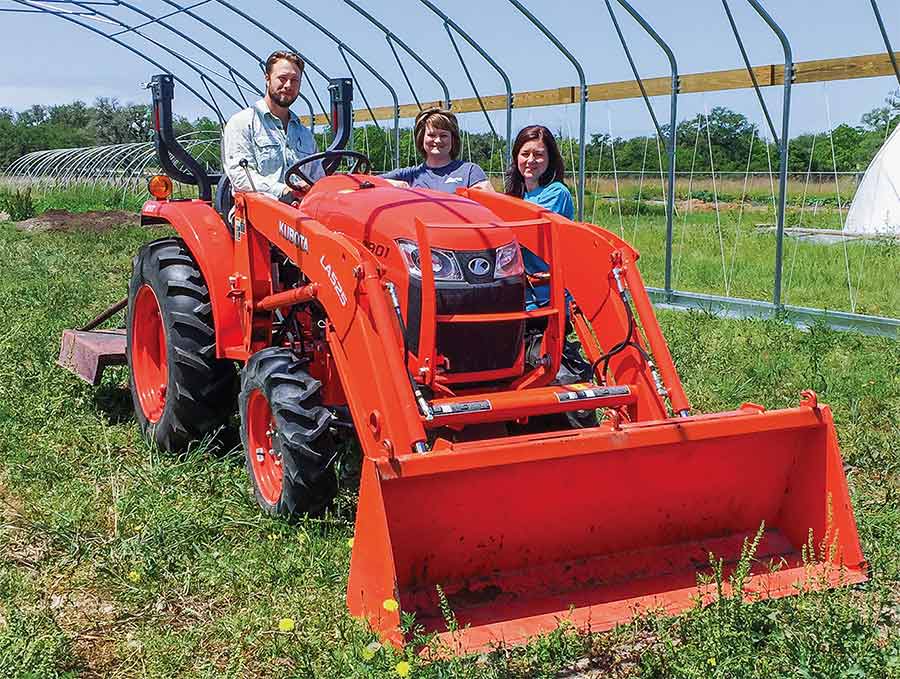 Six acres is all it takes for Tyson Thorton to supply fresh, wholesome food for consumers and restaurants.
Tyson Thorton visits with Kamey Wilkerson and Angela Dunbar of Capital Farm Credit inside an under-construction high-tunnel greenhouse.
When a manufacturing company in Victoria, Texas, moved to another state in 2013, a number of residents in this city of 63,000 found themselves out of work. Among them was process engineer Tyson Thornton.
"I just started praying and asking the Lord what I should do," says Thornton, who chose to remain in his native Coastal Bend region rather than relocate.
A Texas A&M University graduate with a degree in manufacturing and mechanical engineering, Thornton could have viewed the plant shutdown as a door closing on his career. Instead he saw it as an opportunity to pursue an entirely new path — a path that started in his own backyard.
For several years, he and his wife, CJ, had grown their own pesticide-free vegetables. They also had been members of a community-supported agriculture (CSA) farm that supplied them with fresh produce, and believed that good health starts with wholesome food.
Following his dream of starting an organic market garden operation, Thornton visited with organic farmers throughout South and Central Texas, and researched the ins and outs of growing produce for the local market. The more he learned, the more it seemed he was called to farm.
"I love working outside and working with my hands," says Thornton, who grew up around agriculture and worked on farms as a teenager.
The couple soon launched Spirit Pioneering Farm on a small plot outside of Victoria. While CJ continued to work as an engineer at Caterpillar, he worked the soil, planted his first crops and added pigs and chickens to the little farm.
Thornton's vision quickly became reality. Today, Spirit Pioneering Farm supplies seasonal pesticide-free produce from October through June to about 75 customers and five restaurants in the Texas Coastal Bend region. In five years, the operation has expanded from a 1.5-acre tract, where the land was wooded and sandy, to a 6-acre market garden farm with three greenhouses.
"Our mission is to bring the freshness, diverse varieties and nutrient density of the organic backyard garden back to the tables of our farm partners and customers," Thornton says.
Subscription-Based Sales
Unlike many small produce operations that sell directly to the public at farmers markets and roadside stands, the Thorntons decided to operate Spirit Pioneering Farm as a CSA. Under this type of business structure, customers — or "harvest share" partners, as Thornton calls them — purchase annual subscriptions costing a few hundred dollars that guarantee them a specific amount of fresh produce each week.
"We've got to have the customers before we harvest the crops," he explains.
In return, Thornton has a guaranteed market, which enables him to tailor production to fill his customers' orders, thereby reducing waste.
The first year in business, Thornton delivered boxes of fresh produce to his customers' doors. Now he has three locations — two in Victoria and one in his hometown of El Campo — where harvest-share partners pick up their weekly produce deliveries.
When he lacks certain items such as tomatoes, which he currently does not grow, he sources them from other CSA farms nearby. Similarly, when a Rockport farmer's customer demands exceeded his land's production capacity, Spirit Pioneering Farm provided food for that farm's subscribers.
For Thornton, the CSA structure offers another benefit — it provides him with up-front money to pay for seed and other farming expenses before he plants or harvests his crops.
Even on a small operation like Spirit Pioneering Farm, start-up costs and ongoing operating costs can be burdensome for beginning farmers. Thornton, however, qualified for an operating loan under Capital Farm Credit's Young, Beginning and Small Farmer Program, which offers flexible underwriting standards.
Earlier this year, financing from Capital Farm Credit also enabled him to build his second high-tunnel greenhouse, where he'll propagate seeds and plans to start growing tomatoes. Once the structure was completed, it qualified for a grant under the Natural Resources Conservation Service's Environmental Quality Incentives Program, allowing him to repay the Farm Credit interim construction loan.
"To get to where we want to be in our time frame, Capital Farm Credit has been absolutely critical," says Thornton.
Cutting Costs and Fighting Bugs
Farming organically also cuts down on Thornton's input costs. Instead of synthetic chemicals, his pest-fighting arsenal includes raw apple cider vinegar and raw milk spray to fight fungal diseases; beneficial bugs such as ladybugs and lacewings, as well as pyrethrins, to rid his crops of insects; and bacillus thuringiensis bacterium to kill certain worms and larvae in the soil. But perhaps his most interesting and cheapest tool is a blow torch to burn dead stalks and roots that could harbor insect larvae and eggs.
He makes it clear, however, that the farm is not USDA-certified organic, and he has not pursued certification, which can be a lengthy and costly process.
"I feel my customer base does not demand that we undergo organic certification," he says. But he earns their trust in other ways.
"We're extremely transparent," Thornton says. "People can come out and check out our place any time."
Before the Thorntons purchased their current farm site, it was a horse pasture fertilized only by manure. That was important to the couple, who believe that a strong plant system capable of fighting pests starts with healthy soil.
To date, only 2½ acres of the property are devoted to vegetable plots, but that may change in the future.
"In five years, this place is going to be filled up, and we're going to be blowing and growing," Thornton says.
As for his decision to farm, the former engineer feels blessed.
Last year, when Hurricane Harvey swept inland from the Gulf Coast, Thornton had a greenhouse full of young seedlings ready to be planted outside the following week. Part of the greenhouse was torn away by the high winds, but the tender young plants were not disturbed.
Indeed, farming has been good to him. -JH