News
Capital Farm Credit Awards 100 Scholarships in 100 Days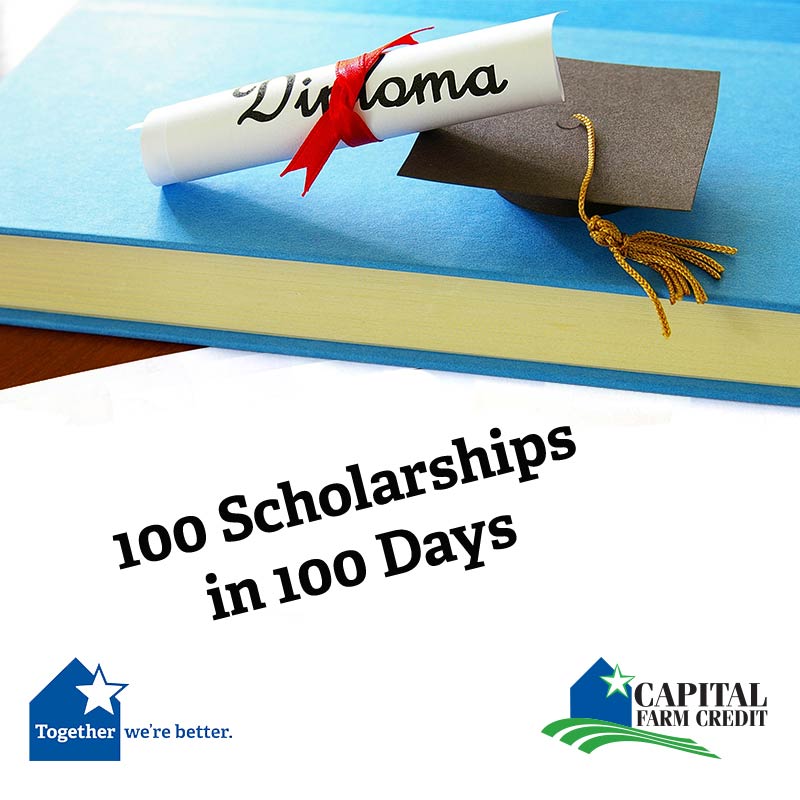 To further strengthen our commitment to youth in agriculture, Capital Farm Credit is awarding 100 scholarships to Texas students in 2018.
In addition to various scholarships given through contests, colleges and universities, each of our branch offices across the state is awarding at least one $1,000 scholarship.
"A big part of our mission is to help rural areas grow and thrive by providing farmers and ranchers with the capital they need to make their businesses successful," said Ben Novosad, chief executive officer. "We're also proud to help build the next generation of agricultural producers through our scholarship program. By supporting Texas' youth, we're helping invest in the vibrancy of rural communities throughout Texas."
Congratulations to our scholarship winners:
Jodi Evans, Ira High School (Snyder Credit Office $1,000 scholarship)
Kami Smith, Hermleigh High School (Snyder Credit Office $1,000 scholarship)
Abby Johnson, Whitehouse FFA ($2,500 Video Contest Scholarship Winner)
Emily Murphy, Bosque County 4-H ($1,000 Video Contest Scholarship Winner)
Brooke Wagner, (Dayton Credit Office $1,000 scholarship)
Charles Wassberg, Plano West FFA ($1,500 Video Contest Scholarship Winner)
Kennedy Doskocil, Rosebud-Lott FFA ($1,000 Video Contest Scholarship Winner)
Kelton Hill, Grace Christian Academy (Canadian Credit Office $1,000 scholarship)
Aspen Cox, Jourdanton High School (Jourdanton Credit Office $1,000 scholarship)
Marcee Cooke, Canadian High School (Canadian Credit Office $1,000 scholarship)
Asher Miller, Perryton High School (Perryton Credit Office $1,000 scholarship)
Braden Hillery, Rider High School (Wichita Falls Credit Office $1,000 scholarship)
Kullen Sorrels, Dalhart High School (Dalhart Credit Office $500 scholarship)
Sarah McDaniel, Dalhart High School (Dalhart Credit Office $1,000 scholarship)
Brooke Stoddard, Angleton High School (Rosenberg Credit Office $1,000 scholarship)
Macy Sharp, Klondike High School (Lamesa Credit Office $1,000 scholarship)
Micah Trull, Brady High School (Hill Country Region $1,000 scholarship)
Montgomery Raez, Hutto High School (Taylor Credit Office $1,000 scholarship)
Ross Marshall Bess, Anahuac High School (Winnie Credit Office $1,000 scholarship)
Brody Schmalriede, McGregor High School (Waco Credit Office $500 scholarship)
Kinze Reich, Crawford High School (Waco Credit Office $1,000 scholarship)
Gracie Tate, Lorena High School (Waco Credit Office $500 scholarship)
James Kenesson, Woodville High School (Dayton Credit Office $1,000 scholarship)
Kyra Coffell, Iredell High School (Clifton Credit Office $1,000 scholarship)
Kristella Cabrera, United South High School (Laredo Credit Office $1,000 scholarship)
Caleb Cowan, Llano High School (Hill Country Region $1,000 scholarship)
Tyler Kennedy, Comstock High School (Uvalde Credit Office $1,000 scholarship)
Mia Caperton, Madisonville High School (Madisonville Credit Office $1,000 scholarship)
Eliza Lazenby, North Zulch High School (Madisonville Credit Office $1,000 scholarship)
Craig Sickmen, Clear Creek High School (Dayton Credit Office $1,000 scholarship)
Jolie Kay Branch, Jim Need High School (Abilene Credit Office $1,000 scholarship)
Taylor Loeffler, Lampasas High School (Lampasas Credit Office $1,000 scholarship)
Ashley Broom, Jim Need High School (Abilene Credit Office $1,000 scholarship)
Kylie Brown, Valley High School (Matador Credit Office $1,000 scholarship)
Sydney Jones, Leakey High School (Uvalde Credit Office $1,000 scholarship)
Kate West, Falls City High School (Kenedy Credit Office $1,000 scholarship)
Cheslea Dewey, Pampa High School (Pampa Credit Office $1,000 scholarship)
Laine Parker, Roger High School (Temple Credit Office $1,000 scholarship)
Brett Willberg, Rosebud-Lott High School (Matador Credit Office $1,000 scholarship)
Stran McClain, Wellington High School (Childress Credit Office $1,000 scholarship)
Riley Reep, Ropes High School (Levelland Credit Office $1,000 scholarship)
Carlie Crenwelge, Fredericksburg FFA (Hill Country Region $1,000 scholarship)
Ellett Vann, Burnet High School (Hill Country Region $1,000 scholarship)
Elise Hesseltine, Orange Grove High School (Robstown Credit Office $1,000 scholarship)
Hannah Shepard, Fort Elliot High School (Wheeler Credit Office $1,000 scholarship)
Darrion Montemayor, Sinton High School (Robstown Credit Office $1,000 scholarship)
Cassidy Cage, Muleshoe High School (Muleshoe Credit Office $1,000 scholarship)
Maci Scarborough, Banquete High School (Robstown Credit Office $1,000 scholarship)
Jacob Kettner, Muleshoe High School (Muleshoe Credit Office $1,000 scholarship)
Jodi Toler, Bowie High School (Bowie Credit Office $1,000 scholarship)
Karlee Jones, Springlake- Earth High School (Littlefield Credit Office $1,000 scholarship)
Kamry Keese, Brady High School (Hill Country Region $1,000 scholarship)
Carson Blair, Hereford High School (Hereford Credit Office $1,000 scholarship)
Garrison Kleman, Nazareth High School (Dimmitt Credit Office $1,000 scholarship)
Addison Ferris, Hereford High School (Hereford Credit Office $1,000 scholarship)
Jonah Nelson, Shallowater High School (Lubbock Credit Office $1,000 scholarship)
Brooke Lowry, Katy High School (Katy Credit Office $1,000 scholarship)
Kaegan Edwards, Sudan High School (Littlefield Credit Office $1,000 scholarship)
Warner Seidel, Cuero High School (Kenedy Credit Office $1,000 scholarship)
Shae Lynn Suttle, Idalou High School (Lubbock Credit Office $1,000 scholarship)
Justin Tater Kruzel, Sealy High School (Bellville Credit Office $1,000 scholarship)
Kade Sanders, Munday High School (Munday Credit Office $1,000 scholarship)
Jayton Walden, Happy High School (Dimmit Credit Office $1,000 scholarship)
Olivia Hubert, Conroe High School (Conroe Credit Office $1,000 scholarship)
Matthew Hearnsberger, Oak Ridge High School (Conroe Credit Office $1,000 scholarship)
Chad Novark, New Waverly High School (Conroe Credit Office $1,000 scholarship)
Holly Atkinson, Marble Falls High School (Hill Country Region $1,000 scholarship)
Tiani Tovar, Mason High School (Hill Country Region $1,000 scholarship)
Brianna Coleman, East Central High School (San Antonio Credit Office $1,000 scholarship)
Ariel Guzman, Lunier High School (Austin Credit Office $1,000 scholarship)
Caleb Kott, Junction High School (Hill Country Region $1,000 scholarship)
Kyle Herron, Dripping Springs High School (Austin Credit Office $1,000 scholarship)
Kaylee Yanta, Devine High School (Hondo Credit Office $1,000 scholarship)
Bryn Arnold, Spur High School (Apur Credit Office $1,000 scholarship)
Morgan Geer, Columbia High School (Bay City Credit Office $1,000 scholarship)
Taylor Dohmann, St. Joseph High School (Edna Credit Office $500 scholarship)
Rhiley Musser, Industrial High School (Edna Credit Office $500 scholarship)
Thomas Christopher Campbell, Sweeny High School (Bay City Credit Office $1,000 scholarship)
Kyla Ledwik, Ganado High School (Edna Credit Office $500 scholarship)
Eric Wilganowski, Bremond High School (Bryan Credit Office $1,000 scholarship)
Shane Darilek, Edna High School (Edna Credit Office $500 scholarship)
Kaitlyn Morton, Edna High School (Edna Credit Office $500 scholarship)
Kendall Kresta, El Campo High School (El Campo Credit Office $1,000 scholarship)
Sarah Deibel, Victoria East High School (Edna Credit Office $1,000 scholarship)
Blair Watz, El Campo High School (El Campo Credit Office $1,000 scholarship)
Nicholas Fulbright, Samuel Clemens High School (New Braunfels Credit Office $1,000 scholarship)
Korbin Payne, White Deer High School (Pampa/Wheeler Credit Office $1,000 scholarship)
Hagen Hohertz, Goldthwaite High School (Hill Country Region $1,000 scholarship)
Neeraj Bhakta, Cameron Yoe High School (Bryan Credit Office $1,000 scholarship)
Morgan Molsbee, Alpine High School (Alpine Credit Office $1,000 scholarship)
Lani Pieper, Caldwell High School (Bryan Credit Office $1,000 scholarship)
Aspen Walsh, Alpine High School (Alpine Credit Office $1,000 scholarship)
Sean Lowe, Rudder High School (Bryan Credit Office $1,000 scholarship)
Clair Linder, Heritage High School (Kerrville Credit Office $1,000 scholarship)
Samantha Scott, Caldwell High School (Bryan Credit Office $1,000 scholarship)
Cade Osbourne, Comfort High School (Kerrville Credit Office $1,000 scholarship)
Katherine James, Flatonia High School (La Grange Credit Office $1,000 scholarship)
Anaissa Georgette Diaz, San Isidro High School (Edinburg Credit Office $1,000 scholarship)
Hunter G. Lamon, Harlingen High School South (Harlingen Credit Office $1,000 scholarship)
Rolando A. Ramirez, Jr., Rio Grande City High School (Edinburg Credit Office $1,000 scholarship)
Joshua Layne Klosterman, Lynford High School (Harlingen Credit Office $1,000 scholarship)
Kameryn Mathis, Haskell High School (Stamford Credit Office $1,000 scholarship)
Cade Waldrip, New Braunfels High School (New Braunfels Credit Office $1,000 scholarship)
Rebecca Law, Lockhart High School (Lockhart Credit Office $1,000 scholarship)