Blog
Celebrating Farmers: The History of National Farmer's Day | Capital Farm Credit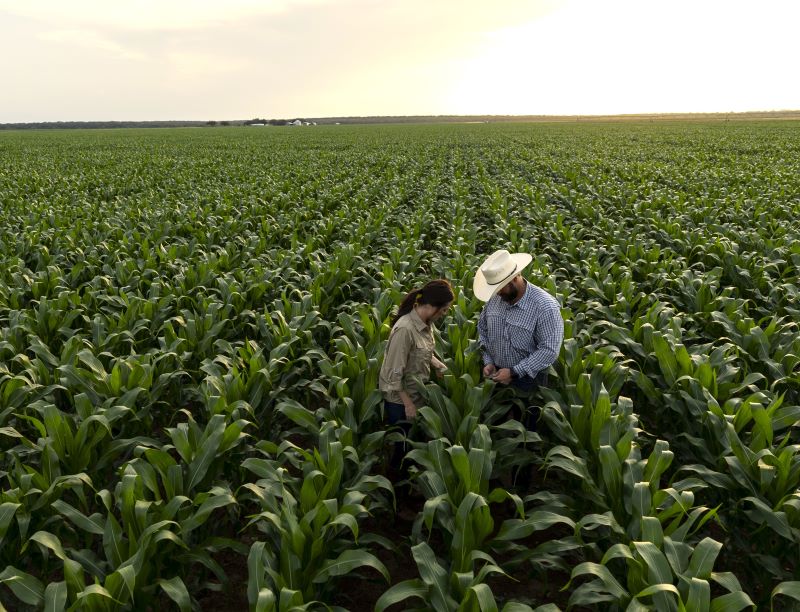 National Farmer's Day is a tribute to the men and women who make our world go round. Agriculture is the backbone of our nation. As seasons change and innovation increases, we find ourselves still indebted to the men and women who cultivate the earth, serving us today and the next generation tomorrow. October 12
th
is National Farmer's Day and a time for Capital Farm Credit to say thank you. Thank you for the early mornings and the late evenings, for the time it takes to produce food, fuel, and fiber.
To our farmers here in the Lone Star State, we appreciate you.

Let's take a closer look at National Farmer's Day, its origins, purpose, the importance to our country, and how we can support our local farmers.
Origins of National Farmer's Day
The exact origins of National Farmer's Day are unknown, but trace back to the 1800s when communities gathered to honor local farmers and their harvests. In the beginning of our country, American societies viewed farmers as critical food providers and stewards of natural resources. Today that remains true. Farmers continue to provide food for consumers, yet the knowledge of where food comes from or how it reaches our table isn't top of mind.
Purpose of National Farmer's Day
The purpose of National Farmer's Day is simple. To spread awareness of farming as an occupation and recognize the incredible hard work women and men do daily to feed our nation and other countries around the world.
The Importance of Agriculture in American History
In the early years of our country, farming helped smaller towns expand into cities, build stronger economies, and open trade across the United States. A greater food supply meant the support of larger populations, further contributing to growth and prosperity.
Farming consistently pushes us towards innovation. From the invention of the cotton gin to the creation of state-of-the-art agricultural equipment we find today, farming continues to grow and adapt to challenges and change. Agriculture, farming, and ranching touch every corner of the United States economy.
Key Milestones
This history of farming in America has many pivotal moments. From the invention of the cotton gin, the Industrial Revolution, and its many innovations in the 20th century, each event adds depth and significance to this day.
1793 - Cotton gin invented
1834 - McCormick Reaper patented
1850 - Commercial corn and wheat belts are developed
1862 - The U.S. Department of Agriculture established
1862 - The Homestead Act is created
1865 - The sharecropping system takes effect
1874 - Barbed wire is invented
1902 - Reclamation Act created
1916 - Federal Farm Loan Act
1980s - Biotechnology is introduced
2000s – Technology and data revolutionize many aspects of farming
Today, as new agricultural demands take hold, Americans continue to drive innovation in farming. National Farmer's Day is a way to recognize farmers' past and future advancements with celebrations. Events held throughout the country include farm tours, museum stops, agriculture fairs, and engaging educational events, all aiming to bring communities closer to their food source.
Supporting Local Agriculture
Understanding and supporting local agricultural practices is critical for the next generation. Connecting to our food source allows consumers to appreciate and respect that food is not indispensable. Knowing where and how our food is created shows how hard it is to grow quality, safe food. This awareness allows consumers to make better choices and think twice about wasting food.
How Capital Farm Credit Can Support You
Capital Farm Credit is the largest agricultural lending cooperative in Texas. We understand farming and ranching, both the highs and lows and the in-betweens. We're dedicated to rural communities and agriculture and have been for more than 100 years. Whether it's agriculture and farmland loans, business loans, rural real estate financing, or offering unrivaled financial expertise, Capital Farm Credit has strengthened our reputation as your trusted advisor.
Looking to the Future: Challenges Faced by the Agricultural Industry
The horizon of farming is bright, however it still comes with challenges. If it were easy, everyone would be doing it. Climate and weather issues, shifting consumer preferences, and global competition are a few of the daily trials agricultural producers face.
Yet, every challenge is met with opportunity. Technology and innovation are reshaping farming's future, with advancements in drone technology, data collection, precision farming, and biotechnology heralding a new era.
Let's Celebrate
As Capital Farm Credit commemorates National Farmers Day, we take the time to reflect on the past and remain hopeful for the future. We're here every step of the way.
National Farmer's Day is a day to honor the resilient spirit of farmers. Their dedication, tenacity, and unwavering commitment to the land and its produce—virtues we should all recognize and celebrate.