Blog
Sky-high efficiency | Hylio Inc.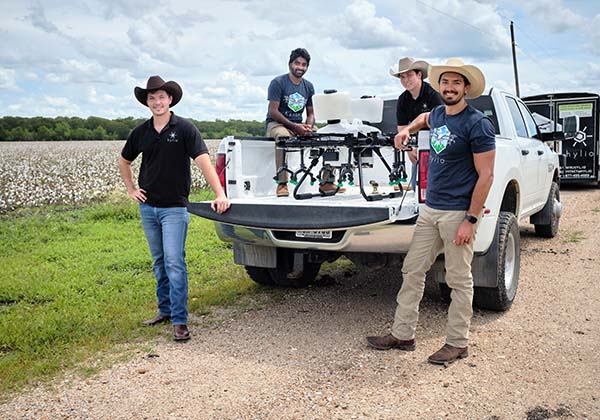 Hylio Inc. designs and builds precision crop-spraying drones that reduce costs and inputs, minimize drift and reach areas other equipment can't. The action happens in a warehouse on a family ranch outside the city limits.
"This whole thing is by farmers for farmers," say Mike Oda, Hylio's chief financial officer, whose family owns a diversified Wagyu beef operation at the site. Capital Farm Credit finances the Odas' pastureland and some of Hylio's business expenses.
Rounding out the Hylio team are fellow co-founders Arthur Erickson, Nikhil Dixit and Nick Nawratil, who have been building drones since attending the University of Texas together. Everybody brings something to the table, whether it's an entrepreneurial spirit or expertise in engineering, hardware or software. But it's their ag focus that makes customers feel comfortable with the technology.
"When people visit us for training or a sales demo, they see the cattle and know we're not just a bunch of technology guys," Oda says. "I think that's important. We understand farming and are trying to make it easier."
Delivering the goods
Hylio has built hundreds of drones since 2015. Its early unmanned aircraft systems (UAS) were custom drones for agriculture, research, industrial surveying and other sectors. The team later refined its technology by delivering fast food and retail products in Costa Rica, then by spraying crops in El Salvador. As custom applicators, they treated about 50,000 acres of sugarcane, corn, rice, citrus and other crops.
"It's punishing terrain — mountainous with very small fields," Oda says. "But we realized we had a really good product and spraying performance. Drones get into nooks and crannies you can't reach with a ground rig or plane, and don't compact the soil."
Hylio was spreading the word at trade shows when it was invited to demonstrate a spray drone at the 2019 Becknology Days. More than 10,000 people attend the Indiana farm show.
"Somebody bought a drone at the show, and we thought, OK, we have something here," Oda says. "Back then one sale had everyone cheering. Then COVID happened, and things really started getting wild."
Catching on with farmers
Faced with a labor shortage in 2020, more farmers decided to give spray drones a try.
"You don't need to worry about a drone waking up early," Oda says. "It requires little training to use, and with the pandemic, everybody was OK with training over Zoom. That had a tremendous effect on sales."
Sales have risen ever since, prompting Hylio to double its workforce and manufacturing space this year so it can build several drones a day.
"People are waking up to the power of drones," Oda says. "Drought and high prices this year made people more open to new technologies that can decrease their energy and input costs. Drones are a precise, economical and safe solution."
Reducing waste and saving money
One new customer is Sammy Simon, a rice farmer and fellow Capital Farm Credit customer in Winnie, Texas.
In a video on Hylio's homepage, Simon says he saved up to $12 an acre on aerial application this year by spraying rice fields and hay pastures himself. Tests showed he achieved better coverage with the drone than a plane — a benefit of the propellers, which mitigate drift and help droplets penetrate the crop canopy. He can avoid obstacles like power lines and spot-spray an area as small as 5 square feet, reducing waste. And he only needs enough fuel for a generator to charge the drone's batteries.
"Right now we farm thousands of acres of rice," Simon says. "If I could take in as much of that spraying as I could, it would save us a lot of money."
To maximize his savings, he plans to purchase enough drones to cover 1,000 acres a day.
"A lot of our customers will be able to pay the drone off in one season," Oda says. "Some don't want to pay someone else to spray, and some start spraying their neighbors' crops, too. Plus, there's the benefit of the Section 179 tax deduction, which helps their profitability."
Financing for drones
Simon was Hylio's first customer to finance a purchase with an equipment loan.
"No bank had wanted to touch the drones because they don't understand them," Oda says. "I immediately called Capital Farm Credit and said, 'Hey, how did you do this?'"
Clyde Mordica, Capital's regional vice president of sales for the upper Gulf Coast, remembers it well.
"I think Mike was as excited as Sammy about the loan," says Mordica, who has financed Simon and his family since 2010.
Simon spent a couple of months getting a Part 107 UAS pilot license and a Part 137 agricultural aircraft operations certificate from the Federal Aviation Administration. Spray drone operators also need a pesticide applicator license.
"We go out of our way to help customers operate legally," says Nawratil, Hylio's chief operating officer. "Licensing information is on our website, and there's paperwork we file on all our customers' behalf."
Hylio also helped Simon find insurance for the drone, a requirement for financing.
"Planes and spray rigs have their place, but the cost to purchase and operate a drone is significantly lower, including the insurance and interest cost," Mordica says. "You could buy three drones for $100,000 or less, versus a quarter-million dollars for a spray rig.
"After doing more research and touring Hylio's facility with Mike, I wouldn't have any trouble financing drones for other farmers or ag businesses."
Working with an ag lender
Oda's relationship with Capital Farm Credit goes back six years, to when his family needed a dedicated ag lender. In addition to their beef operation, called Wodagyu, the Odas own a restaurant, RV park and art supply business.
"The bank that financed the land was bought by another company that didn't want any ag assets," Oda says. "They started making things difficult for us and told us to go refinance."
After finding Capital Farm Credit, the family started working with Claire Williams in the Rosenberg office.
"Two weeks before the loan was going to close, my father passed away," Oda says. "I always tell Claire how amazing she is because the financing helped us get back on our feet and jump-start the next phase of our ranch and other businesses. We wouldn't be here without it."
Later, tapping the equity in some farm equipment provided seed money for Hylio to build more drones. To fund growth, Hylio raised over $1 million in a crowdfunding campaign in 2021 — just in time for a sales boom in 2022.
"I think it's the coolest thing that Mike and his colleagues took this idea and ran with it," Williams says. "And it wasn't just an idea. Their drones are helping farmers do things more efficiently — which with the price of inputs right now is what we need to reduce costs.
"I love their whole story from the bottom up."