Blog
Bringing the Sunshine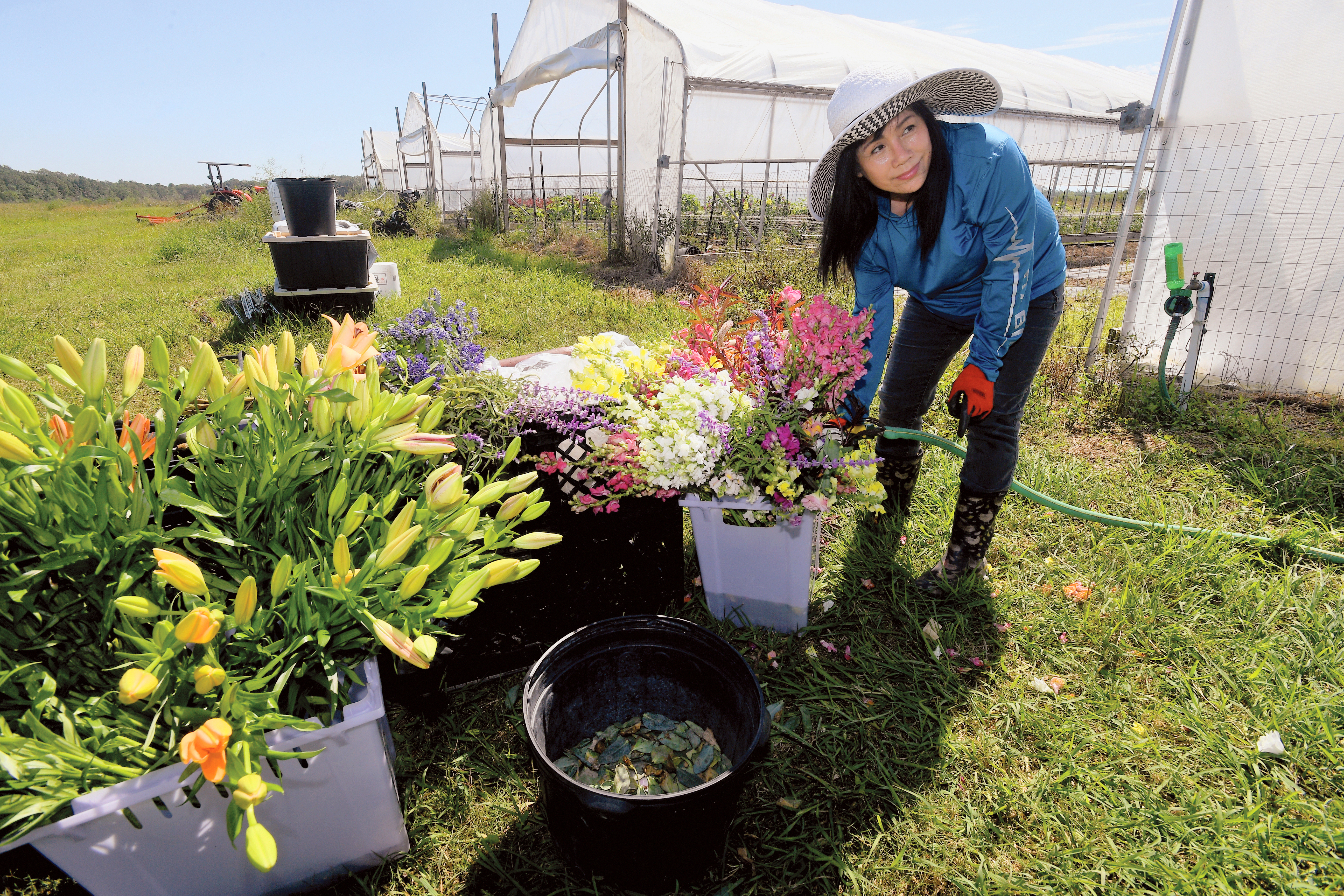 Nga Nguyen is a biostatistician at a world-renowned research hospital, helping eradicate cancer through cutting-edge methods and modeling.
On weekends, the Capital Farm Credit customer is often at her Texas Nature Sunshine Farm near Liberty in Southeast Texas.
Nguyen doesn't just come here to unwind — her original purpose in buying farmland in 2017. Applying her analytical skills from her day job, she's turning her growing floral operation into a commercial success.
Planting roots in Texas
Farming may seem a curious choice for a medical and public health researcher, but it brings Nguyen full circle. She earned a master's degree in agriculture before moving from Vietnam to the United States more than 20 years ago.
"I always loved gardening and learning about growing things," says Nguyen. "I made a complete career change when I moved to America. I earned a graduate degree in applied mathematics at the University of Houston."
Yet her ag background beckoned.
"I work mostly with numbers and computers at work," says Nguyen. "After doing that all day, I was more relaxed when growing veggies in my backyard. And I've always loved to design floral arrangements."
She combined her love of floral design with growing fruits and vegetables, and Texas Nature Sunshine Farm was born.
Expanding from flowers to fruit
Nguyen grows lilies, dahlias, snapdragons, sunflowers, hydrangeas, lisianthus, gladiolus, other flowers and fillers, and wholesales them to area florists.
She also makes wedding, funeral and other floral arrangements at her home north of Houston. The arrangements are sold individually and through a biweekly flower subscription service.
"Some of my best customers are neighbors and residents in our Humble-Kingwood communities," says Nguyen. "They love fresh flowers. Several customers advertise the service via word-of-mouth referrals."
Nguyen is also pursuing fruit-farming opportunities. With the help of her husband, Minh, several family members and an employee, she's planted blueberries, blackberries, pomegranates, dragon fruit and figs. Once the plants start bearing, she plans to sell the fruit to local grocery stores.
Big plans are underway at Texas Nature Sunshine for agritourism, too. Nguyen is planning a pilot this summer to let visitors pick their own flowers and fruit. She'll also open the flower farm for professional photo shoots.
"I want to share the farm with people so they can enjoy it and be happy," Nguyen says. "Flowers bring a smile to people's faces and help them feel better. And I want to be able to provide fresh fruits that they're picking directly from the trees."
Next, she'll host floral design workshops at a barn on the property. She hopes to build a lab where she can do tissue culture so she can grow rare plant varieties. She wants the farm to be an educational resource for children to learn how to grow and care for plants. Future plans include adding grass-fed beef, pasture-raised chicken and goats, too. But she has work to do first.
"Before opening the farm to the masses, I need to add infrastructure like a road, power and septic for public restrooms. That's all in the works," she says.
Partnering with an understanding lender
From the start, Nguyen has relied on Capital Farm Credit to finance her operations.
"I looked online and called different banks," Nguyen says. "Then I found Teresa Turbeville at Capital Farm Credit. I'm comfortable with her. And I'm lucky to have her support."
Just over four years ago, a land loan from the rural lending co-op allowed Nguyen's plans to take root.
Turbeville had worked with a previous owner of the property back in the 1980s. Now she's pleased to see how Nguyen has transformed the land.
"When I saw all her flowers and property improvements, I was impressed," Turbeville says. "This was a rice field that had been converted to pasture. But I had talked to her about her plans and thought if anybody can make this work, she can. She's diligent and does research before making a decision."
Buying land was only the first step. Nguyen knew she had to be resourceful if she were to improve the farm and be profitable.
Growing her business
Her online sleuthing led her to the USDA Natural Resources Conservation Service, which administers the Environmental Quality Incentives Program (EQIP). The program helps agricultural producers invest in conservation practices that lead to healthier soil, cleaner water and other environmental benefits.
Before Nguyen could proceed, she needed working capital. Capital Farm Credit financed her land improvements with an operating loan in 2018, and the EQIP grant covered the cost once work was complete.
Nguyen installed seven 2,900-square-foot high tunnels or hoop houses to protect the flowers from heavy rainfall and other extreme weather and to extend the growing season. With those in place, she started planting in fall 2019.
EQIP also reimbursed the cost to install cross fencing, a livestock watering system, troughs and water wells with solar pumps on land Nguyen leases to a neighboring rancher. Now the neighbor can practice rotational grazing.
"He moves the cows to another field about every two weeks, and this gives the grass time to grow," Nguyen says. "With the addition of more troughs, cows don't have to travel far to get water. When the water is low in one trough, the well will pump the water there."
Conserving natural resources
All the upgrades allow Nguyen to conserve natural resources and improve her operation.
"When she bought the property, it was a blank slate," says Phillip Stewart, USDA resource team leader in Liberty. "What's she's done to the property has helped it quite a bit."
But she's not done yet.
"We're still doing projects with EQIP now, like clearing land and getting rid of invasive plants," Nguyen says. "And I'm finding out if they can help with an irrigation system that's a lot more advanced. That's another idea to bring the farm up to the next high-tech level."