Ag Student of the Week Winners 2023-2024
Caldwell High School senior named Houston Market's Ag Student of the Week - Week 2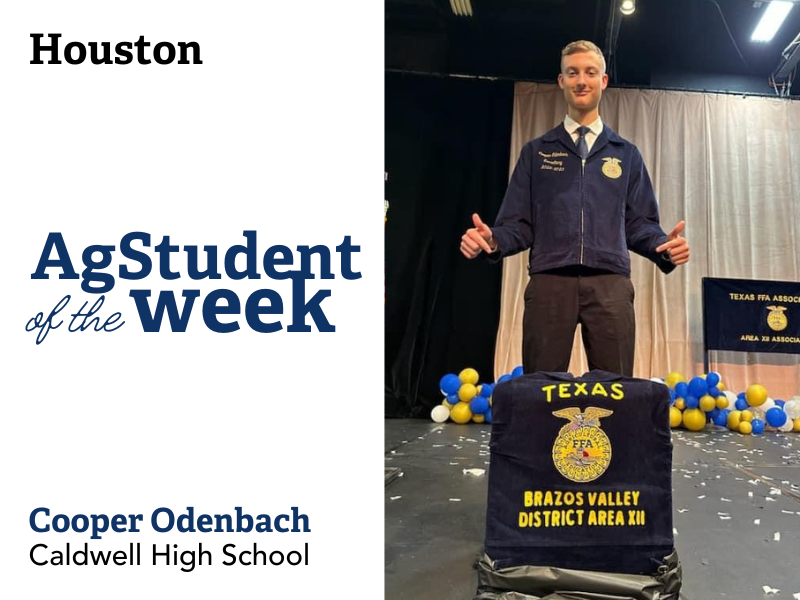 Current Ag Involvement: "I am currently raising my own registered Brangus herd. I have purchased 15 registered and commercial Brangus heifers and my first registered Brangus cover bull. I have also purchased four Angus and five black baldies to add to my herd. I typically AI my heifers in late February hoping for November or December calves. I have successfully sold and raised their offspring over the last few years to prepare for college tuition. I currently have my first two registered bull offspring standing at my home pastures. I am excited to watch them finish growing and sell them to create sound quality calves. My parents and I have leased several pastures for my heifers, and we check them daily. They are about to start calving in the next two months and we are excited to see this year's calf crop."
"I raised market swine for the Burleson County Fair and the San Antonio Livestock Show and the State Fair of Texas. I also raised market rabbits for this year's fair."
"I am a member of the Caldwell FFA Chapter. I served as Chapter Chaplain from 2021-2022. I have received my Greenhand degree, Chapter degree, and Lone Star degree. I compete in fall and spring LDE and CDE contest, such as chapter conducting, radio broadcasting, and poultry judging."
"I was elected as the secretary for the Texas FFA Brazos Valley District for the 2022-2023 term. My primary purpose as a district officer is to provide student leadership to approximately 1,000+ FFA members in the Brazos Valley District. We were in charge of planning and facilitating all district-wide events."
"I was elected as the Area XII FFA Treasurer for the 2023-2024 term. I was also elected to be one of the 71 voting delegates to represent the 170,000+ Texas FFA members at the 2023 FFA National Convention in Indianapolis, Indiana. There I served on this year's Nominations Committee for the National FFA Officer elections. It was 7 long days of work but very enjoyable. The opportunities to meet new people and network within the agricultural community has been a great advantage to me. My term will not end until the new Area officers are installed later next summer. I still have lots of work to do and events to attend.
I hope these leadership and governing experiences will be just the beginning of my journey in advocating for agricultural and all it represents."
College to Attend: Texas A&M University
Career Goal: Lobbyist for the agriculture industry, specifically the poultry industry.