Ag Student of the Week Archive
James Earl Rudder High School senior named Houston Market's Ag Student of the Week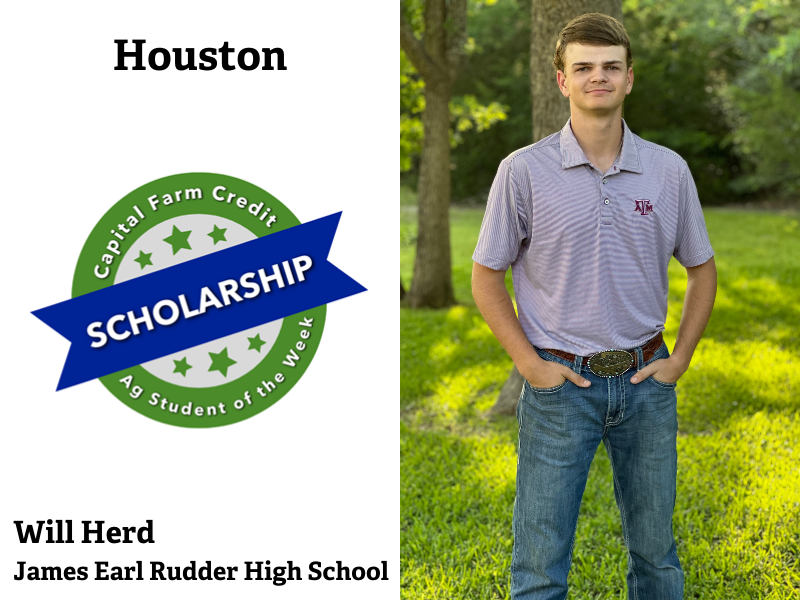 Growing up on his family's cattle operation, Will Herd often tagged along to help his older sisters with their 4-H projects. He recalls watching them feed and work with their animals each day, an experience that encouraged him to raise his own steer project once he became old enough to join the 4-H program himself.
"I wanted to be like them," said Herd.
One of his first memories in agriculture comes from the Houston Livestock Show and Rodeo, where his lightweight steer project placed first in its class.
"That started off on a high note, and I just ran from there," said Herd.
Since that first win over ten years ago, Herd has exhibited his cattle projects at 31 livestock shows across Texas. His experiences include showing at the Fort Worth Stock Show and Rodeo, Rodeo Austin, and the San Antonio Livestock Show and Rodeo, while continuing to show at the Houston Livestock Show and Rodeo. Over the years, Herd has earned the title of grand and reserve champion on multiple occasions for his market and commercial steer projects, as well as his breeding and commercial heifer projects.
In addition to showing cattle, Herd is an active member of Rudder FFA, where he has served as the chaplain. He also competes in chapter conducting, ag mechanics, forestry judging, wool judging, and livestock judging. In 2022, Herd qualified for the state livestock judging contest, where his team placed second. This qualified them for the national competition, and the group soon brought home the sixth place overall title for their efforts. Herd credits this experience with being one of his favorites during his time in the industry, as the team had the opportunity to tour various agricultural operations across the nation in preparation for the competition.
"Getting to grow as a team, and learn more about people's operations and how they run them, that was really fun for us," said Herd.
Outside of FFA, Herd is an active member of his high school student body. He has served as the team captain of the Rudder High School baseball team for the last four years, and is a member of the National Honor Society. Through these organizations, he has participated in various service projects, including cemetery clean-ups, volunteering with local food banks, and restoring children's playground equipment.
After graduation, Herd plans to attend Texas A&M University to major in agribusiness. He hopes to use his degree to return to the family cattle operation, while starting his own business within the livestock show industry developing safe, clean grooming products for use in the show barn.
"Given my passion for the cattle industry and what I have gained from my experiences, my future will most certainly be centered around agriculture," said Herd.
Congratulations on your outstanding accomplishments Will, the Capital Farm Credit team wishes you the best of luck in your future endeavors.