Ag Student of the Week Archive
Harper High School senior named Austin Market's Ag Student of the Week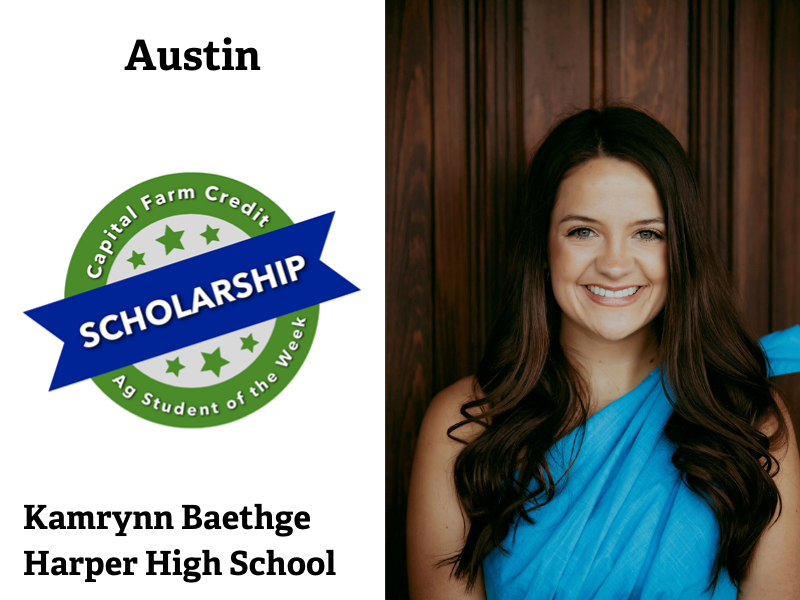 Kamrynn Baethge's introduction to the FFA program was not the typical heartwarming story that many students have experienced. She remembers studying for a chapter conducting contest during her eighth grade year, and the unique strategy her ag teacher used to motivate the team.
"The first thing she told us was, 'you're all expendable,'" recalls Baethge. "And it was scary, because we were all trying our best. But that's really stuck with me throughout all four years."
Her ag teacher's wise words worked as intended, and Baethge and her team went on to qualify for the state finals that year in the chapter conducting competition.
"Now, we all laugh at it," said Baethge.
During her time in FFA, Baethge has also competed in livestock judging, dairy judging, quiz, public relations, homesite, and entomology. Her accomplishments include qualifying for both the state and national homesite competitions, being named the most valuable homesite judger at the area level, and placing first at the district chapter conducting contest alongside her teammates. Her leadership experiences include serving as the treasurer of her chapter, as well as serving on the public relations area committee.
Baethge also exhibits market goat projects through FFA, and was selected to serve on the Harper Livestock Show Board prior to the county show season. She credits her passion for livestock to growing up on her family's ranching operation, and is grateful for the life skills she has picked up along the way.
"I grew up chasing the goats down the chute, driving the truck and trailer to the next hay bale, and swimming in the cow's water trough with my sisters," said Baethge. "I'm proud that I know how to do a variety of different things, as well as the meaning behind it all."
When she isn't dedicating her time to her various agricultural commitments, Baethge is an active member of her high school student body. She is a four-year varsity athlete, and has participated in volleyball, basketball, and softball. Baethge is also treasurer of the Spanish club, secretary of the National Honor Society, and has competed in UIL writing events.
After graduation, Baethge plans to attend Texas Tech University to major in agricultural communications. She hopes to use her degree to educate others on the importance of the agriculture industry, as well as change the perspective of consumers to a more positive outlook.
"As I look into the next chapter of my life, I have considered ways that I could advocate and continue to be a part of this community. That is why I have chosen to go into ag communications, where I can report, share, and spread agriculture to its consumer audiences," said Baethge.
"This will allow me to do my part in keeping the legacy alive."
Congratulations on your outstanding accomplishments Kamrynn, the Capital Farm Credit team wishes you the best of luck in your future endeavors.