Ag Student of the Week Archive
Devine High School senior named San Antonio Market's Ag Student of the Week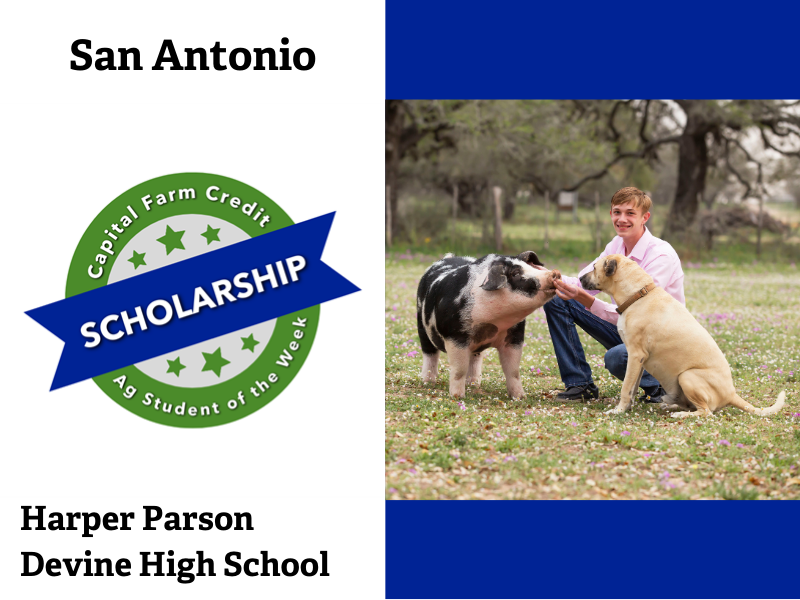 Growing up on his family's pig operation, Harper Parson learned the value of not being afraid to get his hands dirty at a young age. His parents encouraged him to join 4-H when he was in the third grade, in an effort to help him develop the same appreciation for agriculture that the program had instilled in them as kids.
"They both felt that a key part of the world was starting to die out, and they wanted their children to be able to understand what that piece of the world is like," said Parson.
As a member of Devine 4-H, Parson has competed in swine skill-a-thon, entomology, livestock judging, and public speaking. He currently serves as the president of his 4-H club, and has volunteered his time to countless community service projects during his 10-year involvement in the program.
Parson's main project consists of raising and exhibiting swine at jackpots, county shows, and major stock shows across Texas. However, Parson's dedication to the market swine industry goes beyond his time in the show ring. Due to the small size of his hometown, there is no community ag facility for youth in the 4-H program. This means that raising a livestock project requires students to have access to a barn of their own, which can be difficult for 4-H members who are new to the stock show industry. After seeing this need, Parson's family opened their personal barn facilities to students interested in exhibiting swine projects, and have worked to make a true difference in the lives of young exhibitors in their community.
"We have a total of around 32 pig projects at my house," said Parson. "Being around the other people, it really makes it like a big family effort. Everyone's cheering for everybody, everybody is trying to help each other."
In addition to his 4-H involvement, Parson is an active member of his high school FFA. He currently serves as the president of his chapter, and has previously been elected as the sentinel and secretary. He has also served as the sentinel for the Revaldina District FFA Association, and competes in quiz, chapter conducting, land judging, vet med, entomology, and livestock judging. He recently earned his Lone Star degree, which is the highest award a Texas FFA member can earn on the state level.
Through his high school, Parson is a member of the Warhorse Marching Band, and has served as the trumpet section leader. He has competed in UIL events, including science, current events, history, number sense, spelling, and debate. He is also active in student council, student government, and currently serves as the president of the National Honor Society. Despite his heavy extracurricular involvement, Parson has prioritized his academic responsibilities, and is currently salutatorian of the Devine High School class of 2023.
After graduation, Parson plans to attend Texas A&M University to earn his degree in animal science. After completing his undergraduate education, he hopes to attend veterinary school, to earn his doctorate in veterinary medicine. Once he has completed vet school, Parson plans to return to his hometown as a traveling farm veterinarian, to fill a desperate need for large animal veterinary services within his community.
"Throughout my show career I have noticed very few vets make farm calls, and the few that do are always booked," said Parson. "I want to be able to provide that for my community."
Congratulations on your outstanding accomplishments Harper, the Capital Farm Credit team wishes you the best of luck in your future endeavors.