Ag Student of the Week Archive
Abernathy High School senior named Plains Market's Ag Student of the Week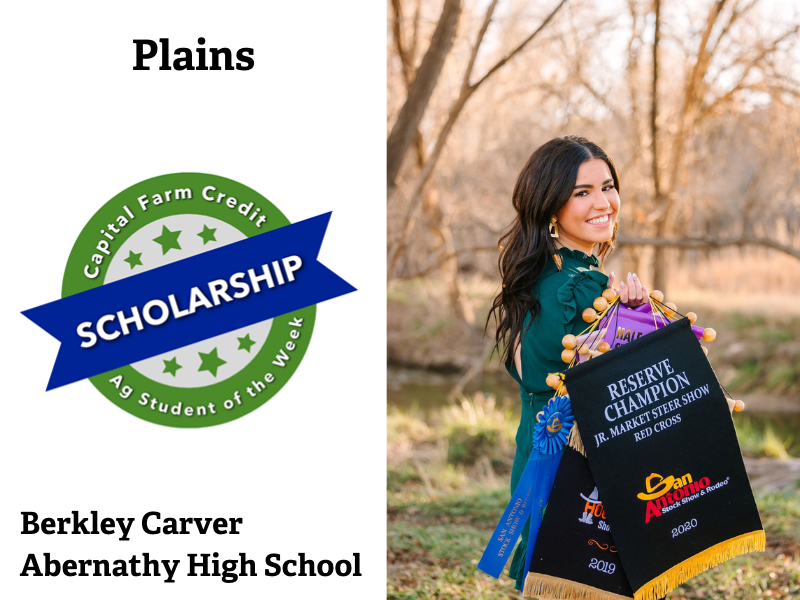 As a ten-year member of Hale County 4-H, Berkley Carver has poured countless hours into serving others through statewide service efforts, as well as within her local community.
She has been elected as the president of the Abernathy 4-H club, 1st vice president of District 2 4-H, and currently represents more than 65,000 4-H members from across the state as a Texas 4-H state officer. She also was selected to serve as a Texas Youth Livestock Ambassador, and was recognized as a top ambassador for dedicating over 250 hours of her time to various advocacy events.
Through 4-H, Carver competes in fashion show, educational presentation, photography, public speaking, consumer education, veterinary science, and food and nutrition. She has earned the title of Reserve National Champion for her fashion design project, in addition to placing first at the state competition. Carver also serves as a mentor to other 4-Hers who are interested in starting projects of their own, and was named as a recipient of the Gold Star Award, Danforth "I Dare You" Award, and Farm Bureau Leadership Award as a result of her efforts. She exhibits market steer projects, and has earned the title of breed champion at the national Grand Finale cattle show. Along with various herdsman and showmanship awards, Carver has also won Reserve Champion Red Cross Steer and Reserve Champion Shorthorn Steer at the San Antonio Livestock Show & Rodeo, as well as winning both Grand and Reserve Champion Market Steer at the Hale County Livestock Show.
Additionally, Carver is an active member of Abernathy FFA, and has served as the vice president and president of her chapter. In 2022, she was named the National Agriscience Champion for her research efforts, and earned the second place title at the State Fair of Texas contest. Carver also competes in public relations, vet tech, floriculture, ag advocacy, marketing plan, and chapter conducting. Her community service projects include assisting with wildlife relief efforts, organizing events for kids with special needs, and donating supplies for first responders, students, and local shelters.
After growing up embracing the opportunities that the 4-H and FFA programs have to offer, Carver applied to the Norman Borlaug Youth in Agriculture Program hoping to add to her impressive list of leadership and service experiences. After being accepted to the program, Carver had the chance to learn about the issues the agricultural industry faces on a daily basis, and has now made it her goal to become a part of the solution.
"As the population is skyrocketing, production agriculture is having to find a way to keep up with the demand for food and fiber. Figuring out how to accomplish this is somewhat mind-boggling when you factor in limited water supplies in areas where ag production is high and available land for production is becoming part of urban settings. The number of people willing to work the strenuous hours required of our farmers is decreasing, while those involved in farming are finding it harder to see the financial feasibility of it," said Carver. "When I put this all together, I see why the smaller, family farms are disappearing."
After graduation, Carver plans to attend Texas Tech University to earn a degree in agricultural communications, with a minor in ag business. She hopes to use her degree to serve as a connection between rural and urban America, and facilitate a positive shift in the public perception of the agriculture industry.
"I may not see a change in my lifetime, but I do know that change is inevitable for our very survival, and I am excited to be a part of the process," said Carver.
Congratulations Berkley on your outstanding accomplishments, the Capital Farm Credit team wishes you the best of luck in your future endeavors.