Ag Student of the Week Archive
A&M Consolidated High School senior named Houston Market's Ag Student of the Week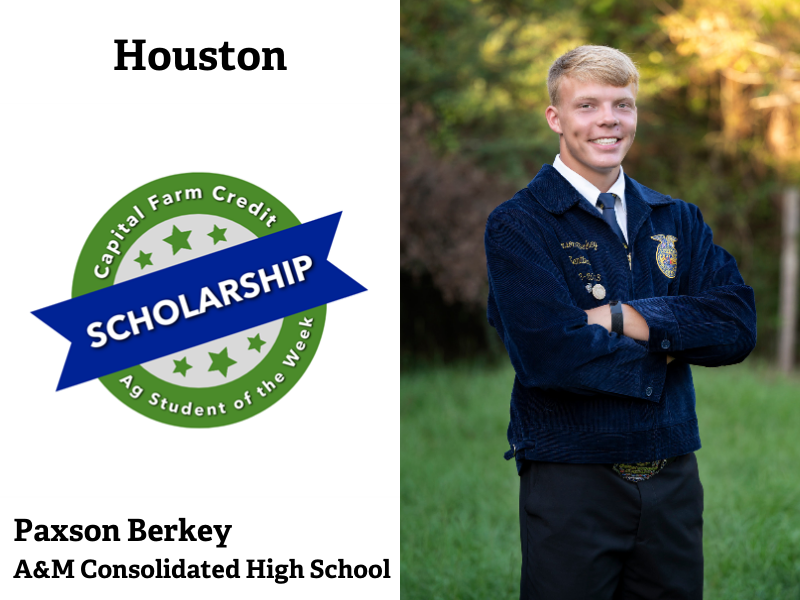 For many, the first topics that come to mind when the agriculture industry is brought up are food, fuel, and fiber. However, harvesting and processing these goods in order to get them into the hands of consumers would not be possible without those who manufacture agricultural equipment. A&M Consolidated High School senior Paxson Berkey has dedicated his FFA career to his agricultural mechanics projects, and plans to use his knowledge of the field to encourage others to support the industry that feeds and clothes America.
During his three-year involvement with A&M Consolidated FFA, Berkey has dedicated much of his high school career to leadership and service. He currently serves as the sentinel for his chapter, and has qualified for the state FFA competition for his participation in the land judging, applied agricultural engineering, and public relations contests. His agricultural mechanics projects include constructing a custom Yellowstone fire pit, custom smoker trailer, deer hanger, cotton seed protein feeder, and commercial hydraulic dump trailer. His fire pit project earned the grand champion title at the Brazos Valley Youth Livestock Show, and was the highest-selling auction item in the agriculture mechanics division. Berkey was also named as a recipient of the Certificate of Excellence Award for Outstanding Achievement in Career and Technology by his high school for his work.
As a member of the A&M Consolidated FFA Community Service Committee, Berkey has volunteered his time as a speaker for the local FFA crawfish boil fundraiser, in addition to other service projects. Through his high school, Berkey is a football, basketball, and powerlifting athlete, and is involved with the Fellowship of Christian Athletes student organization. He is also a member of the Young Men's Service League, and has dedicated over 70 hours to serving his local community. Berkey is currently the president of the National Honor Society, and maintains stellar grades in addition to operating his own landscaping company, Higher Purpose Landscaping.
Running the business has taught Berkey the value of hard work, and has allowed him to network with fellow business owners in the community. This led him to an internship position with a real estate advisory company, which opened his eyes to a potential career path.
After graduation, Berkey plans to attend Texas A&M University to major in agricultural economics. He hopes to use his degree to return to the real estate industry as an investor and developer, while continuing to advocate on behalf of the agriculture industry.
"With this occupation, networking and creating relationships are inevitable," said Berkey. "I will advocate for agriculture through interactions."
Congratulations Paxson on your outstanding accomplishments, the Capital Farm Credit team wishes you the best of luck in your future endeavors.