Ag Student of the Week Archive
Sexton Academy senior named Houston Market's Ag Student of the Week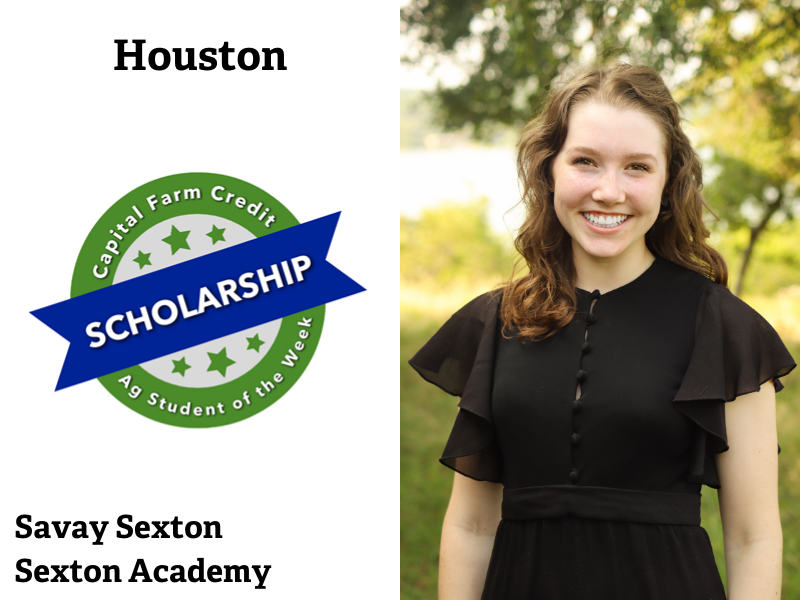 Savay Sexton grew up surrounded by mentors who experienced firsthand the benefits of growing up in the agriculture industry. Both her maternal and paternal grandparents grew up within the 4-H program, which inspired her mother and father to become active members. Her father grew up to pursue a career as a county extension agent, and her mother even served as a Texas 4-H State Council officer.

Now a senior in high school, Sexton proudly carries on the 4-H tradition as a third generation member of the organization.
"It was pretty much mandatory that I would be a 4-Her, and I have enjoyed it greatly," said Sexton.
During her time as a member of the Green Clover 4-H Club, Sexton has raised her own herd of Hereford cattle. From this herd, she has selected market steer and breeding heifer projects, which she has exhibited at livestock shows across the state of Texas. Her accomplishments include placing first in her division at the Sandhills Stock Show and the San Antonio Stock Show and Rodeo, as well as earning reserve champion division and class titles. She credits her success as a livestock showman to the countless hours of effort she has dedicated to her cattle projects.
"Hard work and determination are extremely important," said Sexton. "You have to have those in order to succeed in this industry, because it can be very difficult if you don't have those skills."
Sexton competes in livestock judging, and has earned 41 top-ten placings during her high school career. She serves as a mentor to her fellow team members, and placed second out of over 700 competitors during the 2022 Rodeo Austin competition. She also competes in prepared public speaking, and was named the champion of the 2022 State Fair of Texas public speaking contest in the Agriculture Advocacy division. She has used her gift to serve as the emcee of the Texas 4-H Roundup Capstone Awards Night, where she presented to over 1,200 spectators.
Her leadership experiences include following in her mother's footsteps as a Texas 4-H Council Member. She has also served as the president of District 10 4-H, president of the Gonzales County 4-H Council, and president of the Green Clover 4-H Club. Sexton currently serves as a Texas 4-H Livestock Ambassador, and has dedicated over 700 hours of her time to advocacy work within the agriculture industry. This program has allowed Sexton to travel across the United States learning about different agricultural entities, and has inspired her to pursue a career helping others do the same.
Upon graduation, Sexton will be attending Texas A&M University to earn her degree in agricultural leadership and development. She hopes to use this degree to build a career in the international agritourism industry, and give others the opportunity to experience agriculture within a hands-on environment.
"My career goal is to work in international agritourism coordinating tours in Europe and the United States showcasing agriculture entities, and how the effects of policy, culture, technology, history, and legacies weave together," said Sexton. "I plan to use my education to continue giving others impactful agricultural experiences."
Congratulations on your outstanding achievements Savay, the Capital Farm Credit team wishes you the best of luck in your future endeavors.