Ag Student of the Week Archive
Orange Grove High School senior named South Texas Market's Ag Student of the Week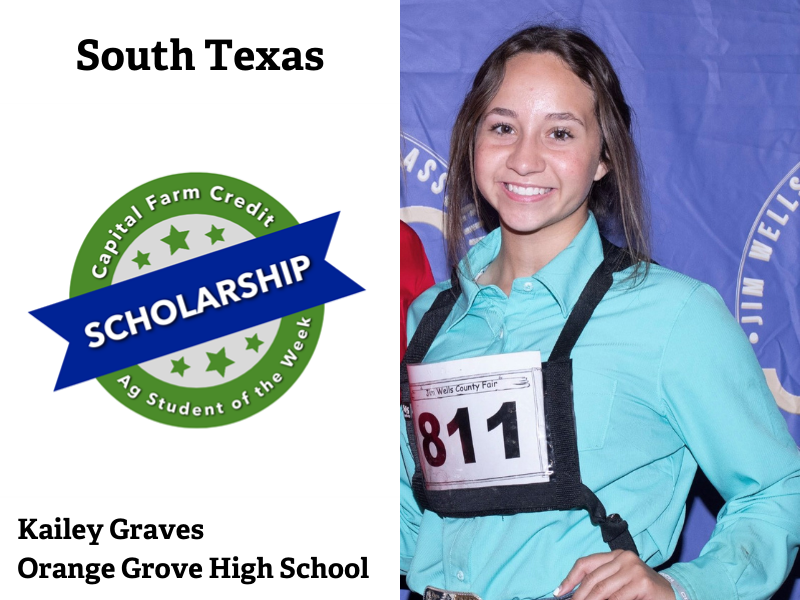 The FFA organization boasts a membership of over 850,000 students from across the nation. The goal of the organization is to grow the next generation of leaders who will change the world, and Orange Grove High School senior Kailey Graves is hoping to do just that.
Graves joined the Orange Grove FFA chapter as a junior FFA member, and has spent the last 12 years learning valuable life lessons, including the importance of teamwork.
"I have learned a lot about the value of making strong relationships with people who will always be there for me," said Graves. "Most importantly, FFA has taught me that together we can make a big difference and that it's okay to always ask for help; we don't have to do everything on our own."
During her involvement in FFA, Graves has raised market goats, dairy goats, and breeding heifers. She has exhibited these livestock projects at the local level, as well as at major stock shows across the state of Texas, including the San Antonio Stock Show & Rodeo, Houston Livestock Show & Rodeo, Rodeo Austin, and the San Angelo Stock Show & Rodeo.
Graves also competes in horse judging alongside her teammates, and earned the third place title at the area competition in 2021. This qualified her for the state FFA horse judging contest, where she placed 66th out of over 300 competitors.
Her leadership experiences include serving as the parliamentarian of the Mesquite District FFA Association. She also recently earned her Texas FFA Lone Star Degree, the highest award an FFA member can receive on the state level.
Through her high school, Graves is a member of Phi Theta Kappa, and the academic club. She has earned credit for college through taking dual enrollment courses at Coastal Bend College, and has been named as a member of the Dean's List for her academic achievements. Graves also serves as a varsity cheerleader, and has volunteered her time towards assisting with a cheer camp for younger girls in the community. Her other service projects include gathering donations for a local women's shelter, donating resources to the Ronald McDonald House Charity, and serving as a coach and referee for a youth volleyball organization.
Upon graduation, Graves plans to attend Tarleton State University to major in animal science, with a minor in ranch management. She hopes to use this degree to strengthen the production livestock industry through developing stronger, more efficient breeding programs.
"Agriculture is an essential part of our everyday life," said Graves. "As members of the agricultural industry, it is critical for us to understand how broad our industry is and the many areas it encompasses."
Congratulations on your outstanding accomplishments Kailey, the Capital Farm Credit team wishes you the best of luck in your future endeavors.