Ag Student of the Week Archive
Sweetwater High School senior named Plains Market's Ag Student of the Week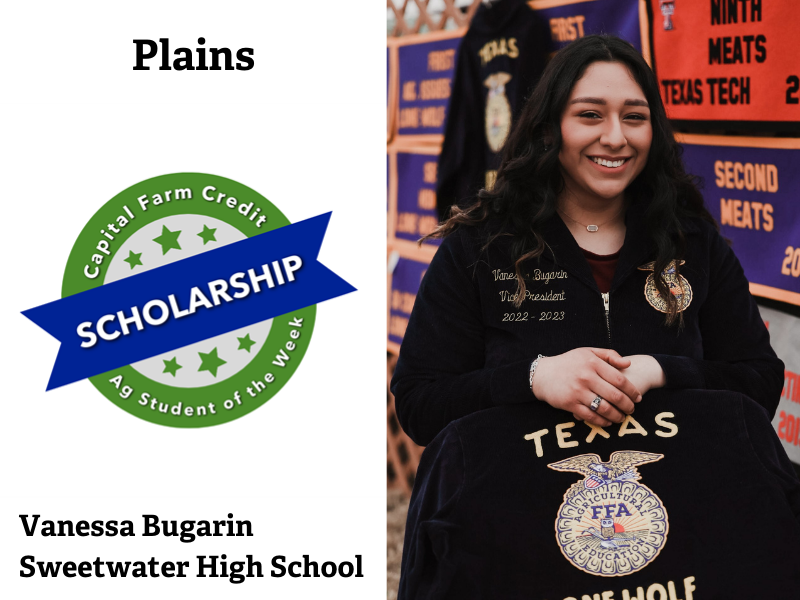 When Vanessa Bugarin was in the fifth grade, a group of local 4-H members came to her elementary school to speak about the program. After hearing about the countless opportunities 4-H had to offer, Bugarin felt called to join her local club.

This experience sparked her passion for the agricultural industry, a passion she hopes to carry into her future by becoming a voice for the farmers and ranchers that fuel America.
During her eight-year involvement in 4-H, Bugarin has participated in clothing and textiles, as well as food and nutrition. She also exhibits market rabbit projects at the county level, and currently serves as the president of Nolan County 4-H.
Being an active member of 4-H pushed Bugarin to join the Sweetwater FFA chapter her freshman year of high school. Through FFA, she has competed in chapter conducting, meat evaluation, and ag issues. Bugarin has also expanded her livestock projects beyond showing rabbits, and has exhibited market lambs and market barrows at livestock shows across the state of Texas.
During her sophomore year, Bugarin began to take on additional leadership roles, including serving as the parliamentarian of the Sweetwater FFA chapter. Her junior year, she was elected as the secretary for her chapter, and vice president of the Lone Wolf District FFA Association. Currently, Bugarin serves as the vice president of Sweetwater FFA, as well as reporter for the Area II FFA Association. Through these leadership opportunities, Bugarin has served as a member of the State Needs Committee, and has helped to host the Area Leadership Conference.
This past summer, she was awarded the FFA Lone Star Degree at the Texas FFA State Convention, the highest award an FFA member can earn on the state level.
Through her high school, Bugarin currently serves as the treasurer of the National Honor Society and the student council. She has competed in public speaking through UIL, and has served as the flute captain for her high school band. Bugarin is also an avid athlete, and has competed in volleyball, track, basketball, and varsity powerlifting.
After graduation, Bugarin plans to attend Texas A&M University to earn her degree in animal science. She hopes to use her degree to become an agricultural lawyer, and educate the general public on the importance of supporting the agriculture industry.
"I want to become that voice for our farmers and producers that are facing hardships," said Bugarin.
Congratulations on your outstanding achievements Vanessa, the Capital Farm Credit team wishes you the best of luck in your future endeavors.