Ag Student of the Week Archive
Wall High School senior named San Antonio Market's Ag Student of the Week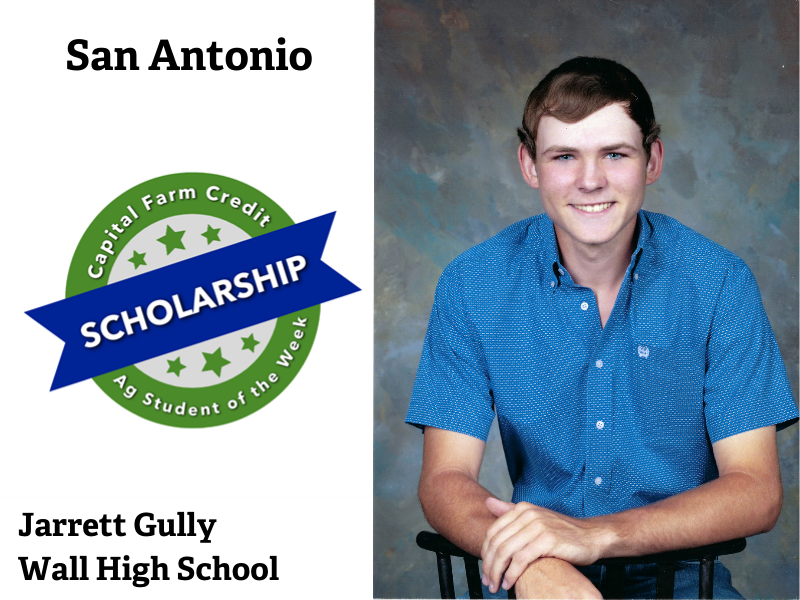 Growing up harvesting wheat crops alongside his brother and father, Jarrett Gully developed a passion for land at a young age. He joined the Wall FFA chapter his freshman year of high school in hopes of growing his knowledge of soil science, as well as pursuing his passion for welding.
Four years later, Gully has found his niche within the land judging and tractor tech competitions. He and his team have qualified for the Texas FFA State tractor tech competition for the last three years, working to restore old equipment to working condition.
"That's probably one of my favorite memories, my teammates and I working together to try and get a tractor going," said Gully.
In addition to tractor tech, Gully also participates in ag mechanics at stock shows across the state of Texas. Each year, his unique projects are judged on workmanship, design, presentation, and the difficulty of the build. In 2022, he competed at the San Angelo, San Antonio, and Houston Livestock Show & Rodeo competitions, where the trailer he built alongside his teammates earned several top-five placings.
Through FFA, Gully also participates in homesite, cotton judging, and wool judging. He was presented with his State FFA Degree pin for leadership, interpersonal, and professional skills in 2022, and has earned recognition for his Supervised Agricultural Experiences of Diversified Crop Production, Grain Production, and Land.
Outside of FFA, Gully is an active member of his student body at Wall High School. In addition to working a part-time job, he has participated in MASH, garden club, and the St. Ambrose Church Youth Group. Through these organizations, Gully has volunteered his time towards community service projects, including doing yard maintenance for elderly couples, running concession stands at football games, gathering donations for the local food pantry, and collecting resources for a pregnancy help center.
After graduation, Gully plans to attend Texas Tech University to major in plant and soil science.
"I've always thought agronomy was the coolest thing ever. Seeing plants grow from start to finish, and getting to harvest the end product," said Gully.
Gully also plans to earn his agricultural water management certificate, which he will use to study irrigation technologies. He hopes to educate other agricultural producers on the topic, and make farming processes more environmentally friendly as a result.
"The more information farmers learn and share on how to efficiently manage and profit from using water efficiently is a win for all of rural America," said Gully.
Congratulations Jarrett on your outstanding accomplishments, the Capital Farm Credit team wishes you the best of luck in your future endeavors.