Ag Student of the Week Archive
Mathis Homeschool Academy senior named South Texas Market's Ag Student of the Week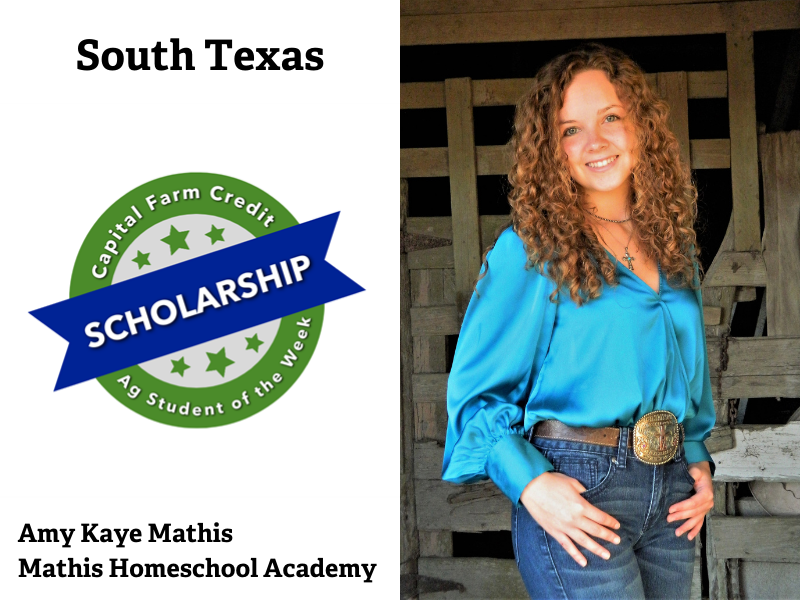 The 4-H Club Motto and Pledge reads as follows:
To Make the Best Better. I pledge My Head to clearer thinking, My Heart to greater loyalty, My Hands to larger service, and My Health to better living for my club, my community, my country, and my world.
High school senior Amy Kaye Mathis has worked to uphold each part of this pledge through her dedication to advocacy, leadership, and selfless service during her ten-year involvement in the 4-H program.
On the national level, Mathis has represented Texas 4-H as a National 4-H Congress Delegate. She currently serves as the Texas 4-H 1st Vice President, as well as a Healthy Texas Youth Ambassador and Texas 4-H Livestock Ambassador. Through these leadership opportunities, Mathis has participated in advocacy events such as the Washington D.C. Leadership Experience and East Coast Agriculture Advocacy Educational Tour. She has also used her voice to broadcast the importance of agriculture through participating in TV news interviews for KHOU and WFFA. This commitment to advocacy has allowed Mathis to be recognized as a Texas Youth Institute Borlaug Scholar, Texas 4-H Livestock Advocacy Academy Delegate, and State Fair of Texas Leadership Award recipient.
Despite her stellar achievements at both the state and national level, Mathis has remained diligent in bettering her local community. One of the ways she does this is through serving as a founding member of the Douglass Youth Center 4-H Club, which aims to give youth from all walks of life an opportunity to participate in 4-H.
"My goal was to promote diversity, and offer the benefits of the 4-H program while reaching at-risk youth and serving with them to make a greater impact in our community," said Mathis.
Since 2020, Mathis has helped the club with recruitment efforts, as well as equipping disadvantaged members with the tools needed to be successful in 4-H. Using her earnings from exhibiting market lamb projects, she has personally funded 13 membership fees, as well as contest entry fees for members who would have otherwise lacked the resources to participate.
Her livestock earnings have also allowed Mathis to facilitate community service projects such as donating socks to nursing home residents, assembling care packages for NICU parents, gathering food pantry donations, and mailing shoes and other necessities to Afghan refugees in need.
"Your legacy is not about you, it's about the things you do that impact others," said Mathis.
After graduation, Mathis plans to attend Texas A&M University to major in animal science and agricultural communications. She hopes to use her education to continue to serve as a voice for agriculture, and educate others on the importance of the industry.
Congratulations on your outstanding accomplishments Amy Kaye, the Capital Farm Credit team wishes you the best of luck in your future endeavors.