Ag Student of the Week Archive
Whitharral High School senior named Plains Market's Ag Student of the Week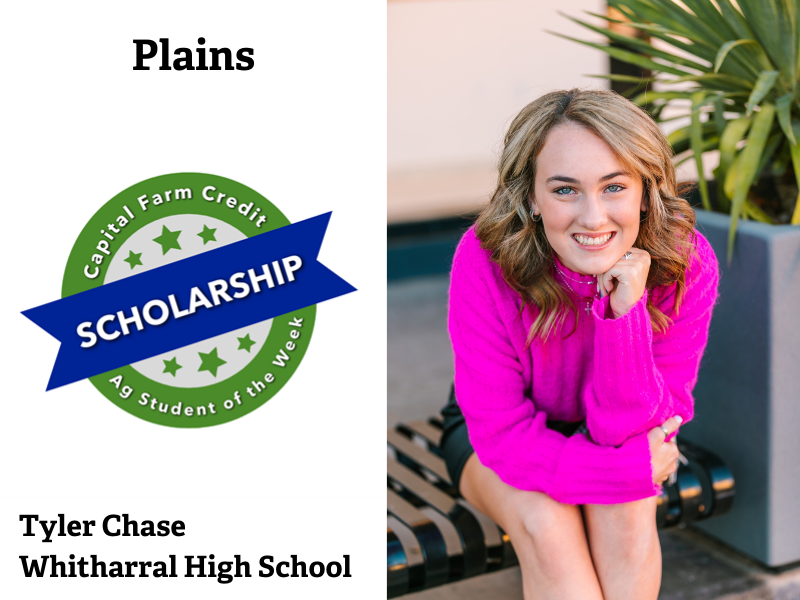 As the cost of earning a collegiate education continues to rise, the agricultural industry has begun to experience a shortage of veterinarians capable of tending to livestock. Whitharral High School senior Tyler Chase hopes to help combat this issue, through using her lifetime of experience in agriculture to become a large animal veterinarian.
As a nine-year member of Hockley County 4-H, Chase has participated in livestock quiz bowl, livestock skill-a-thon, and consumer decision making. She has advanced to the Texas 4-H Roundup competition for the last two years, and will compete again alongside her teammates at the state level in June. Her leadership experiences include serving as the president of both her 4-H club and the Hockley County 4-H Council.
Chase also exhibits market steer projects at livestock shows across Texas. Her accomplishments include winning reserve and grand champion steer at the Hockley County Livestock Show, reserve champion Simmental steer at the San Antonio Livestock Show and Rodeo, first place Exotic Heavy Weight steer at the Fort Worth Stock Show, Grand Champion Limousin steer at the Houston Livestock Show and Rodeo, and third place Heavy Weight Colored Cross at Rodeo Austin, in addition to earning numerous showmanship awards for her performance in the show ring.
Outside of 4-H, Chase is an active member of the Whitharral FFA chapter. She has served in various leadership roles, including chapter secretary, vice president, and currently, president. During her four-year membership, she has also competed in quiz, chapter conducting, radio broadcasting, livestock judging, and dairy cattle judging. Additionally, Chase competes in ag mechanics, where her projects have earned the grand champion title at the Hockley County Junior Livestock Show, as well as a blue ribbon at the San Antonio Livestock Show and Rodeo. Her dedication to the FFA organization recently allowed her to earn her Lonestar Degree, the highest degree an FFA member can receive on the state level.
Despite her busy schedule, Chase remains active in her high school's extracurricular activities. She currently serves as the president of the National Honor Society, captain of the Whitharral High School cheer squad, and is a student council representative for her graduating class. Through these organizations, Chase has donated her time to various community service projects, including highway clean-ups, veteran appreciation programs, ag awareness events, and collecting clothing donations.
After graduation, Chase plans to attend Texas Tech University to major in animal science, with a minor in agricultural communications. She hopes to continue her education through attending vet school, which will allow her to pursue her dream of becoming a large animal veterinarian.
Congratulations on your outstanding accomplishments Tyler, the Capital Farm Credit team wishes you the best of luck in your future endeavors.