Ag Student of the Week Archive
Wall High School senior named San Antonio Market's Ag Student of the Week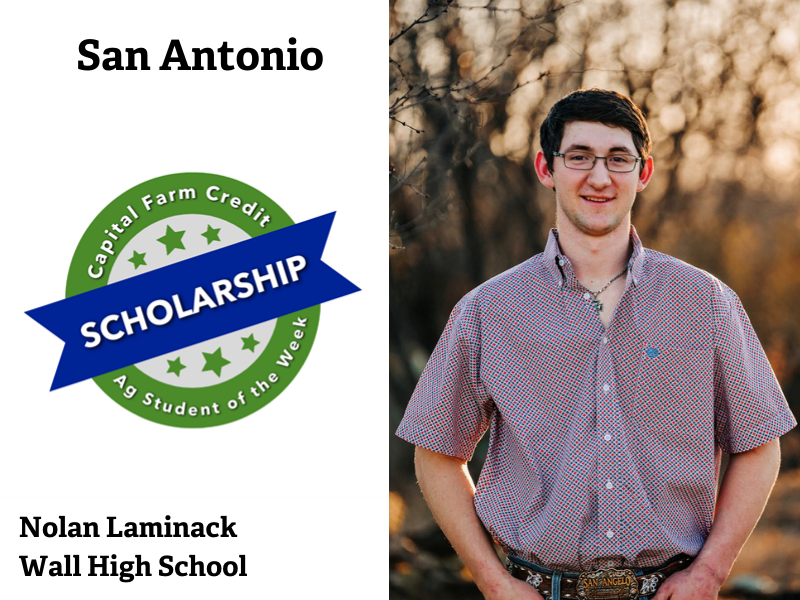 Agriculture is the backbone of America, and is responsible for feeding and clothing the millions of people who call the United States home. Yet, the industry continues to battle misinformation and negative publicity, an issue that Wall High School senior Nolan Laminack hopes to combat through his work as an advocate.
"We're what keeps the world running," said Laminack, "I think everyone needs to know that."
Born and raised within an agricultural family, Laminack joined 4-H in the third grade. Through this organization, he has competed in wool judging, meat judging, and livestock quiz bowl. He has raised market lamb and goat projects at both the county and state levels, and credits some of his fondest memories to his time in the show barn. One of these memories dates back to several years ago, when Laminack was awarded first place in his class at the San Antonio Livestock Show and Rodeo with his market goat project, Rooster.
"I'd been working hard with that goat all year," said Laminack. "Being able to go down there and win a class was awesome."
In 2020, Laminack was selected to serve as a Texas Youth Livestock Ambassador, an opportunity that has allowed him to travel the state educating others on the importance of the agricultural industry. He also participates in service projects, including helping with the validation process for major stock shows, and hosting showmanship clinics for young livestock exhibitors.
As a four-year FFA member, Laminack has competed in wool judging and livestock judging, where he has qualified for and competed at the state FFA contest. He has also been recognized for his FFA Supervised Agricultural Experience of Goat Production, and received the Certificate of Excellence for Plant and Animal Science.
Outside of agriculture, Laminack is involved with his high school's National Honor Society, where he participates in service projects. These include purchasing Christmas presents for underprivileged children through the Angel Tree program, and hosting canned food drives to benefit the Concho Valley Regional Food Bank. Laminack is also a member of the varsity football team, and has earned recognition for his academic accomplishments as a high school athlete.
After graduation, Laminack plans to attend South Plains College to major in agricultural economics. He hopes to use his degree to become an agricultural loan officer, and give back to the industry in any way he can.
"I plan on helping farmers and ranchers improve their livelihood, and create a working environment for them to be successful in their businesses," said Laminack.
He also hopes to embrace his family roots, and purchase land to continue raising Dorper sheep and show goats.
Congratulations on your outstanding achievements Nolan, the Capital Farm Credit team wishes you the best of luck in your future endeavors.