Ag Student of the Week Archive
Silsbee High School senior named Houston Market's Ag Student of the Week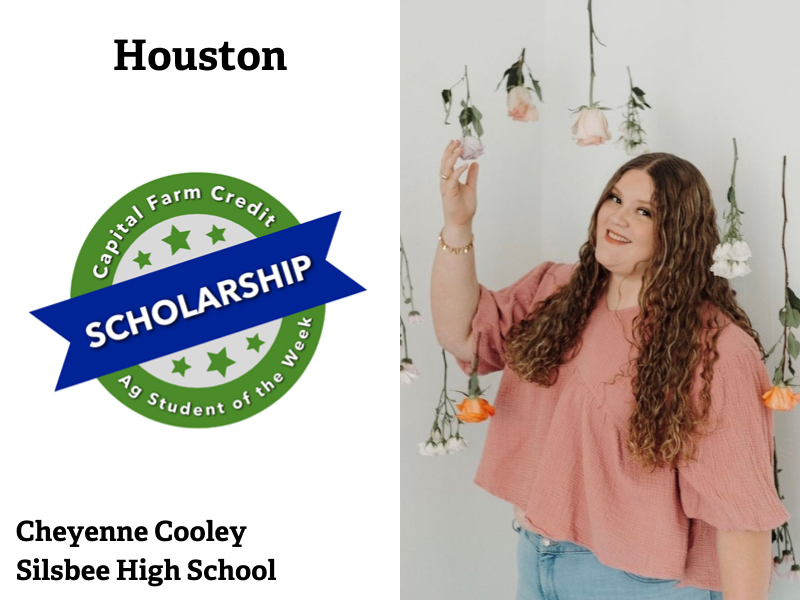 Many high schools host a showcase event for incoming freshmen to learn about the extracurricular activities and organizations that are available for students to participate in. It was at one of these events that Silsbee High School senior Cheyenne Cooley was introduced to the FFA organization, an experience that she says opened her eyes to the importance of the agricultural industry.
"It really didn't resonate with me that my life was completely immersed in agriculture until that interaction," said Cooley.
Cooley joined FFA her freshman year, and has spent the last four years highly involved within the organization. She has competed in senior creed speaking, ag advocacy, floriculture, and senior quiz, in addition to managing leadership responsibilities.
She currently serves as the president of the Silsbee High School FFA chapter, and has also presided over the Rice Belt District FFA Association as the president. Through this experience, Cooley had the opportunity to attend the Area Leadership Camp and District Leadership Academy, where she picked up valuable leadership skills. This led to her election as the secretary of the Area IX Association, making Cooley the first ever member of her chapter to hold an officer position at the area level.
"I was completely nervous, but excited to embark on a new journey," said Cooley.
Her time as an area officer allowed her to attend the State Leadership Conference, where she joined the National Needs Committee. Cooley hopes her time spent within these leadership roles has inspired others, just as she was inspired during her first encounter with the FFA.
Outside of FFA, Cooley is a member of the Silsbee High School Choir, where she has earned recognition as a 2-time all-region choir member, 4-year varsity concert choir member, and varsity alto section leader. She is also a member of the floral design club, and FCCLA.
After graduation, Cooley plans to attend Texas A&M University to major in agricultural leadership and development. She hopes to use her degree to become an ag teacher, and credits her own advisor, Courtney Champagne, for sparking her passion for agricultural education.
"What better way to advocate for the future of agriculture than to empower it? I want to teach, lead, and advise the future of agriculture," said Cooley.
Congratulations Cheyenne on your outstanding achievements, the Capital Farm Credit team wishes you the best of luck in your future endeavors.