Ag Student of the Week Archive
Harper High School senior named Austin Market's Ag Student of the Week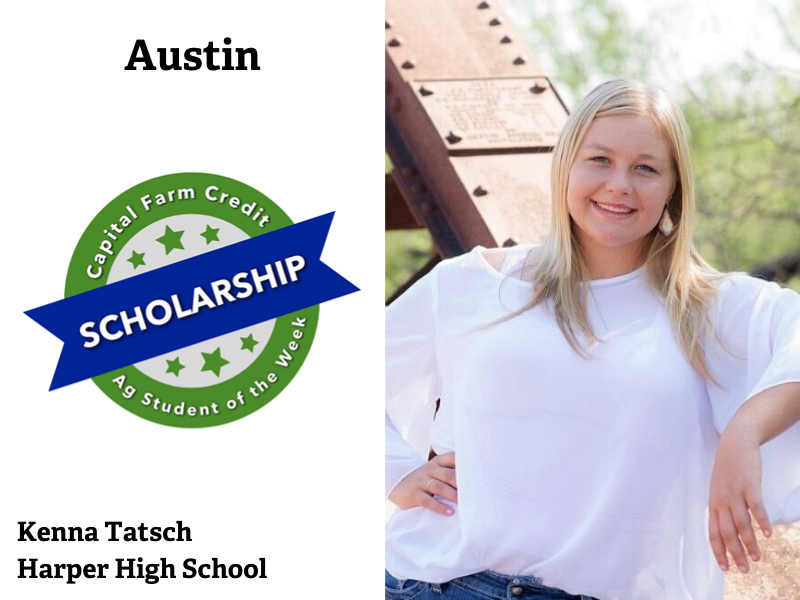 Growing up on a farming and ranching operation, Kenna Tatsch spent much of her youth involved in agriculture. She joined 4-H in the third grade, but it wasn't until her ag advisor Felice Marek became her neighbor that she grew interested in becoming an FFA member.
"I was very lucky. When I was in seventh grade, my ag teacher moved in right next door to me and pushed me to join," said Tatsch. "I really attribute everything I have done back to her."
Now a senior at Harper High School, Tatsch remains highly involved in both organizations. She has served as a 4-H club officer for the last eight years, and currently represents her club as a county council officer.
Through FFA, Tatsch has taken on various leadership roles, including being elected to chapter office, and serving as the secretary of the Hill District FFA. She has served as the Area Chairman of the Awards and Recognition Committee, a member of the Harper Junior Livestock Show Board, and a mentor for the Harper FFA Junior Mentor Program, in addition to attending leadership development workshops at the district, area, and state levels.
Tatsch also competes in leadership development events, including chapter conducting, quiz, and job interview, which have allowed her to advance to the state competition three years in a row. As for career development events, Tatsch participates in livestock evaluation, vet science, range and pasture judging, and plant identification, and has earned several top-ten titles as a result of her efforts. One of her favorite memories during her time in FFA comes from the 2022 Texas FFA Convention, where her range and pasture judging team placed seventh in the state.
In addition to fulfilling her leadership responsibilities and practicing for her many FFA competitions, Tatsch exhibits market steers, market goats, breeding does, and breeding heifer projects at livestock shows across the state of Texas.
Although her involvement in agriculture takes up much of her time, Tatsch remains in active member of her high school student body. She has served as the secretary of her school's book club, reporter of the science club, co-chairman of the prom committee, as well as a member of the National Honor Society and Spanish club. Tatsch also works part-time on her family farm growing and harvesting hay crops to earn money for college, and was recognized as a Star in Agricultural Placement finalist at the state level for her efforts.
After graduation, Tatsch will be attending Oklahoma State University to major in natural resource management, with a specialty in range ecology. She then plans to earn her doctorate in plant and soil sciences, and conduct research that will help make production agriculture more profitable.
"Without farmers and production agriculture, we would not have the food we eat, clothes we wear, or homes we live in," said Tatsch. "I believe that there is a place for everyone in the future of farming in America."
Congratulations on your outstanding accomplishments Kenna, the Capital Farm Credit team wishes you the best of luck in your future endeavors.