Ag Student of the Week Archive
Harlingen High School senior named South Texas Market's Ag Student of the Week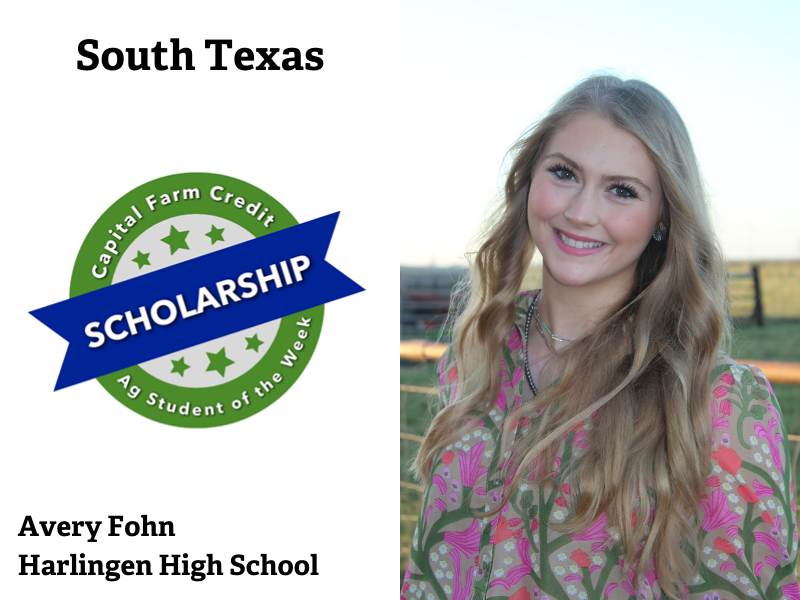 Avery Fohn recalls watching her father and grandfather feed cattle on their cow-calf operation at only six years old, an experience that sparked her lifelong passion for agriculture. Years later, the 18 year old Harlingen High School senior has made it her mission to tackle every opportunity that comes her way, from local leadership, to traveling the nation.
Fohn joined the Highland Hustlers 4-H club in the third grade, and soon began showing livestock, competing in cooking competitions, and pursuing ways to develop her leadership skills. She currently serves as the 2nd vice president for her 4-H club, historian of Cameron County 4-H, and has represented District 12 as a member of the Texas 4-H Council. Fohn also serves as a Texas Youth Livestock Ambassador, an opportunity that has allowed her to travel across the United States. In total, she has spent over 750 hours advocating for and educating others on the value of the agricultural industry alongside her fellow ambassadors.
"I have met some of my very best life-long friends through this program," said Fohn.
Fohn also participates in various community service projects, including food drives, winter coat drives, and school supply drives for elementary students in foster care. She has attended advocacy events at the Texas State Capitol, and recently participated in the Norman Borlaug Youth in Agriculture Program.
As a member of Harlingen FFA, Fohn has served as the president of her chapter, Tip O Tex District president, Area X FFA Association vice president, and Texas FFA delegate at the National FFA Convention. Through these opportunities, she has helped host the district leadership camp and Greenhand camp, as well as livestock shows and awards banquets. Fohn has earned various recognitions for her dedication to the FFA organization, including her Greenhand Degree, Chapter Degree, and Texas FFA Lone Star Degree.
Outside of FFA, Fohn is an active member of her high school's student council, DECA, and Rotary Interact. She was inducted into the National Junior Honor Society her freshman year, and has since been recognized as a member of the National Technical Honor Society. Fohn also serves as the president of the Parent Student Teacher Association, which has allowed her to lead her fellow students through community service projects.
"I have always strived for excellence," said Fohn. "Whether it was at school, at home, or in my community, exemplifying strong character and a good work ethic has been one of my top priorities."
After graduation, Fohn plans to attend Texas A&M University to major in agricultural economics. She hopes to use her degree to attend law school, and become an agricultural lawyer specializing in ag policy. During college, she plans to further grow her knowledge of agriculture through participating in a study abroad program, an opportunity she hopes will allow her to continue advocate for the industry.
"Traveling the nation learning about agriculture has allowed me to see our world from many differing lenses and perspectives," said Fohn. "Hearing others' stories has given me the ability to form my own, and create a purpose behind my actions."
Congratulations on your outstanding accomplishments Avery, the Capital Farm Credit team wishes you the best of luck in your future endeavors!