Ag Student of the Week Archive
East Central High School senior named San Antonio Market's Ag Student of the Week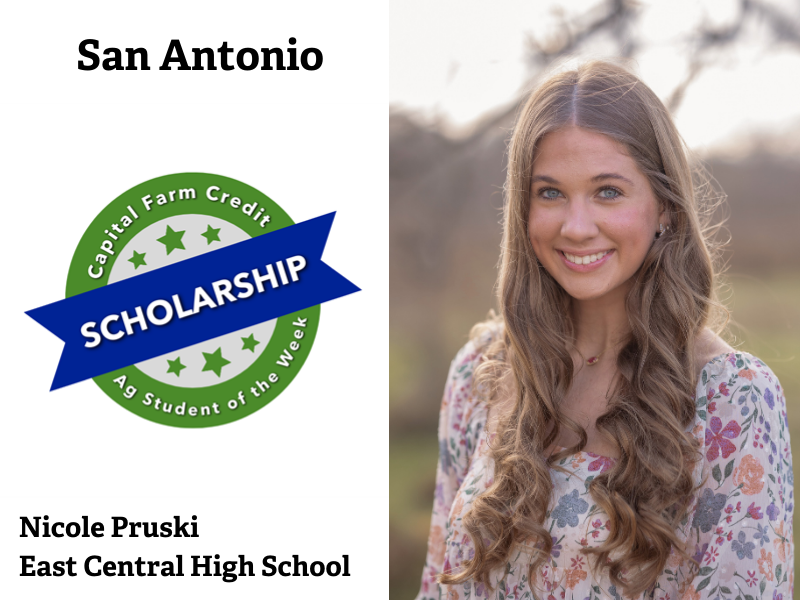 After growing up on a farm, Nicole Pruski was inspired to join 4-H during her third grade year by a family friend, who, unbeknownst to her at the time, would eventually become her FFA advisor.
"That was a really cool full circle moment for me," said Pruski.
Now a senior at East Central High School, Pruski is an active member and leader within her FFA chapter. She currently serves as the president of East Central FFA, secretary of the Alamo FFA District, and first vice president of the Area VII FFA Association. She has also competed in chapter conducting, ag advocacy, quiz, ag issues, meats evaluation, wool evaluation, and dairy cattle judging, and has exhibited market lamb projects at the local and state level for the last ten years.
The biggest lesson being involved in agriculture has taught her, is that hard work is essential, and pays off in the long run.
"You can dream big, if the work you put in is big as well," said Pruski.
Outside of 4-H and FFA, Pruski is a four-year varsity volleyball athlete. She served as the captain of the team her junior and senior seasons, and earned recognition as an academic all-district athlete, academic all-state athlete, offensive MVP, and defensive MVP. She is also a member of the National Honor Society, Fellowship of Christian Athletes, and student council.
After graduation, Pruski plans to attend Texas A&M University to earn her degree in agricultural communications and journalism. She hopes to use her education to pursue a career as an agricultural lawyer, and serve as a voice for the farmers and ranchers who cannot defend themselves.
"I believe it is our job as young adults and the next generation of agriculturists to fight and advocate for the farmers and ranchers that provide everything from the clothes on our back, to the food on our plates," said Pruski.
"It is my hope that I will be able to give back to the industry that has provided me countless opportunities, friendships, and life lessons."
Congratulations on your outstanding achievements Nicole, the Capital Farm Credit team wishes you the best of luck in your future endeavors.