Ag Student of the Week Archive
Weslaco High School senior named South Texas Market's Ag Student of the Week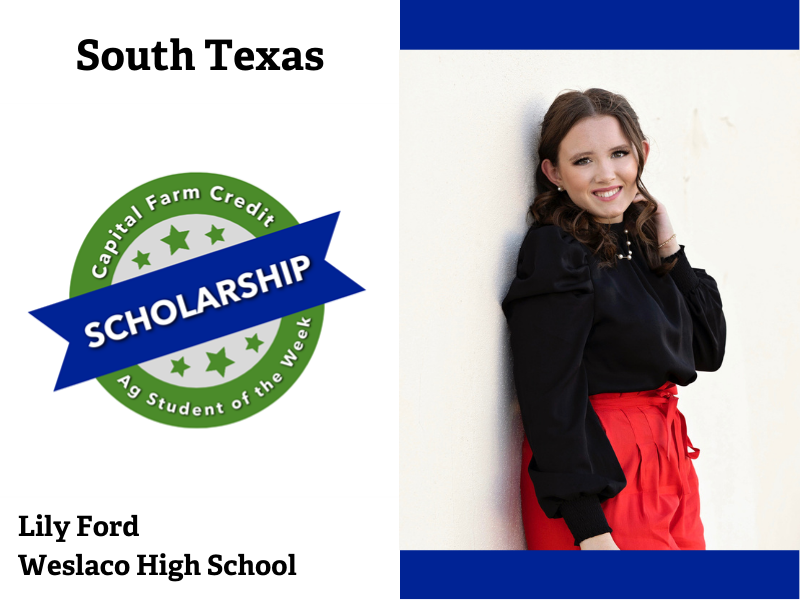 Not many students will admit to enjoying mathematics, in fact, many avoid it at all costs. However, for high school senior Lily Ford, math is a valuable tool, one that she hopes to use to help farmers and ranchers improve their agricultural operations. Her passion for agricultural economics began during a workshop at West Texas A&M University, which she attended as a Texas Youth Livestock Ambassador in 2019.
"As he was talking about markets and futures it seemed as though I was one of the few that found it exciting. Probably because I'm a bit of a math nerd, but also because I saw the importance of the formulas and calculations he was showing to the ag industry," said Ford.
In addition to her work as a Texas Youth Livestock Ambassador, Ford has been a member of Weslaco FFA since the third grade. Through this organization she has competed in prepared public speaking and creed speaking, where she has earned recognition at the district, area, and state levels. She has also served as the treasurer and president of Weslaco FFA, president of the Citrus Valley District, and vice president of the Area X FFA Association. This dedication to leadership has led to her initiation into the Ford Leadership Scholars program, which aims to enhance student's existing leadership qualities, and equip these scholars to contribute to the future success of both the state and the nation.
Ford is also a member of Hidalgo County 4-H, where she has been elected to various leadership roles during her ten-year involvement in the program. These roles include serving as the president of Borderline 4-H Club, 1st vice president of Hidalgo County 4-H, and president of District 12 4-H. She also served as a Texas 4-H Council member, and has competed in both the prepared public speaking and food challenge contests on the state level.
During her involvement in 4-H and FFA, Ford has exhibited livestock at stock shows across Texas, including grand champion breeding gilts, market hogs, and poultry projects. As an exhibitor, Ford experienced firsthand the giving spirit of the livestock industry. This encouraged her to start the "100 Kids That Give a Darn in the Barn" program, which allows youth exhibitors like herself to give back to the community. The goal of the program is to get 100 livestock exhibitors to donate $100 each year, funding that is then used to support other youth in agriculture through purchasing their livestock projects at the Rio Grande Valley Livestock Show.
"Over the past few years, we have given back almost $50,000 to the hardworking youth livestock exhibitors in my community," said Ford. "It has truly meant the world to me to give back to the show industry that has shaped who I am today, and see how an idea of mine could make such a positive impact in my community."
After graduation, Ford plans to attend Texas A&M University to earn her degree in agricultural economics. She will then pursue a master's degree in public service administration, which she hopes to use to represent agriculturalists at the government level, and enforce policies that financially benefit farmers and ranchers across the United States.
"Agricultural economics is vital to the success of the food and fiber industry," said Ford. "From looking back on the success and losses from the year prior, to adjusting production practices, to enhancing financial outcomes and predicting future expectations for sectors of agriculture, the job of an ag economist is one that should not be taken lightly."
Congratulations on your outstanding accomplishments Lily, the Capital Farm Credit team wishes you the best of luck in your future endeavors.