Ag Student of the Week Archive
Sudan High School senior named Plains Market's Ag Student of the Week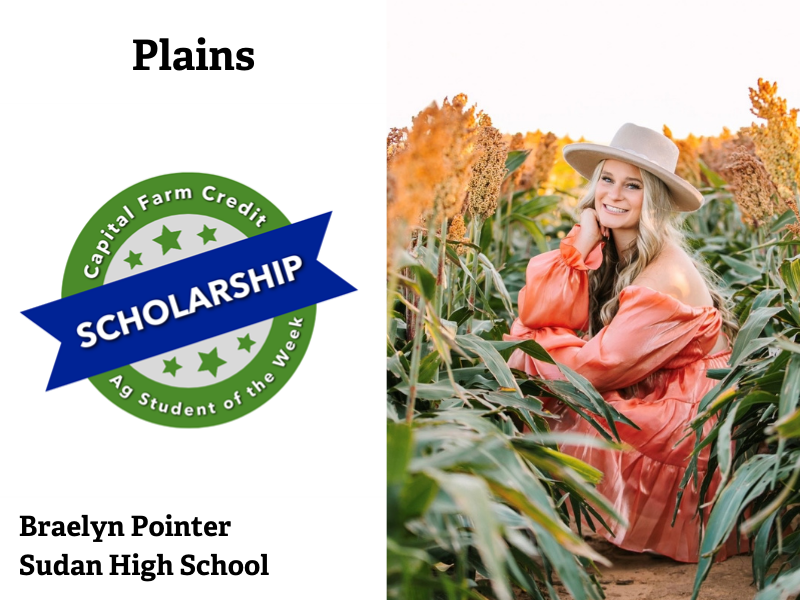 Growing up on a cotton farm, Braelyn Pointer learned a thing or two about agriculture, and the dedication it takes to run a farming operation. Her earliest memory in agriculture is in the show ring, where she exhibited her brother's market hog project when he was unexpectedly hospitalized.
"Being able to see how the agricultural community could come together and support my family, that's a really great memory for me," said Pointer.
Years later, the Sudan High School senior hopes to offer the same support to the industry that has shaped her life.
"The product of my family's toil has put a roof over my head year after year, and I feel obligated and privileged to be able to promote an industry that has provided so much for me," said Pointer.
As a member of Sudan FFA, Pointer has served on her chapter's officer team as the student advisor, secretary, and vice president. She has also competed in skills, public relations, livestock judging, wool judging, prepared public speaking, and extemporaneous speaking, in addition to raising market hog projects. She is most proud of her involvement with the media staff team at the Texas FFA Convention, where she has worked as a reporter for the last two years. During this experience, Pointer has had the opportunity to interview some of the people responsible for putting the event on, and even authored an article that was later published in the FFA Magazine.
Additionally, Pointer is an active member of Sudan 4-H, where she competes in food and nutrition, livestock judging, wool judging, and public speaking. She has also served as the president of her 4-H club, as well as the 2nd vice president of District 2 4-H. Last year, she was selected to represent Texas 4-H as a delegate at the National 4-H Congress, an opportunity that allowed her to travel to Atlanta, Georgia to participate in leadership workshops and network with students from across the nation.
"4-H kids, we're just different," said Pointer. "We don't know a stranger, we're very good at making friends."
Outside of 4-H and FFA, Pointer participates in student council, where she organizes monthly service projects to better her school and her community. She also participates in UIL academics, and competes in feature writing, news writing, and copy editing. As a four-year varsity athlete, Pointer plays both basketball and softball. She is a member of the National Honor Society, and dedicates much of her time to volunteer work.
After graduation, Pointer plans to attend Texas Tech University to major in agricultural communications. She hopes to use her degree to close the gap between the agricultural industry and the general public through writing for agricultural publications.
"I hope to give rural America a voice and put a positive face on our industry," said Pointer.
Congratulations Braelyn on your outstanding achievements, the Capital Farm Credit team wishes you the best of luck in your future endeavors.