Ag Student of the Week Archive
Caldwell High School senior named Austin Market's Ag Student of the Week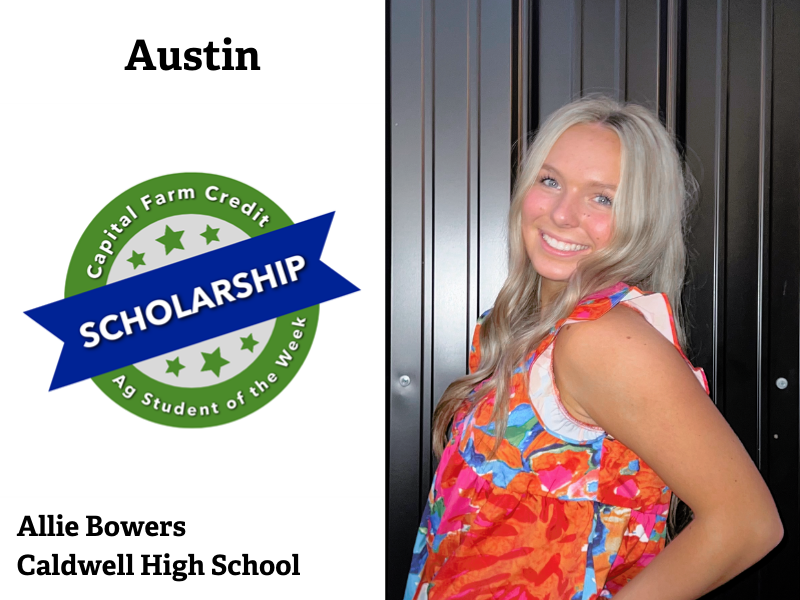 High school isn't always rosy, but for Allie Bowers, being involved in FFA has allowed her passion for floral design to truly blossom. Her advisor recognized her talent for creating floral arrangements during her freshman year, and despite being skeptical at first, Bowers quickly realized she had found her niche.
"I just fell in love with it," said Bowers.
Now a senior at Caldwell High School, Bowers has used her talent to gain hands-on experience in preparing and setting up wedding designs, as well as gain business perspective into the floral industry. She has also competed in the Young Florist of Texas contest for the past two years, earning top ten titles for her efforts.
During her four-year involvement in Caldwell FFA, Bowers has served as the greenhand vice president, and competed in various career development and leadership development events. These include being a member of the public relations and range teams, as well as participating in job interview, ag sales, and exhibiting rabbits and commercial heifer projects.
In addition to being an active member of the FFA, Bowers is the captain of the Caldwell High School cheer team, as well as a varsity volleyball player, powerlifter, and track athlete. She is an avid leader within the student body, and currently serves as the treasurer of her graduating class, vice president of the National Honor Society, and president of the Fellowship of Christian Athletes.
After graduation, Bowers plans to attend Texas A&M University to pursue a degree in business. She hopes to use her education to one day open a floral shop of her own, and give other students the opportunity to discover their passion for floral design.
Congratulations on your outstanding accomplishments Allie, the Capital Farm Credit team wishes you the best of luck in your future endeavors!