Ag Student of the Week Archive
A&M Consolidated High School senior named Houston Market's Ag Student of the Week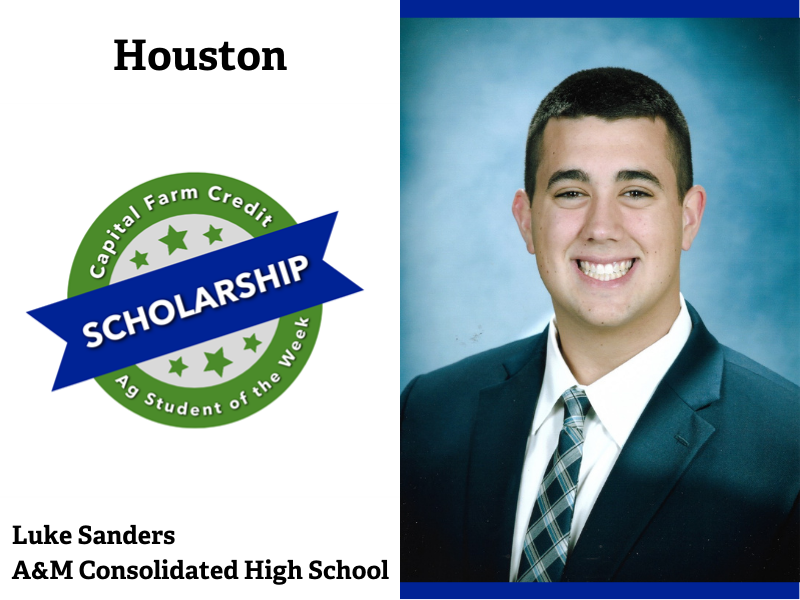 Luke Sanders experienced the selfless nature of the agricultural industry for the first time during his seventh grade year. As a new 4-H member, he attended his first livestock judging competition hoping to expand on his passion for animal agriculture, but quickly realized he had forgotten to bring with him the tool that would be vital to his success that day, a pencil. Luckily, his teammates swooped in to make sure he had all of the supplies he needed, a memory Sanders says he will never forget.
"I didn't have one clue what I was doing," said Sanders. "But my agricultural family came around me and helped me, and prepared me for that contest."
Now a senior at A&M Consolidated High School, Sanders has fully embraced the selfless spirit, dedicating much of his time to leadership and service roles. He joined the FFA organization as a freshman, and has served as the president of his chapter for the last two years. Through FFA, he competes in ag issues, job interview, quiz, and senior skills. He also competes in the veterinary science competition, and placed third at the National FFA contest in 2022.
Through 4-H, Sanders is a Texas Youth Livestock Ambassador, an opportunity that has allowed him to advocate for the agricultural industry while expanding his knowledge on ag policy and leadership. Sanders was also selected to participate in the Norman Borlaug Youth in Agriculture Program, and currently serves as the 1st vice president of the St. Joseph 4-H club. He competes in livestock skill-a-thon, veterinary science skill-a-thon, and has continued his livestock judging journey, advancing to the state competition during all four years of high school.
Despite his success in the competitive world, Sanders is most proud of his involvement in GLOBE, Global Leadership Opportunities Beyond Education. He founded the organization Helping Happy Wheels alongside his close friend, and has donated over 500 bags of snacks, drinks, and art supplies to families in need of a morale boost through the Ronald McDonald House Charities.
"We're aiming to put smiles on people's faces who are going through tough times," said Sanders.
Outside of 4-H and FFA, Sanders remains active within his high school. He is a member of the National Honor Society, President's Club, and has received recognition for his academic accomplishments. He represented A&M Consolidated at the World Food Prize Global Youth Institute, where his research essay on the relationship between fetal sheep and goat disease and food insecurity earned him an opportunity to present his work on the global stage. He also was awarded the first place title at the Houston Hunger Summit for his research on food deserts, and their relation to rising obesity rates.
In the future, Sanders plans to pursue a degree in animal science on a pre-veterinary track. After vet school, he hopes to use his education to conduct research on reproduction, genetics, and nutrition, and improve the lives of animals through his work.
Congratulations on your incredible achievements Luke, the Capital Farm Credit team wishes you the best of luck in your future endeavors.