Ag Student of the Week Archive
Shiner High School senior named South Texas Market's Ag Student of the Week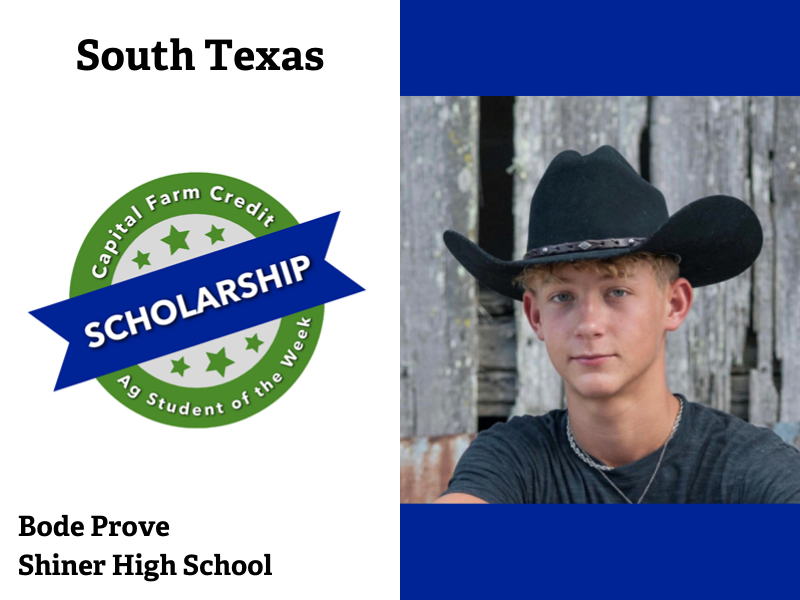 High school vocational programs are an opportunity for students to explore potential career paths, and gain valuable skills that will benefit them as they begin to plan out their futures.
For Shiner High School senior Bode Prove, joining FFA has helped him do just that.
Prove joined the Shiner FFA chapter as a freshman transfer student, and quickly fell in love with the program. During his four years of involvement, he has participated in various LDE and CDE events, and was elected as the chapter reporter for the 2022-2023 school year.
"I'm so grateful to be a part of such a large and profound organization," said Prove.
Outside of FFA, Prove is highly involved in athletics. He is on the varsity cross country and basketball teams, as well as the varsity tennis team, where he has qualified for state in doubles.
He is also an active member of the National Honor Society, and participates in Club Med, Fellowship of Christian Athletes, and the student council.
"Whether it be on the court, on the course, in the classroom, or out in the community, I can proudly say I am heavily involved in everything I join," said Prove.
After graduation, Prove plans to attend Texas A&M University to major in animal science.
Upon completing his undergraduate degree, Prove plans to earn his doctorate in veterinary medicine from Texas Tech University.
"As I have matured, I've realized the impact that agriculture has had on my life," said Prove.
"I realized that this is the same impact I want to make on the future generations of farmers through the career field I will pursue."
Congratulations on your outstanding accomplishments Bode, the Capital Farm Credit team wishes you the best of luck in your future endeavors.