Ag Student of the Week Archive
Davenport High School senior named San Antonio Market's Ag Student of the Week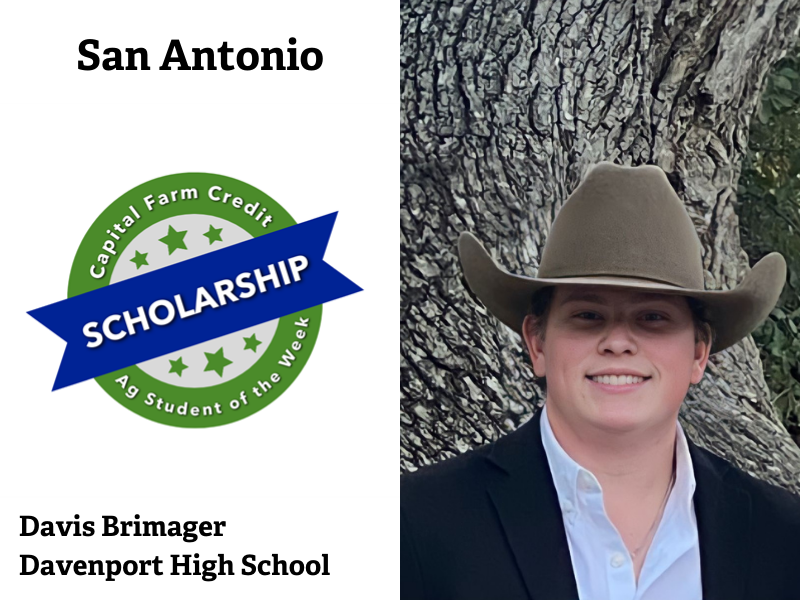 For Davis Brimager, agriculture is more than an industry, it's a family legacy of leadership and hard work.
"I was raised in the great outdoors, I've been an avid hunter and fisherman my whole life with my dad and brother. We also have a family farm, where I've been able to assist with crops, and running and raising livestock."
Brimager decided to further his agricultural involvement freshman year, and joined his high school's FFA chapter. After making the decision to transfer schools, he even helped to charter a brand-new chapter, Davenport FFA.
"I was ecstatic, I was like, 'I have the opportunity to do something really great here,'" said Brimager.
He was elected as the vice president of this new chapter, and has gone on to serve as the president for the past two years. He ran for area office, and was elected to the Area 7 FFA officer team. These leadership experiences have motivated him greatly, and he plans to run for state office in the future.
Brimager is also actively involved in showing hogs and steers, in addition to competing in chapter conducting, skills demonstration, wildlife, livestock judging and extemporaneous public speaking.
"There's always something new to learn, whether you're showing livestock, in the classroom, or out in the field, you're never going to leave without learning something new," said Brimager.
Through his high school, Brimager is a member of the National Honor Society and student council. He also volunteers for Habitat for Humanity, and the Backing Ag Raising Youth organization.
After graduation, Brimager will be attending Texas Tech University to major in energy commerce. He plans to use this degree to become an entrepreneur, and start his own oil and gas drilling company. He also hopes to start his own show steer breeding operation, to give other students the chance to experience raising a livestock project of their own.
"I found a passion in it, and it's something that I hold dear to my heart," said Brimager. "If I'm able to give kids the same opportunity, there's nothing better than that."
Congratulations Davis on your outstanding achievements, the Capital Farm Credit team wishes you the best of luck in your future endeavors.