Ag Student of the Week Archive
Calhoun High School senior named Houston Market's Ag Student of the Week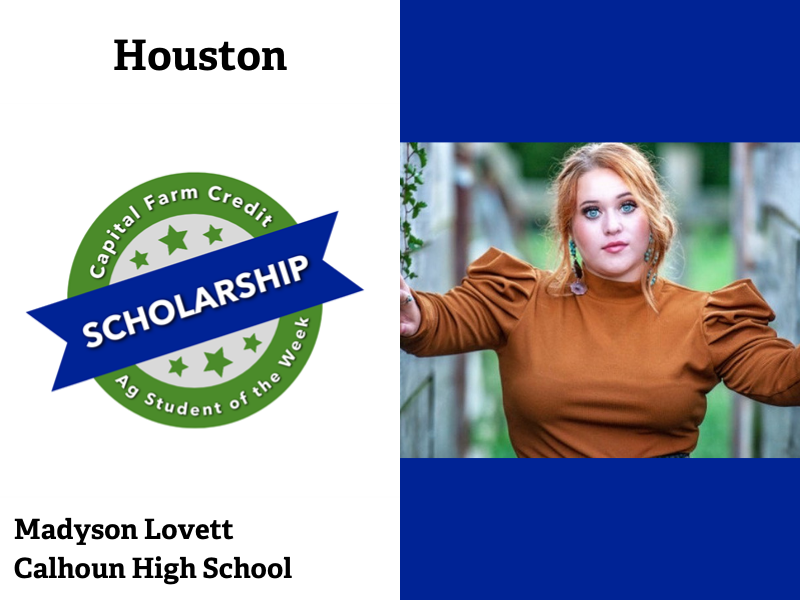 Agriculturalists are imperative to feeding and clothing the population, yet are under near-constant scrutiny by the media. Calhoun High School senior Madyson Lovett is no stranger to this backlash, and is doing everything in her power to prove to the world that the agricultural industry is deserving of a positive reputation.
Like many of her fellow 4-H and FFA members, Lovett's passion for agriculture began at a young age.
"I grew up on a cow-calf operation," said Lovett. "From the time that I could walk, my mom had me sitting up on the catwalk with her while she counted cows."
She began her 4-H journey in the first grade through participating in the clothing and textiles program. During her 12 years in 4-H, she has also competed in food and nutrition, livestock judging, and both the dramedy and vocal share-the-fun competitions.
In addition to 4-H, Lovett is an active member of the Calhoun FFA chapter, where she has competed in quiz, senior skills, entomology, livestock judging, and ag mechanics. She is a member of the Texas FFA Chorus, the National FFA Chorus, and has served on the Courtesy Corps for both Texas FFA and the National FFA Organization.
Her leadership experiences include holding positions on the local, district, state, and national levels. She is currently the president of both her 4-H club and county 4-H council, and recently served as a delegate during the National 4-H Congress. She has also served as the greenhand FFA president, community service committee chair, and first vice president for her chapter, and currently serves as the first vice president of Gulf Coast District FFA.
Additionally, Lovett is serving her second term as a Texas Youth Livestock Ambassador. Through this program, she has dedicated over 250 hours to community service, including organizing a donation drive for victims of the Eastland Complex Wildfires that raised over $16,000 in the form of supplies, hay and feed. She was also selected to participate in the Norman Borlaug Youth in Action program, and attended the Texas A&M AgriLife Capitol Leadership Experience.
In 2022, Lovett was recognized for her agricultural advocacy work at the International Livestock Congress. This work includes organizing an annual Women in Agriculture conference, and authoring her very own blog, known as "Diary of an Ag Kid." She also uses social media to educate others about the agricultural industry by sharing farm facts, discussing current agricultural issues, and highlighting her fellow star agriculturists.
After graduation, Lovett plans to attend Sam Houston State University to major in agricultural communications and political science. She hopes to use her education to continue advocating for the industry, by becoming an agricultural lobbyist.
"Agricultural education plays such an important role in helping people to understand our practices and avoid situations that could allow for false information and negative press to be spread," said Lovett.
"I have always been somebody who loves to create change in a positive manner for others. If I can help anybody, especially on the national level, I would love to do that."
Congratulations Madyson on your outstanding accomplishments, the Capital Farm Credit team wishes you the best of luck in your future endeavors.