Ag Student of the Week Archive
Patricia E. Paetow High School senior named Houston Market's Ag Student of the Week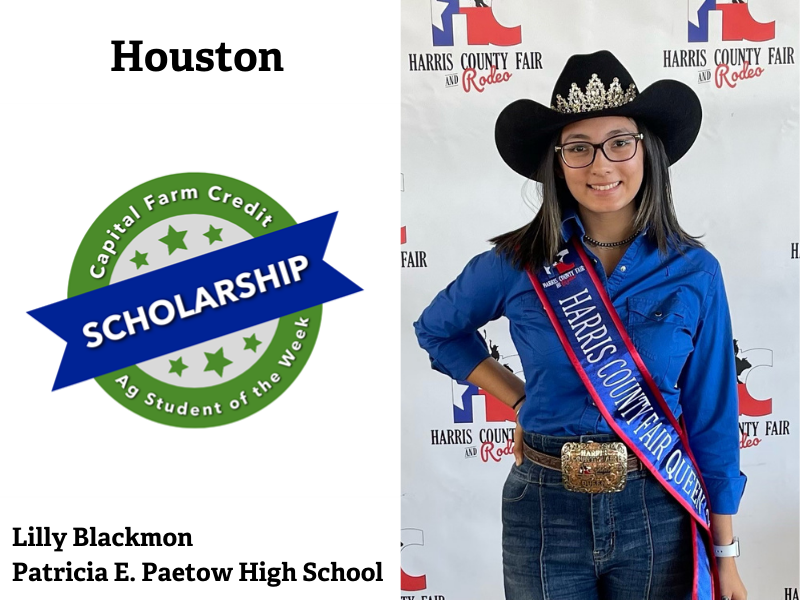 Public speaking is the most common fear across the world. However, for high school senior Lilly Blackmon, her voice is her superpower.

Her mission? To stop the spread of misinformation regarding the agricultural industry.
"With so many Americans living in urban areas, and only 10% of U.S. employment being under the agricultural industry, it's very easy for them to get misinformed," said Blackmon.
"We as agriculturists can combat this by spreading the truth about agricultural practices through conversation, social media, and ag education."
Blackmon has been a member of Paetow FFA since her freshman year, and has competed in creed speaking, public relations, ag advocacy, job interview, agronomy, floriculture, wool judging, milk judging, forages, and prepared public speaking on both the area and state levels.
An active leader within her FFA chapter, Blackmon has served as the president for the past two years, as well as sentinel for the district officer team. She also volunteers for her chapter's event planning, public relations, and merchandising committees.
"I've learned so much about what it takes to lead an organization, such as communication, ingenuity, and perseverance," said Blackmon.
"FFA gives you so many opportunities to grow through personal development, premier leadership, and career success. I decided to grab it by the horns when it came to leadership, which I don't regret one bit."
In addition to being highly involved in FFA, Blackmon is a member of the National Honor Society, as well as her school's environmental club.
After graduation, Blackmon plans to attend Texas A&M University to major in agricultural communications and journalism. She hopes to use her degree to continue informing the public about agriculture, through both social media and the spoken word.
"The agricultural industry is something that isn't going away any time soon," said Blackmon. "It needs us to advocate for it."
Congratulations on your outstanding accomplishments Lilly, the Capital Farm Credit team wishes you the best of luck in your future endeavors.